The deadliest and most violent war in human history led to the production of millions and millions of guns.
Guns like the much revered M1 Garand and M1911 ended up as surplus weapons, distributed through the Civilian Marksmanship program or, like the Garand and M1 Carbine, were sold out of barrels at the local sporting goods and gun stores for hunting.
But some guns ended up as trophies in the homes of the soldiers, sailors, and airmen who fought in the war after being carried home in a duffle bag or foot locker — "the bring back gun."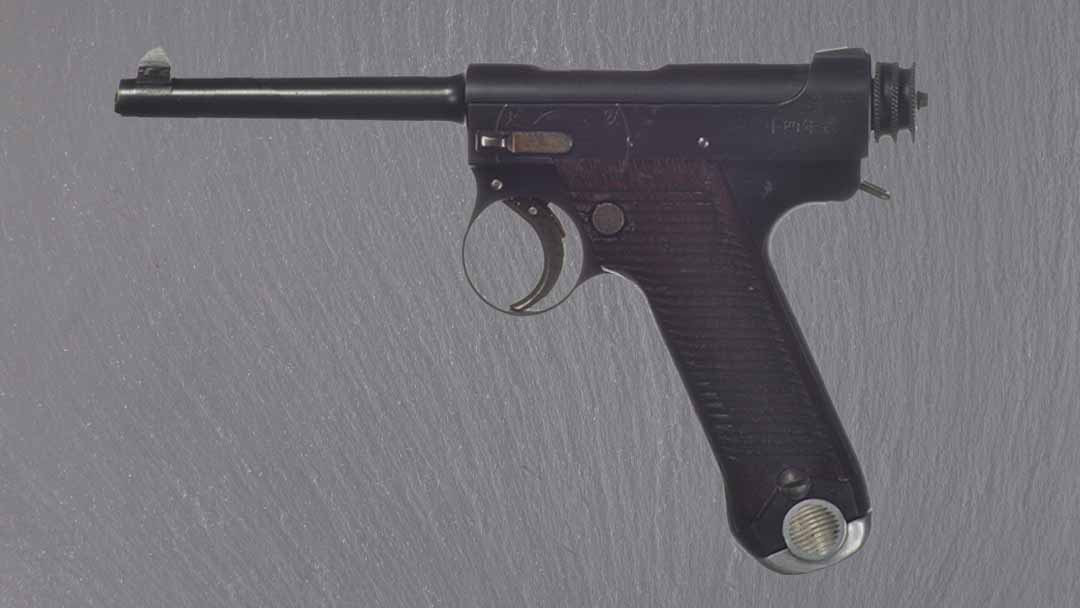 This Nambu Type 14 pistol was surrendered by a Japanese general at Ie Shima in World War 2. It is available as Lot 2471 in the June 22-24 Sporting and Collector Auction.
War Souvenirs
Napoleon promoted taking war trophies. Today, Ukrainian farmers tow away Russian tanks. The Hague Convention of 1907 put limitations on war trophies including municipal property, religious articles, arts and science related articles, and state property. World War II British Field Marshall Bernard Montgomery discouraged the practice but that didn't stop his men from doing it.
War trophies could be a patch, a coat, a helmet, a dagger, or, alas, more grisly stuff. Firearms are the focus here — the exotic weapon of a foreign military taken off a soldier, found in a factory, or simply rooting around. Not all of these bring back guns are created equal.
While many were non-descript Luger, Nambu, or Walther pistols or rifles like the Gewehr 41, Karabiner 98k, or Type 38, some rose above. They were special — or infamous — guns due to a historical connection.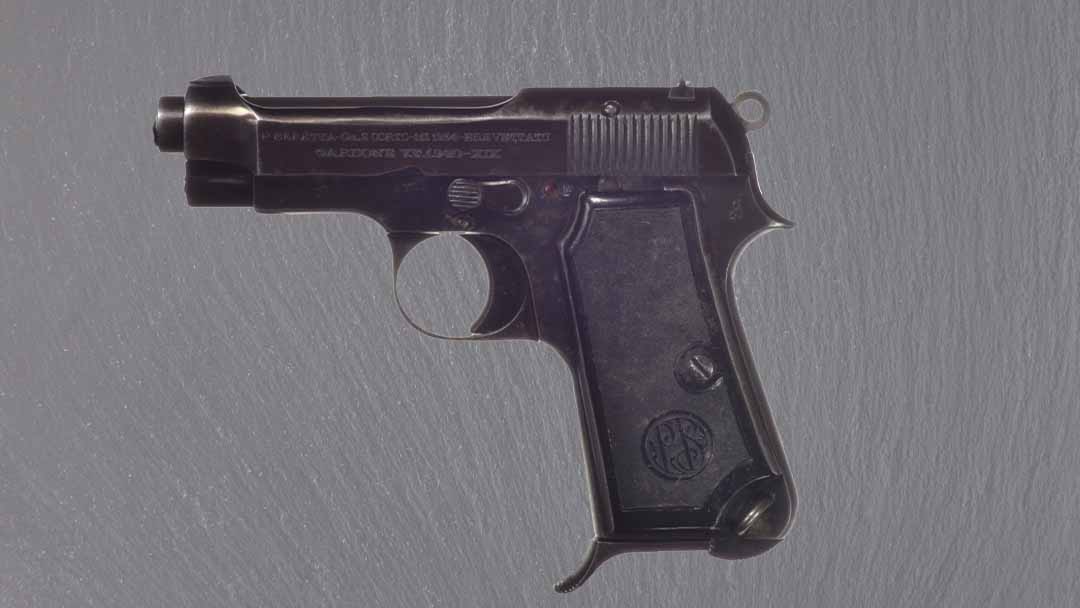 This Beretta 1934 pistol has World War 2 bring back documentation. It is part of Lot 413 in the June 22-24 Sporting and Collector Auction.
WW2 war Trophies
Several Japanese World War 2 era pistols are available in the June 22-24 Sporting and Collectors Auction but one rises above them. More than 400,000 Nambu Type 14 pistols were made for World War 2. A Type 14 surrendered by a general at Ie Shima, off the coast of Okinawa, accompanied by bring back paperwork is expected to draw more interest than the other Japanese pistols in the auction.
In RIAC's May Premier Auction a pair of engraved presentation Walther PPs that had personal engraving done at the request of GIs at the firearms factory that included soldiers' names and the 90th Infantry Division's "Tough Ombre" logo. One was one serial number away from a similar Walther PP given to Gen. George Patton. They sold for $41,125 and $47,000 respectively.
Compare those to Walther pistols connected to Nazi leaders that sold well into the six figures. A Walther PPK carried by Herman Goering at the time of his surrender sold for $230,000 at a Premier Auction in September 2018, but was topped by a chrome-plated and engraved Walther PP attributed to SS Chief Heinrich Himmler that sold for $356,500 at RIAC's May 2019 Premier Auction.
While many soldiers were simply looking for a memento of their service in the war, be it a pistol, a rifle, a patch, or helmet, some discovered souvenirs with significant history attached to them that can launch a bring back gun into a rarefied class of weapon.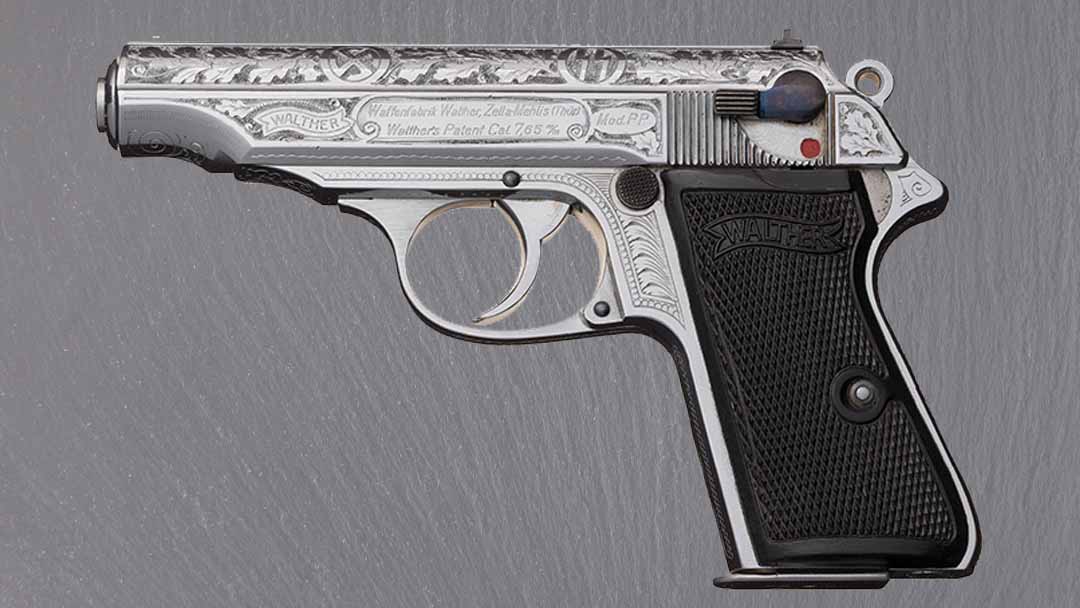 This chrome-plated Walther PP pistol attributed to SS Chief Heinrich Himmler sold for $356,500 in Rock Island Auction Company's 2018 Premier Auction.
Cold War Trophies
By the end of the Korean War, the U.S. military frowned on war trophies to avoid looking like looters. In recent conflicts the goal is to appear as liberators and not conquerors. Certain items were still allowed but required the approval of a superior officer and a completed DD Form 603-1 to present at customs.
The military also prohibited returning weapons to the United States that were prohibited under the National Firearms Act of 1934. These included items like full-auto machine guns and silencers. That didn't stop AK-47s and SKS rifles from getting into the United States as contraband during the Vietnam War. However, a person caught with this contraband could face criminal charges. One lot in the upcoming Sporting and Collector Auction includes Chinese semi-automatic rifles brought back from Vietnam.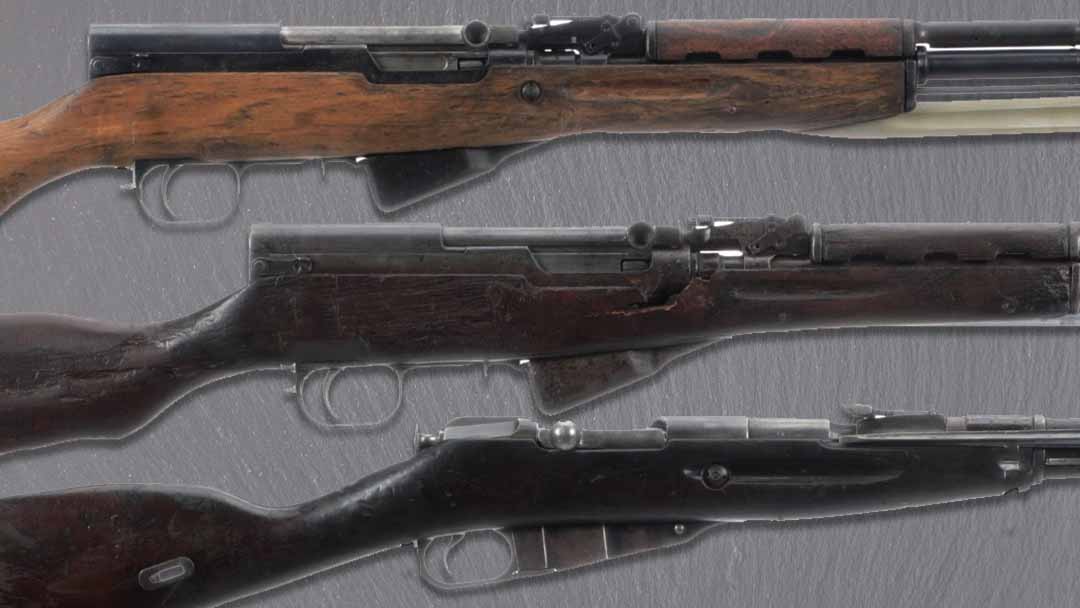 These three Chinese military rifles were brought back from Vietnam. Lot 364 includes a M21 Type 56 semi-automatic rifle (top), Type 56 semi-automatic rifle, and a Type 53 carbine.
Prohibited weapons were only part of the concern of war trophies. Items that a soldier might see as a trophy, like a claymore mine or grenade are dangerous to ship, as this U.S. Army fact sheet from January 1968 lays out the dangers of war trophies. One scenario puts soldiers headed home on a Boeing 707 troop flight, and one turns to the soldier sitting next to him and says he's got an RPG round in his bag as a souvenir.
The fact sheet states: "A Fairy Tale? Not on your life! That's a scene which has been repeated for real more than once. Customs and postal officials have actually found, among other dangerous items, C4 plastic explosives, claymore mines with arming mechanisms, TNT, rifle grenades, flares, fireworks, and M72 rockets complete with launchers! These things and countless others have been in baggage or mail being flown to the U.S. aboard returning planes carrying 165 happy — and unsuspecting — soldiers home from a year of dodging VC bullets."
A 1968 amnesty allowed veterans to register NFA items they brought back.
In 1991, the United States rules for engagement during Desert Storm stated "The taking of war trophies (is) prohibited." During the later Iraq and Afghanistan wars, souvenirs had to go in front of a reviewing officer. Among firearms sold by Rock Island Auction from the Iraq war included a CIA-seized Ruger M77 bolt action Mannlicher rifle of Saddam Hussein and gold-plated pistols attributed to Saddam Hussein and Uday Hussein.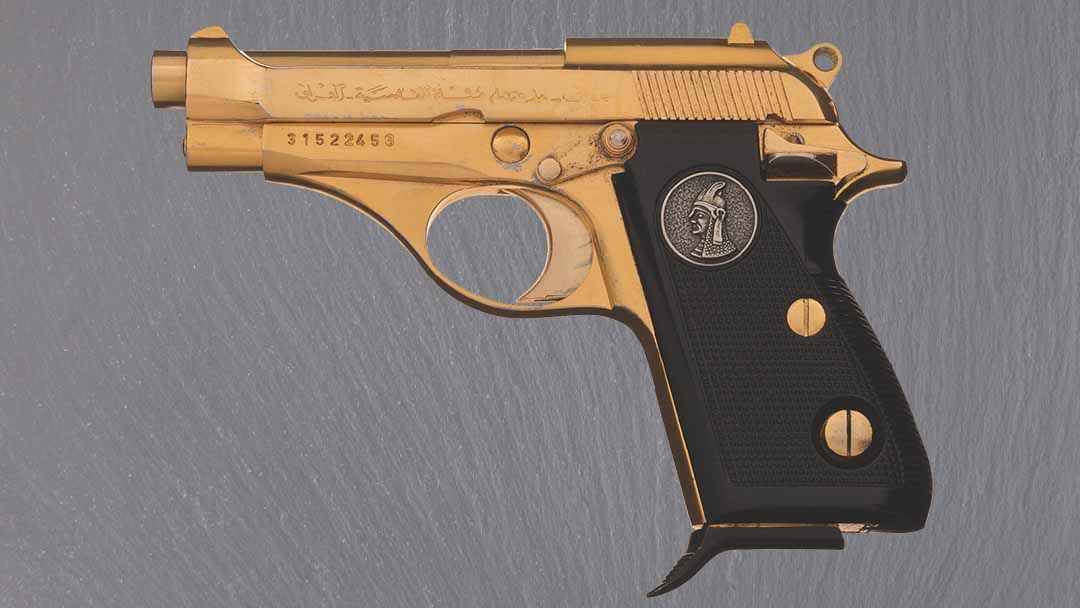 This gold-plated Tariq pistol was among weapons seized from the home of Uday Hussein, son of Iraqi dictator Saddam Hussein. It sold for $23,000 in RIAC's June 2020, Premier Auction.
In 2005, a Minnesota National Guardsman was charged with shipping home two AK-47s from Iraq. In 2006, A U.S. Marine was also charged for possessing an illegal AK.
Permissible firearms are still allowed but require proper paperwork, including a receipt showing the date place and source of purchase, and the importer's identity. War trophy firearms that are permitted can't be mailed or shipped but must be personally transported to the United States.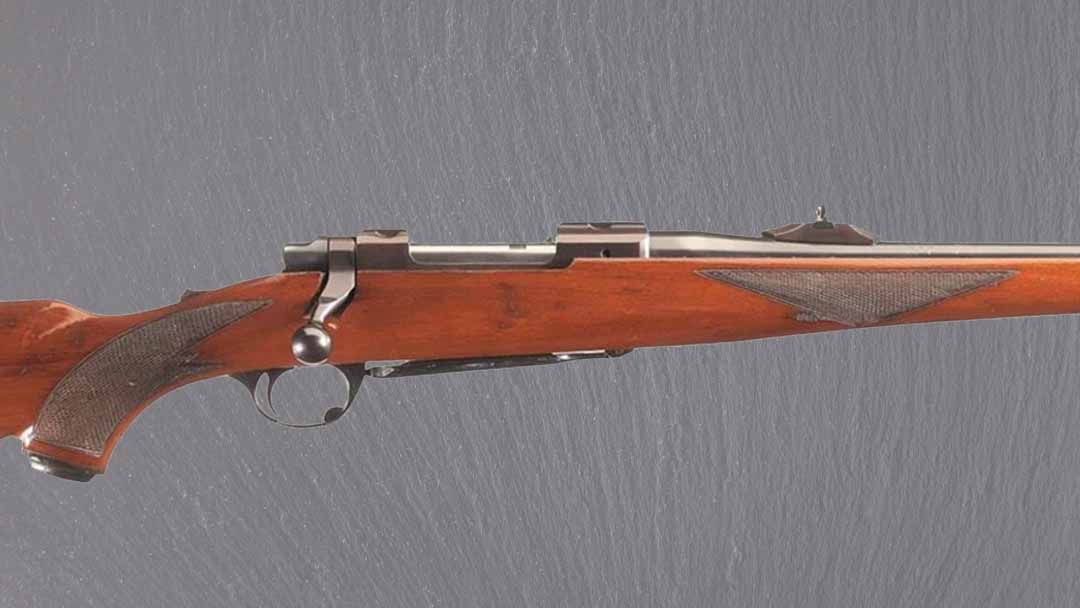 This Ruger bolt action rifle is seen in news footage of Saddam Hussein firing it in the air in celebration. It realized a price of $48,875 in RIAC's September 2013 Premier Auction.
Martini-Henry Rifles
Gone are the days of the Luger, Walther, or Nambu bring back gun, but that doesn't mean they no longer exist. It just means they are of a different type. In Rock Island Auction Company's June Sporting and Collector Auction, numerous lots include bring back guns. Some are World War 2 trophies while a number are antique British rifles acquired in Afghanistan with bring back papers from Bagram Air Force Base.
They aren't AKs or heavily engraved Walther pistols coming back from Afghanistan, but instead are single-shot Martini-Henry rifles and muzzle loading Enfield rifles. The 19th century guns date back to when the British Empire ruled the region. Most are considered in fair condition and came through Bagram Air Base in 2016.
Antique British rifles are the bring back guns of Afghanistan. There are several lots in the June 22-24 Sporting and Collector Auction that include Martini-Henry and Enfield rifles that passed through Bagram Air Base on the way back to the United States.
War trophies are as old as war itself, but as war has changed so has the attitude and ability to take home souvenirs of combat. Fighting isn't close in like it once was in the jungles of Vietnam or the hedgerows of Europe and countries don't want to be seen as conquerors that can take whatever they please. Collecting militaria will always exist, but what will be collectible won't likely be a gun taken from a factory assembly line in Germany, the pistol of a world leader, or the helmet of a fallen foe, making the war souvenirs of World War II and military actions on into the 21st century even more scarce and valuable. Check out the bring back guns in the June 22-24 Sporting and Collector Auction.
Sources
Will New Regulations limit the future of the Hobby, by Peter Suciu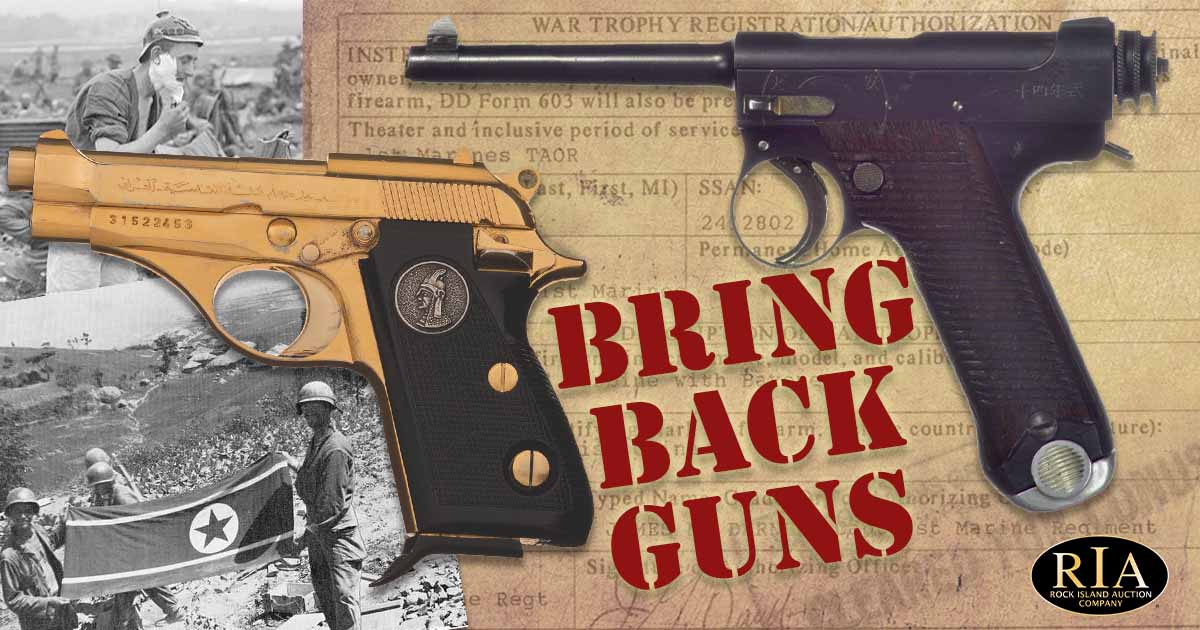 Rock Island Auction Company