U.S. Code defines a gun show as a "function[s] sponsored by any national, State, or local organization, devoted to the collection, competitive use, or other sporting use of firearms, or an organization or association that sponsors functions devoted to the collection, competitive use, or other sporting use of firearms in the community."
That doesn't sound very fun.
Wikipedia describes gun shows as promoters who "rent large public venues and then rent tables for display areas for dealers of guns and related items and charge admission to buyers. Majority of guns for sale are modern sporting firearms."
That sounds like more fun, but it's not Rock Island Auction Company fun. Rock Island Auction fun is 7,314 firearms, many of them scarce and beautiful that you can look at and examine in 4,212 lots that include 7,594 items and four days of exciting in-person auction action at the Sporting & Collector Auction, Feb. 14-17 with a full day preview day on Feb. 13.
It's the best gun show you've never been to.
Modern Arms, Hold the Glocks
Instead of tables upon tables of unassuming polymer guns, the modern guns for our Sporting & Collector Auction are interestingly diverse. Even our Glocks are interesting, with the lone example in the auction being a Model 22 cutaway pistol.
Otherwise, the 275 lots of modern handguns feature a special Beretta 92FS "Billenium" pistol, Heckler & Koch Model P7 M8 and P7 M13, a gold-plated Colt Combat Commander, and a scarce Claridge Hi-Tec S9 semi-automatic pistol.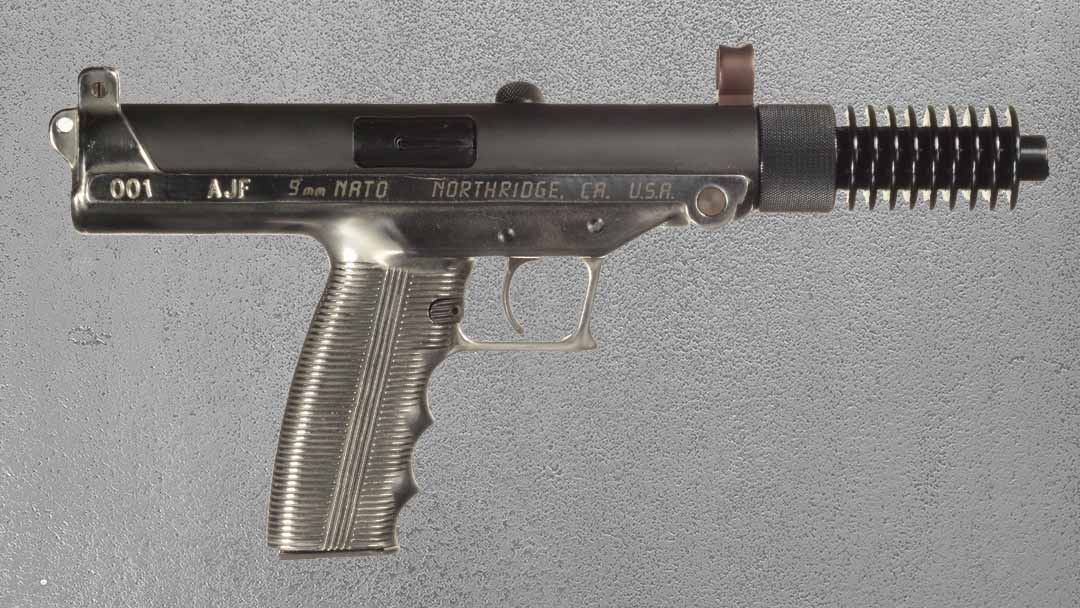 The Claridge Hi-Tec S9 was manufactured from 1990 to 1993 when the company ceased operations over a property rights dispute over the design and right to produce as well as the gun being outlawed in California. Lot 1031 is in excellent, near new condition.
As a gun show, our Sporting & Collector Auction has more than 550 lots of modern long guns on offer, ranging from lever action rifles to single shot rifles, factory engraved shotguns to semi-automatic rifles. There is plenty to draw a sportman – or woman – to Rock Island Auction Company.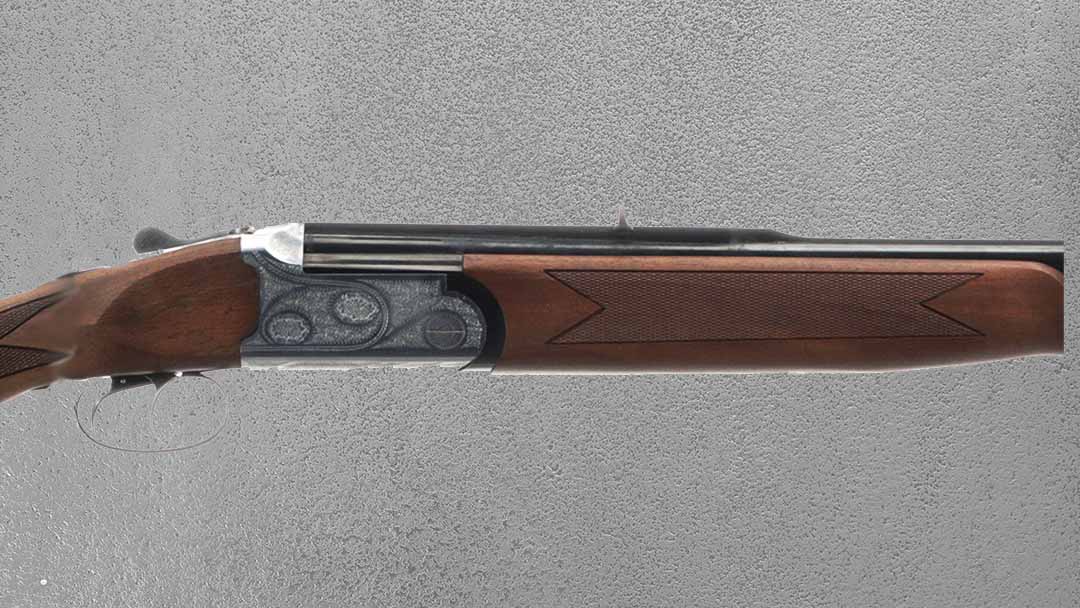 Lot 2897 is a factory engraved Antonio Zoli Focus over/under rifle that was manufactured in 2015 and is in excellent, near new condition.
Gun Show and History Lesson
History is on display at Rock Island Auction Company, from flintlocks to percussion revolvers, muzzleloading muskets to lever action rifles. You can see guns from the American Civil War, the Wild West, and World War 2, like a rare Sharps New Model 1859 in the same serial number range as the famed Berdan Sharpshooters.
History can come in the form of gun technology that evolved, like a pinfire revolver, and pepperbox pistols. It can also be the start of a dynasty, like the Henry rifle that led to the Winchester lever action rifles, and various Colt percussion pistols, like a Colt Walker, that led to the legendary Single Action Army.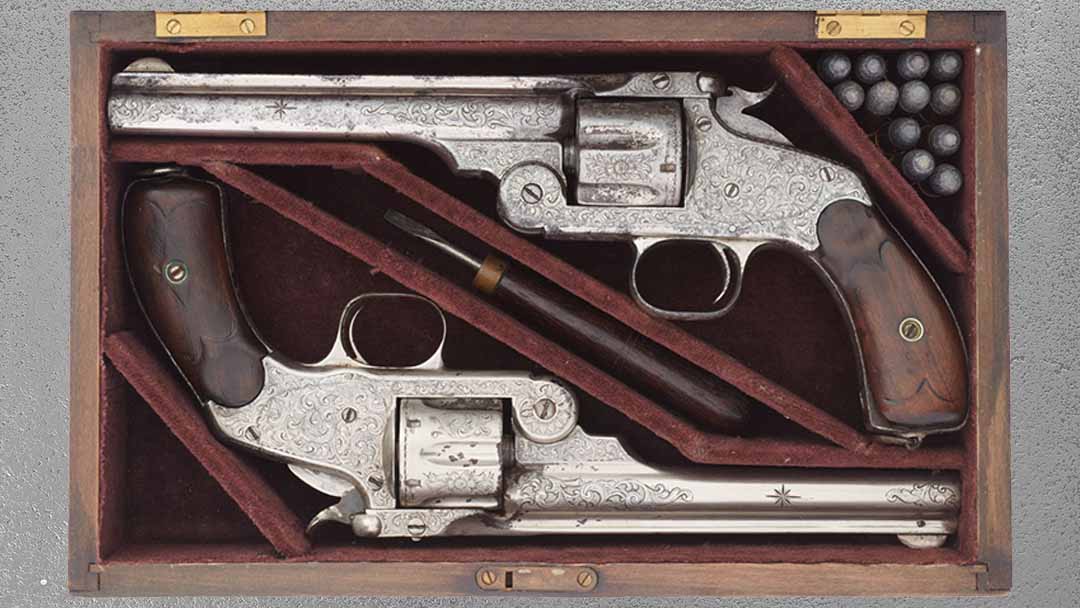 Lot 2385 is a pair of Cuba-shipped, engraved Smith & Wesson New Model No. 3 revolvers. The guns were shipped from the factory on Sept. 22, 1880 to Don Jose Valero Zequeira who was the director of the School of Medicine in Havana. He served with the Spanish Royalists during the Spanish-American War.
Meet Like-Minded People
Tired of trying to talk over the crackle of stun guns when discussing the merits of a Registered Magnum or the best scope for your hunting rifle? There are no stun guns and plenty of people ready to chat about firearms, share their knowledge and experiences, and gladly impart any wisdom. Find them at RIAC's Sporting & Collector Auction.
Do you revel in the minutiae of screws on the Colt Single Action Army or have trouble finding someone to discuss the genius of John Moses Browning? Maybe you want to meet CEO Pat Hogan or RIAC President Kevin Hogan? You'll find them at Rock Island Auction Company's Sporting & Collector Auction, the best gun show you haven't been to.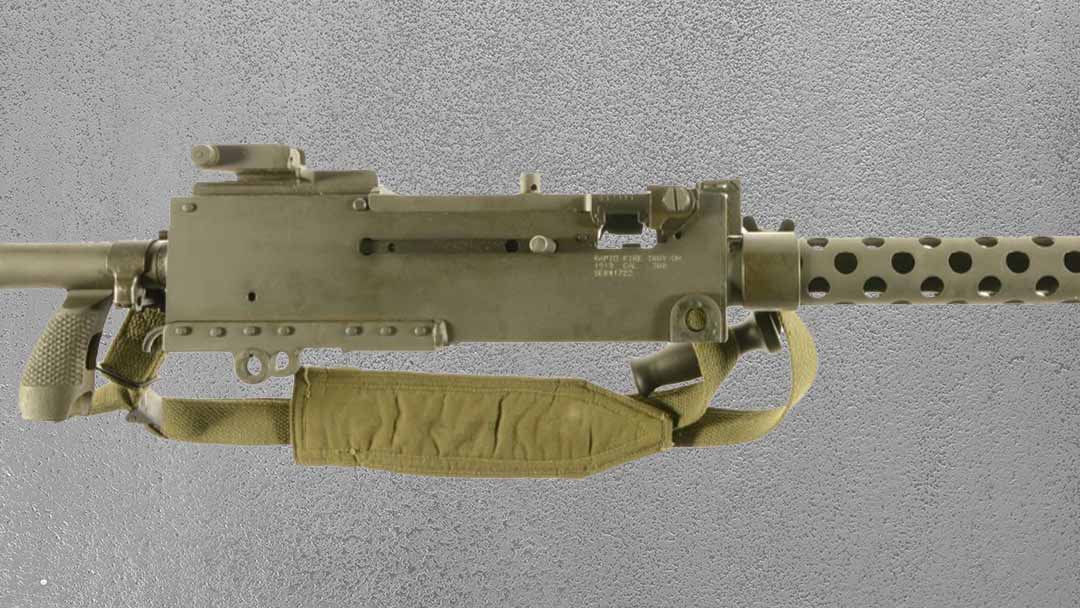 Lot 2682 is a Rapid Fire Industries Browning Model 1919A6 semi-automatic reproduction of John Moses Browning's World War 1 machine gun. This firearm is made of Israeli and new parts.
Have Fun in the Quad-Cities
Running an auction house is hard work, but we at Rock Island Auction Company also like to have fun, and there's plenty to be found in the Quad-Cities. Have lunch on us – for a small donation – during the auction, but the Quad-Cities has plenty of eating and drinking options at night, as well as interesting places to visit.
If you like craft beer as much as fine firearms, the Quad-Cities offers numerous craft breweries in Rock Island and beyond. To check out a list of craft beer venues in and around the Quad-Cities, go here. Spirits might be more your thing, so you can head up to LeClaire, home town of Buffalo Bill Cody, to visit the Mississippi River Distilling Company facility, or just want to stop for a drink, head to their downtown Davenport lounge. There are plenty of places to grab a finely made cocktail in the Quad-Cities.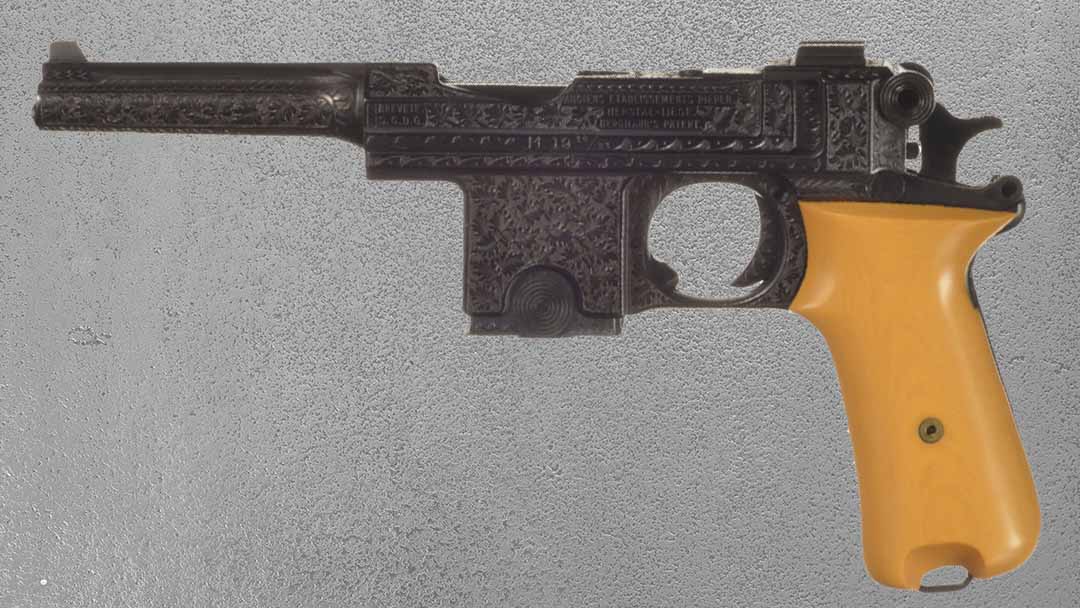 This Pieper-Bergmann Model 1910/21 pistol has oak leaf, floral and scroll motifs over 95 percent of the exterior surface.
Quad-Citians love to eat, whether it is the comfort of bar food, the diversity of ethnic offerings, a delicious steak, or fine dining, you can find it in the Quad-Cities. Looking for a meal recommendation? Ask anyone from Rock Island Auction and they'll give you one – or two!
If gaming is your thing, the Quad-Cities has two casinos, including Bally's that is just a short drive away from Rock Island Auction Company. The Quad-Cities also offers museums like the Figge Art Museum and Putnam Museum, boutique shopping, and even skiing at Snowstar, just down the road from Rock Island Auction Company. Spend time exploring the Quad-Cities.
Sweet Gun Love
The Sporting & Collector Auction launches on Valentine's Day, so why not combine your two loves, fine firearms and your sweetheart? Show them a good time with some live auctioneering, win one of the firearms you've been coveting, then take them out for a nice romantic dinner (again, consulting with Visit Quad-Cities, or with a RIAC cupid that can make a recommendation). They'll thank you for it. Trust us.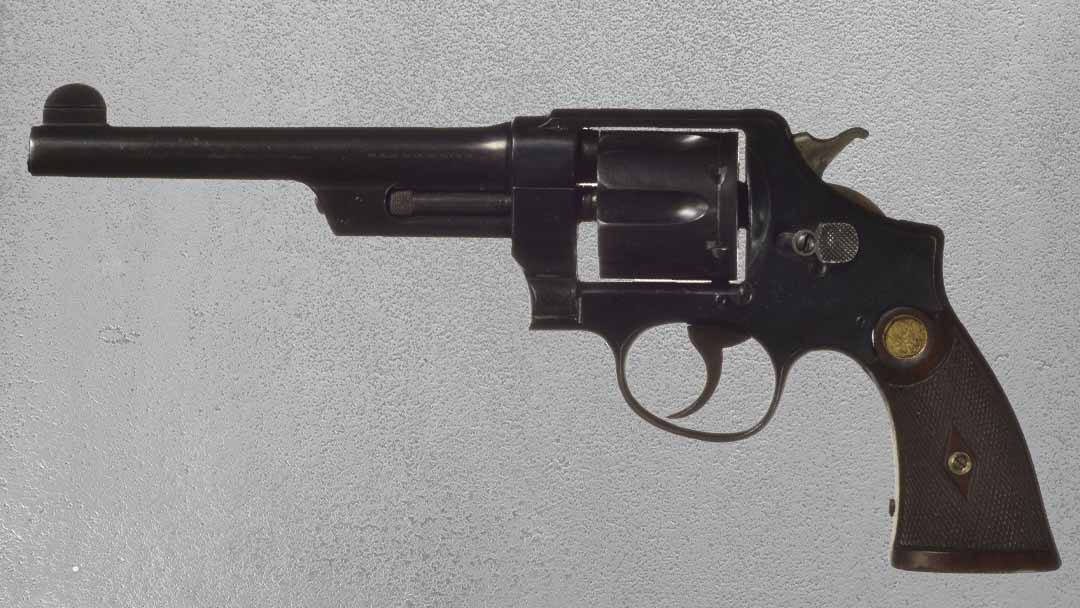 Nothing says I love you like a Smith & Wesson .44 Hand Ejector First Model Triple Lock double action revolver in rare .44 S&W Russian. Skip the candy and flowers and get the revolver that handgun enthusiast and writer Elmer Keith considered the finest ever made. This example was built in the early 20th century.
Welcome to the Gun Show
The Feb. 14-17 Sporting & Collector Auction, along with Rock Island Auction Company's other in-person auctions, are the best gun shows you've never been to but should visit in person to see the amazing history, beauty, and condition on offer in the auctions.
In the past year, a pair of revolvers owned by Ulysses S. Grant, beautiful unto themselves, a revolver owned by Theodore Roosevelt, the Star Wars heavy blaster of Han Solo, and near countless examples of beautifully engraved and immaculately-conditioned firearms have been displayed and auctioned. Come for the auction, but stay for the show!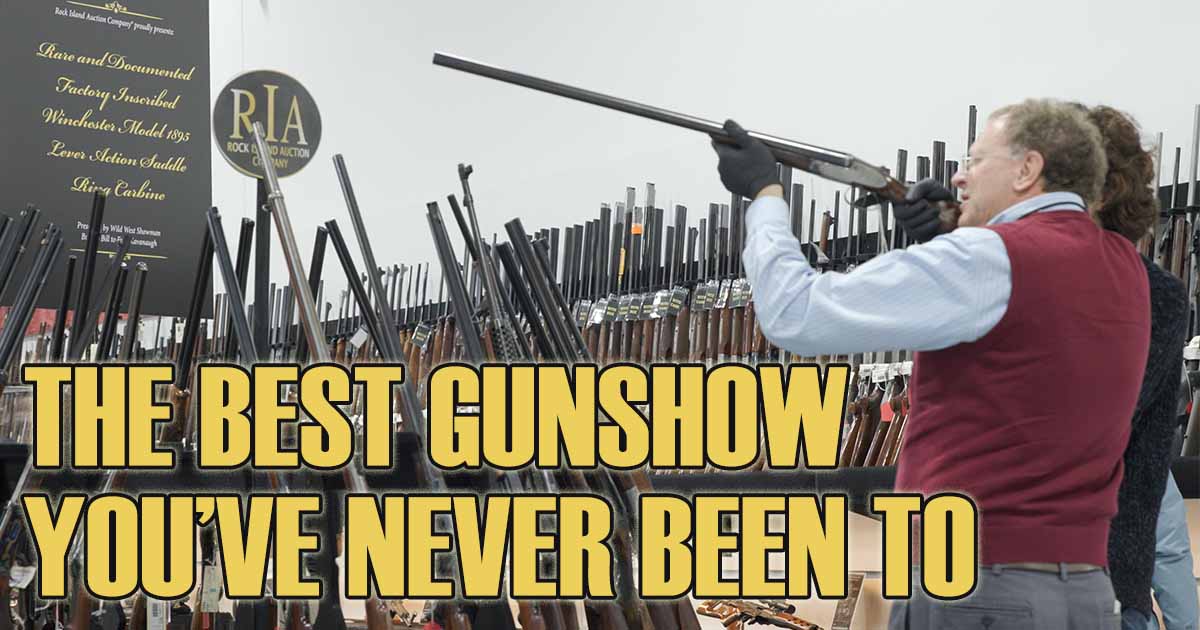 Rock Island Auction Company