A stranger rides into a frontier town in Arizona Territory, a man of few words and deadly intent. The townsfolk give him a broad berth, as the mysterious figure carries what is forebodingly described as a big iron on his hip.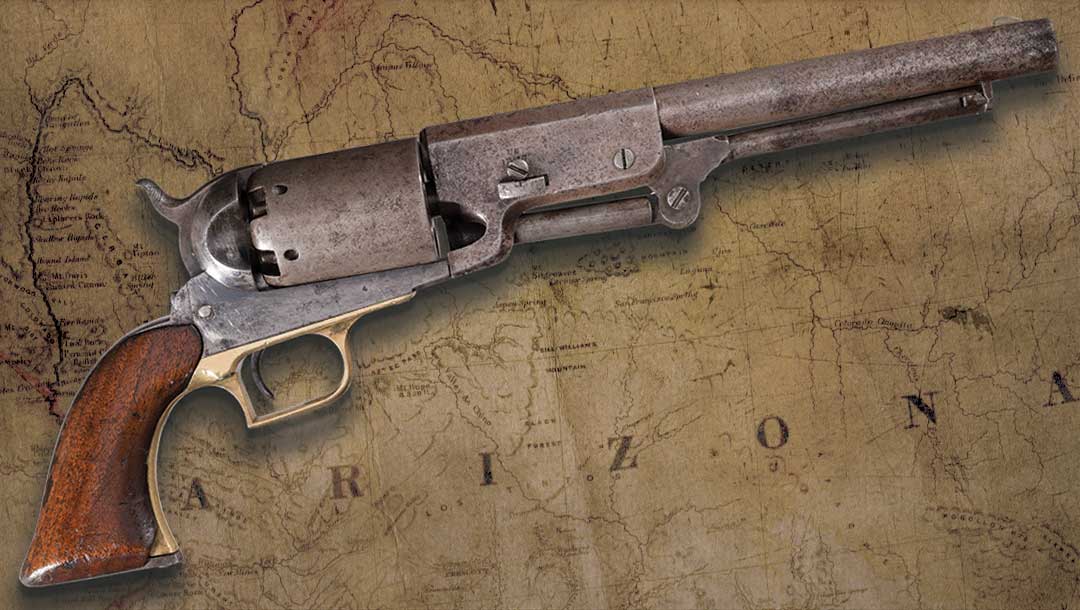 The Colt Walker, one possible candidate for the big iron gun mentioned by Marty Robbins.
'Big Iron' was released by country music legend Marty Robbins in 1959 as part of his celebrated album, 'Gunfighter Ballads and Trail Songs.' The song has been covered throughout the years by numerous artists, including the immortal Johnny Cash, and Marty's original version has seen a resurgence in popularity after being included in the 2010 video game by Obsidian Entertainment, 'Fallout: New Vegas,' which in turn gave rise to countless internet memes.
Big Iron Meme
More than three decades after Marty Robbins' passing, 'Big Iron' has become a viral sensation online. The song has 23 million streams on Spotify and is a smash hit on TikTok. Countless 'Big Iron' Photoshop parodies have been created, Youtube remixes receive millions of views, and the meme has become a frequent fixture in the firearms community.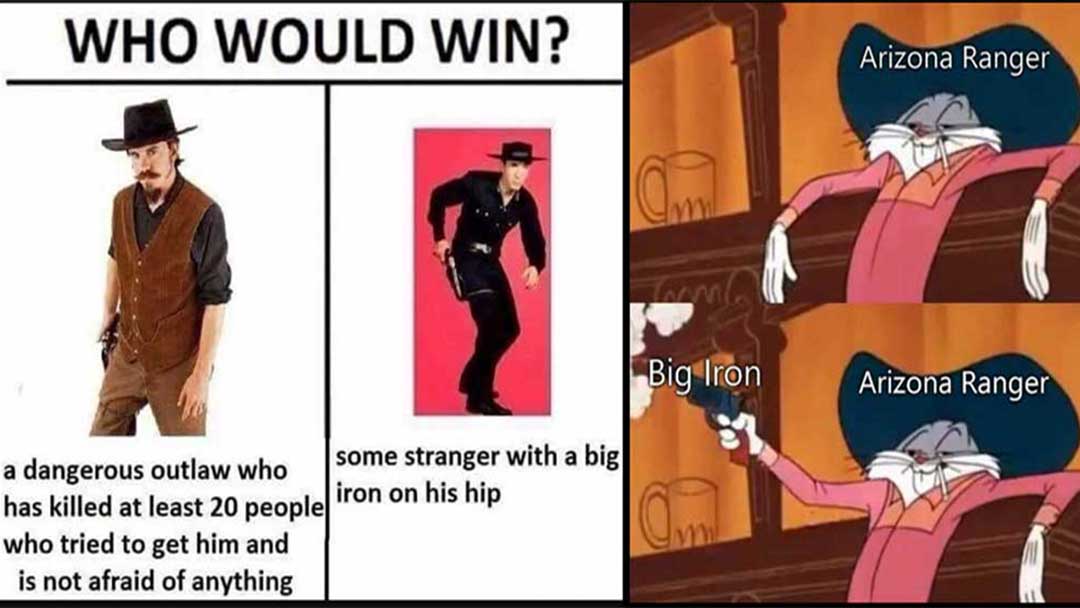 Part of the appeal of the big iron meme stems from the classic story told within Marty Robbins' lyrics. A nameless Arizona Ranger rides into Agua Fria hunting an outlaw called Texas Red, a vicious killer with 20 notches on his revolver – one for each man he's gunned down. The fearless ranger steps up to challenge this desperado, armed only with what Marty Robbins describes as a big iron on his hip.
Since the release of 'Big Iron' more than six decades ago, fans have speculated about the exact type of gun referenced in the song's title, and now the internet has given the topic new life. As we'll see, however, the identity of the big iron gun is more of a mystery than one might imagine.
"To the town of Agua Fria rode a stranger one fine day. Hardly spoke to folks around him, didn't have too much to say. No one dared to ask his business, no one dared to make a slip, for the stranger there among them had a big iron on his hip."              – 'Big Iron' by Marty Robbins.
What Was the Big Iron Gun?
Since Marty Robbins never provided a definitive answer as to the big iron gun model or its specific inspiration, numerous stories have emerged to fill the void. One of the most popular variations of the tale claims that Marty saw a custom revolver in Andy Anderson's North Hollywood gun shop. Anderson was a famous gunsmith and holster maker for Hollywood, so he was no stranger to creating unique firearms for the silver screen.
One story claims that the big iron gun was a custom revolver that used a Colt SAA frame (or a Great Western Arms frame), a Colt 1860 Army grip, and the cut down barrel of a Marlin or Winchester rifle.
Creating a custom revolver as described above would require a good gunsmith who could alter the barrel and then fit it to the revolver frame. Not easy or cheap, but far from unheard of either. But the supposed big iron gun has never been photographed, never been identified in any films or television shows, and its current whereabouts, if it ever existed, are unknown.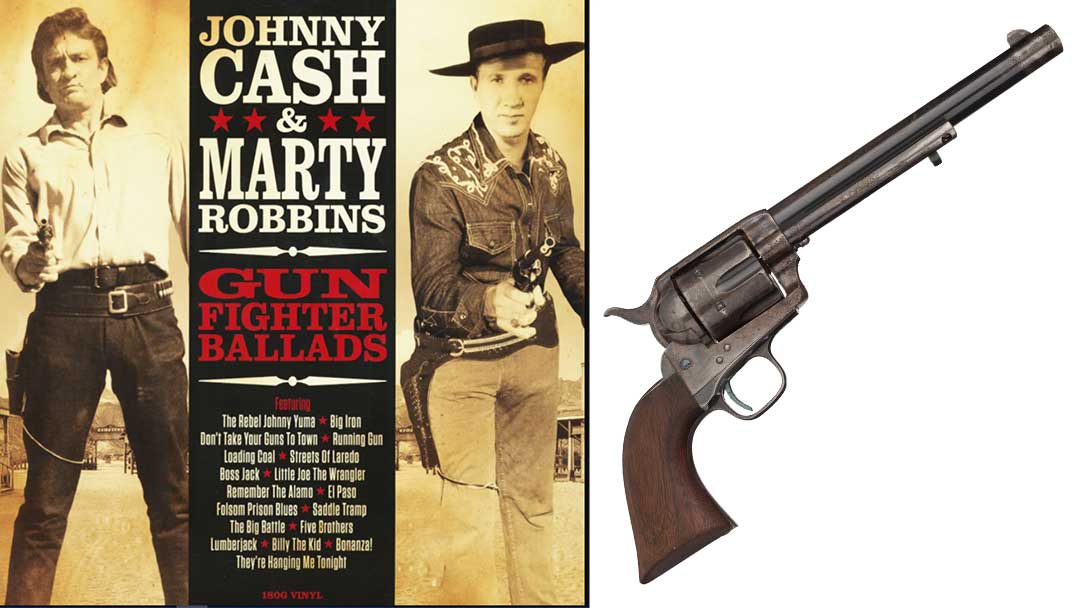 Johnny Cash and Marty Robbins wielding Colt Single Action Army revolvers in promotional images for their 'Big Iron' covers.
Another possible origin story for the big iron gun described in the song is that Marty Robbins was inspired by a historic revolver. Maybe he was impressed by an old Colt wheelgun he spotted during one of his music tours throughout the American Southwest. Perhaps he noticed a movie gun that struck a chord, one of those classic close-up camera shots of a holstered revolver swinging from a cowboy's hip as they faced off with an outlaw. The truth is likely lost to time, but there are no shortage of historic candidates that might have served as the basis for Marty Robbins' big iron gun.
SAA Cavalry Model
When it comes to popular Wild West revolvers, the Colt Single Action Army reigns supreme. As a country singer writing about cowboys, killers, and frontier justice, Marty Robbins was certainly a fan of the iconic Colt 1873, and he's seen wearing an SAA in multiple publicity photos and album covers.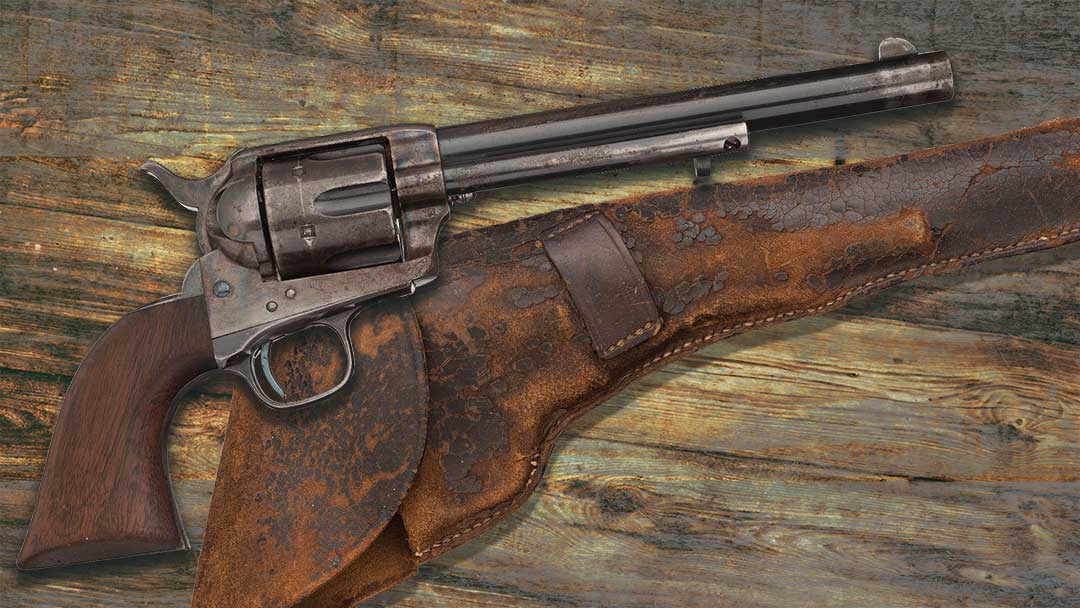 Historic, finest known extant "Lot Five" Ainsworth Inspected U.S. Cavalry Model Colt Single Action Army revolver with holster attributed as picked up from the Custer Battlefield.
If the gun in Marty's song was intended to be a Single Action Army, something about the revolver stood out to the people of Agua Fria and earned it the name 'big iron'. An original Colt Cavalry Model might be the answer, given their comparative scarcity and lengthy 7.5 inch barrels.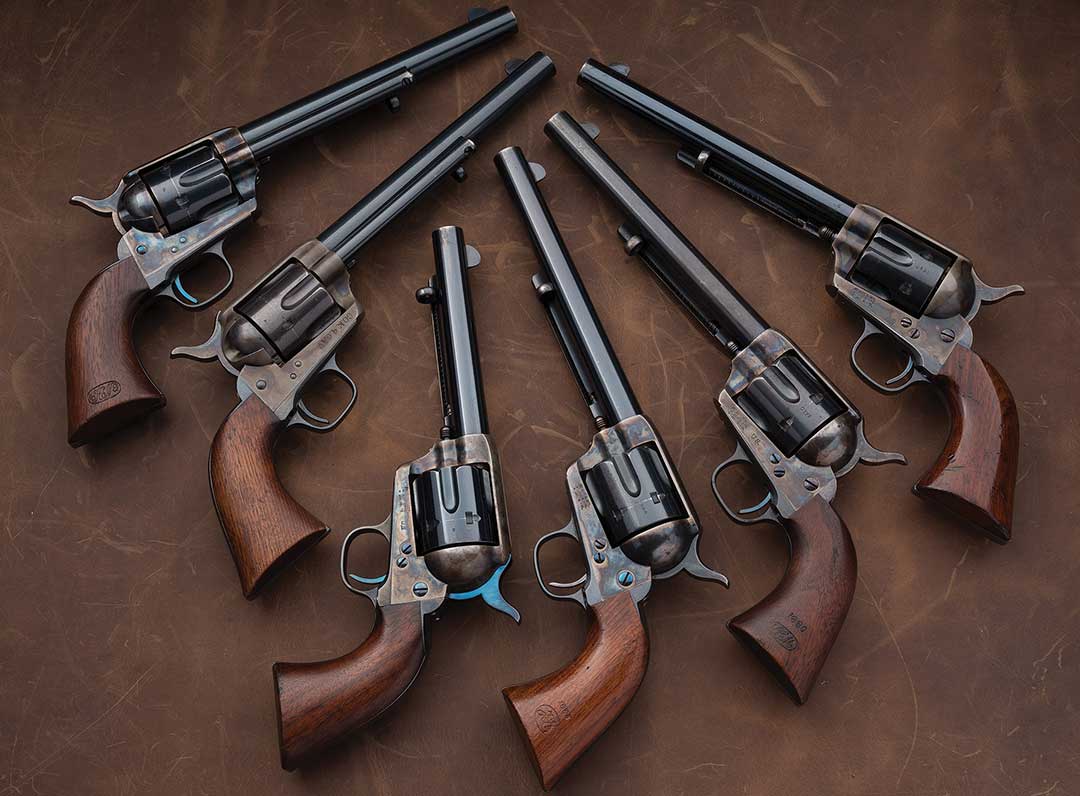 The U.S. Army purchased 37,060 Colt SAA Cavalry Model revolvers from 1873 to 1891, and early Cavalry Models saw extensive service on the frontier. With so many of these revolvers later converted to the shorter-barreled Artillery Model configuration during the late 19th century and early 20th century, original Cavalry Models are a rare collectors gun, and the type of revolver that might have served as the basis for Marty's smash hit single.
"There was forty feet between them when they stopped to make their play, and the swiftness of the Ranger is still talked about today. Texas Red had not cleared leather for a bullet fairly ripped, and the ranger's aim was deadly, with the big iron on his hip."
Buntline Special
Another candidate for the big iron gun might be the Colt 'Buntline Special', the colloquial name for a custom ordered Single Action Army with a notably longer barrel and chambered for the .45 Long Colt cartridge. The first reference to the 'Buntline Special' appeared in Stuart Lake's highly fictionalized 1931 biography, 'Wyatt Earp: Frontier Marshal', a book released more than five decades after the extra-long revolvers were supposedly commissioned and presented.
As Lake's apocryphal story goes, an Old West writer named Ned Buntline ordered five of these special-length revolvers in 1876 and bestowed them to Wyatt Earp, Bat Masterson, and three other Dodge City lawmen. Historically, even though Colt did manufacture a limited number of long-barreled revolvers, they were not called Buntlines, none of them fit Lake's descriptions, and there's no record of any of the five lawmen using such guns.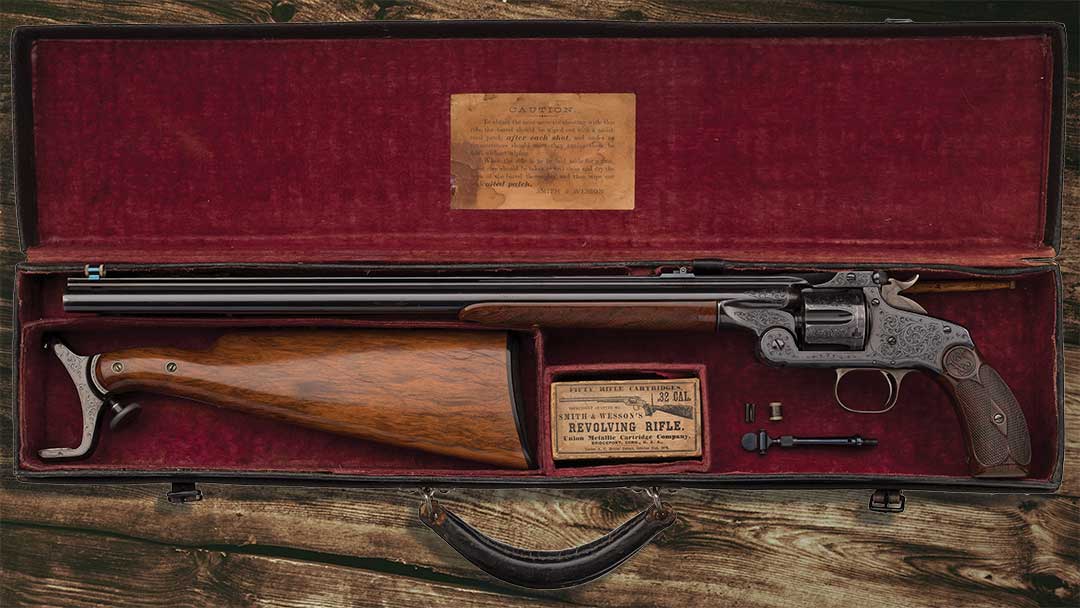 Gustave Young factory engraved Smith & Wesson Model 320 revolving rifle with shoulder stock and case, one possible source of inspiration for storytellers like Stuart Lake and Marty Robbins.
In the end, Stuart Lake was in the business of mythmaking, and his best-selling book went on to influence Hollywood Westerns for decades to come. Colt themselves released an official Buntline Special in the 1950s to cash in on rising interest in the elusive revolver. It's no stretch to wonder if Marty Robbins was also a fan of Lake's Wyatt Earp stories and the legendary gun being described.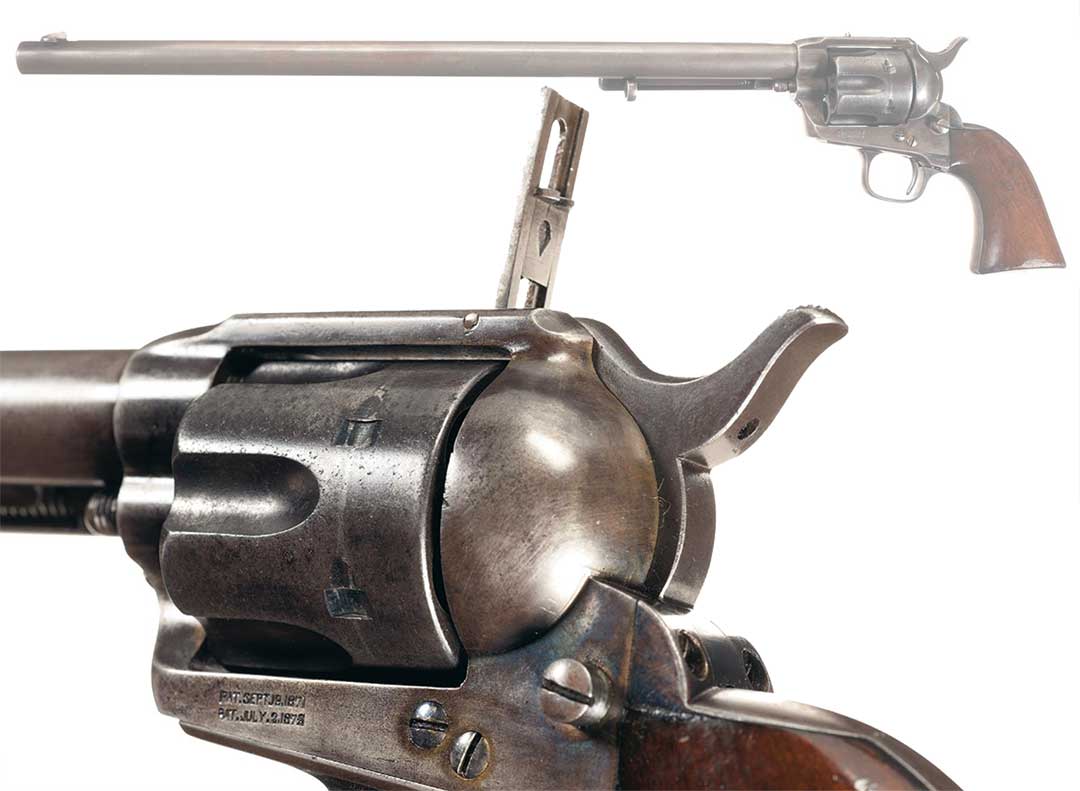 An exceptionally scarce Buntline special Colt revolver from the Wild West realized $546,250 in 2012 with Rock Island Auction Company.
The Colt Walker
The Colt Walker is the definition of big iron, and a clear frontrunner whenever the identity of the gun in Marty Robbins' song is debated. As the most powerful black powder revolver in history, the Walker dwarfs the Single Action Army in size, weight, and barrel length, and raw power. In short, the kind of gun that would have made an impression on a small frontier town unfamiliar with the massive six-shooter.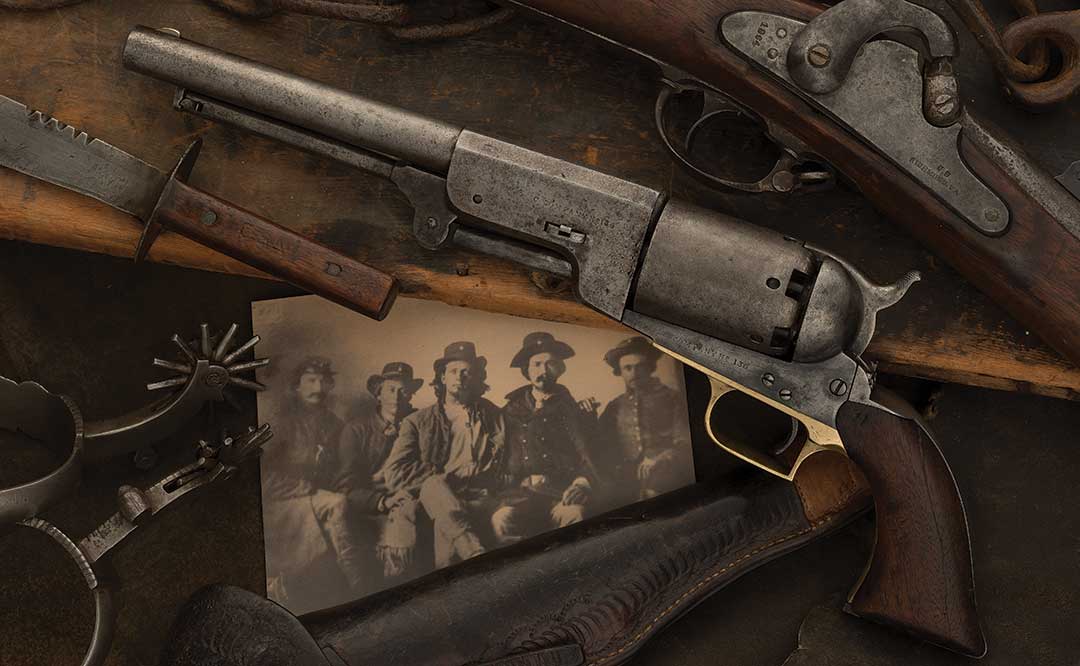 Rare and historic C Company U.S. Colt Model 1847 Walker Percussion revolver inscribed for Terry's Texas Ranger "F.H. Kennedy."
Often called the magnums of their day, the Walker fired a .44 caliber ball with a .60 grain maximum powder load, a significantly higher charge than other black powder revolvers. This impressive power was one of the features requested by Captain Samuel Hamilton Walker when he commissioned Colt to design a weapon that would aid the Texas Rangers on the battlefield, and Samuel Colt delivered a true powerhouse of a gun.
Though Colt Walkers are synonymous with the Lone Star State and the famous Texas Rangers, the Arizona Rangers were a close cousin in many ways, modeled after the war-time versions of their Texas counterparts and armed with similar weapons. If Marty Robbins spotted a Colt Walker during his travels, dubbing the gun 'big iron' would have been an apt description for the king of the black powder revolvers.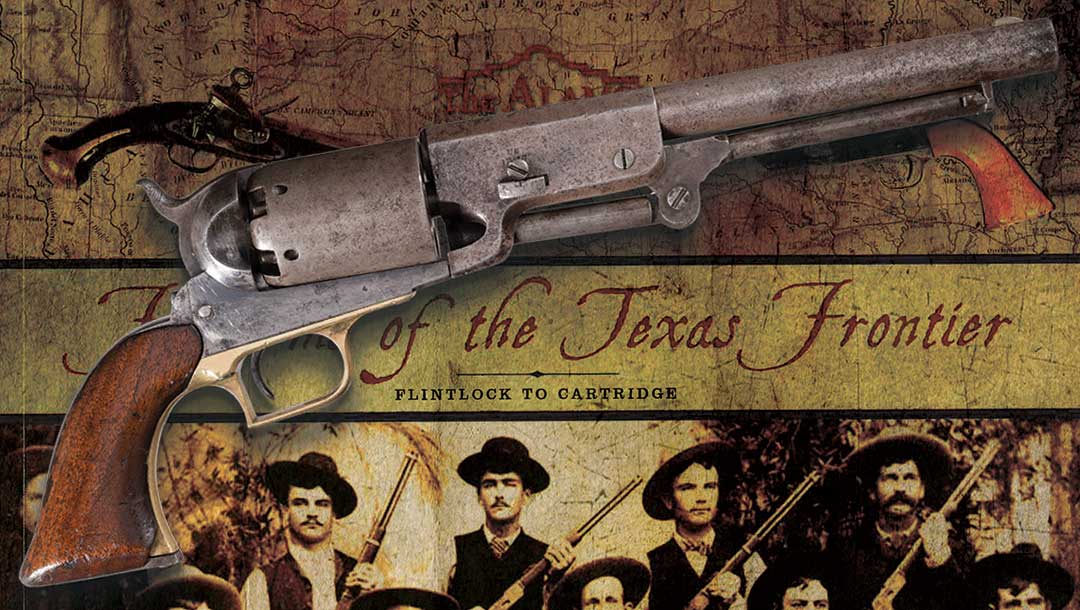 The Colt Dragoon
The Walker's successor, the Colt Dragoon, is a beast of a revolver in its own right. Known by Samuel Colt as the "Old Model Holster Pistol", the Colt Dragoon and its variants are lighter than a Walker and improve on its larger sibling while maintaining the ability to fire a powerful .44 caliber ball.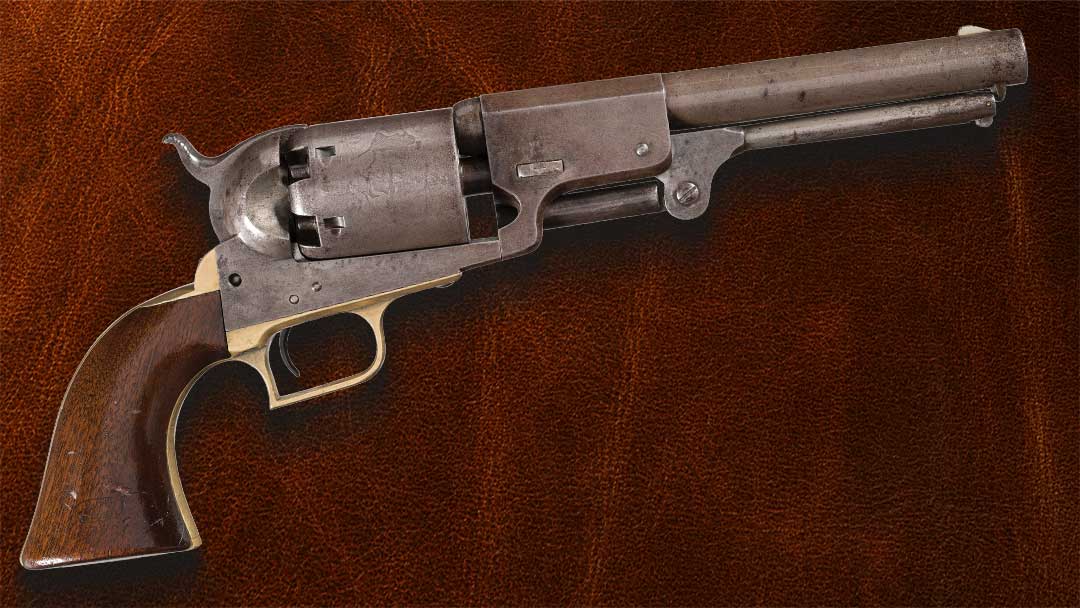 A scarce U.S. "MS" Massachusetts marked Colt Second Model Dragoon percussion revolver, a big iron that packed a wallop.
Over 18,000 Colt Dragoons were manufactured from 1848 to 1860, making this hard-hitting revolver model far more available than its Walker predecessor. Intended to be carried in saddle holsters, the rugged Colt Dragoon would have been an intimidating sidearm, as John Wayne notes about the gun's impressive size in 'True Grit'.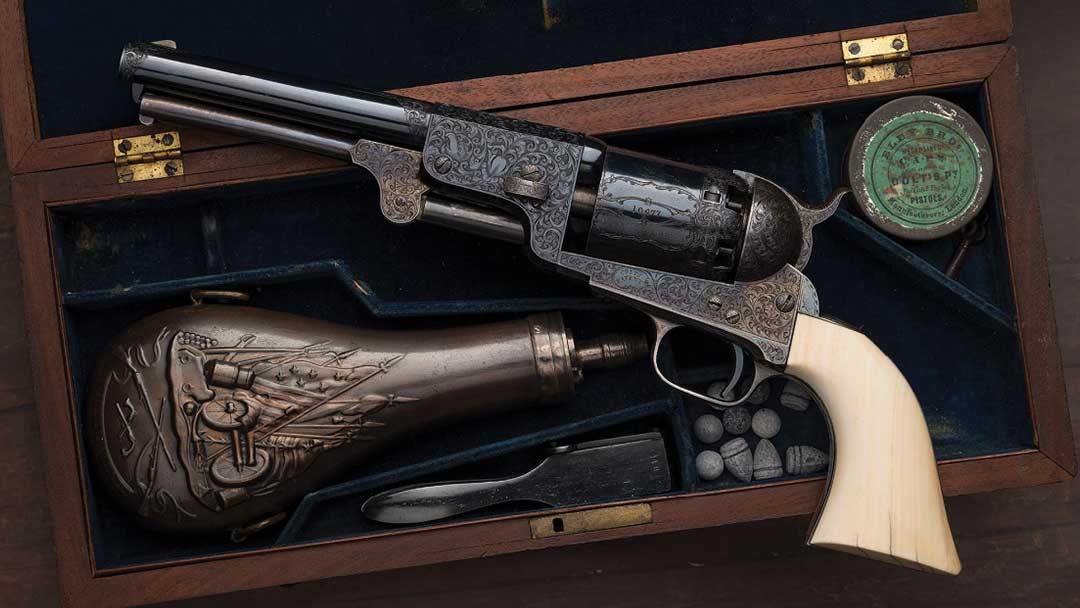 Some of the finest historic Colt Dragoons and Walkers have set records with Rock Island Auction Company.The Millikin Dragoon shown here sold at RIAC for $1,667,500 in May 2019.
Remington Model 1875 SAA
Released two years after the Colt SAA, the Remington 1875 Single Action Army is another big revolver with a distinct silhouette. Though Colt won the war for military contracts and out-produced its Remington competitor four to one by the time Remington discontinued the model in 1889, the Remington 1875 SAA still saw plenty of action on the frontier, including serving as the favored sidearm of infamous outlaw Frank James.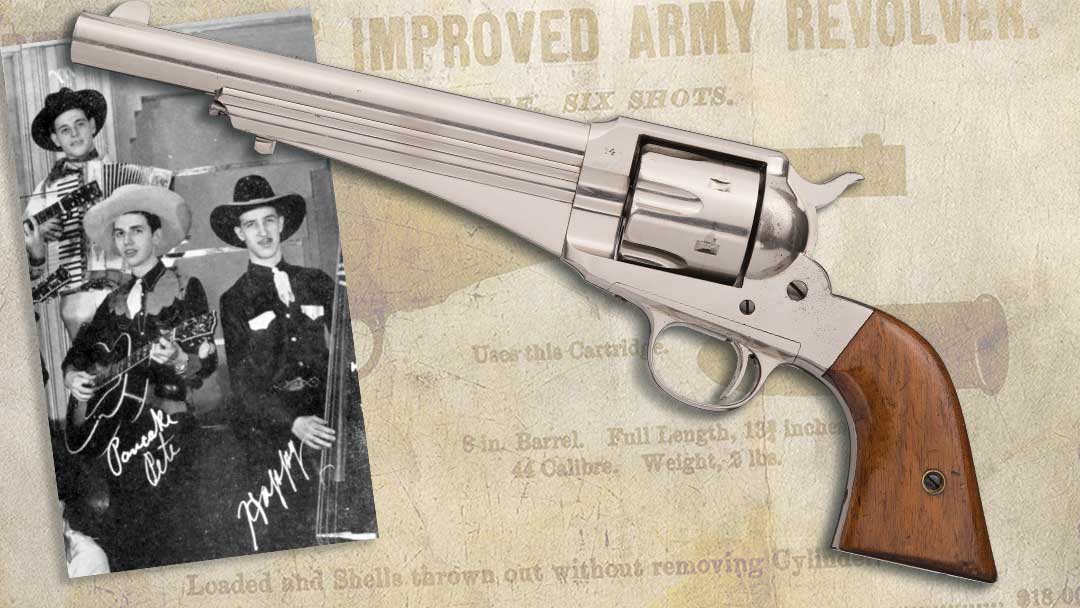 Exceptional Remington Model 1875 SAA revolver in .44-40 W.C.F. Attributed to Country Music Artist "Pancake Pete" Newman of the Sleepy Hollow Gang.
In the 2003 Western, 'Open Range', Robert Duvall referrers to the Remington 1875 as a hefty gun compared to Kevin Costner's Colt SAA. With a larger grip, a distinguishing web under the barrel, and a standard 7 and 1/2 inch barrel length, it's not hard to see why the Remington 1875 might have caught the eye of a creative country singer or an imagined frontier town.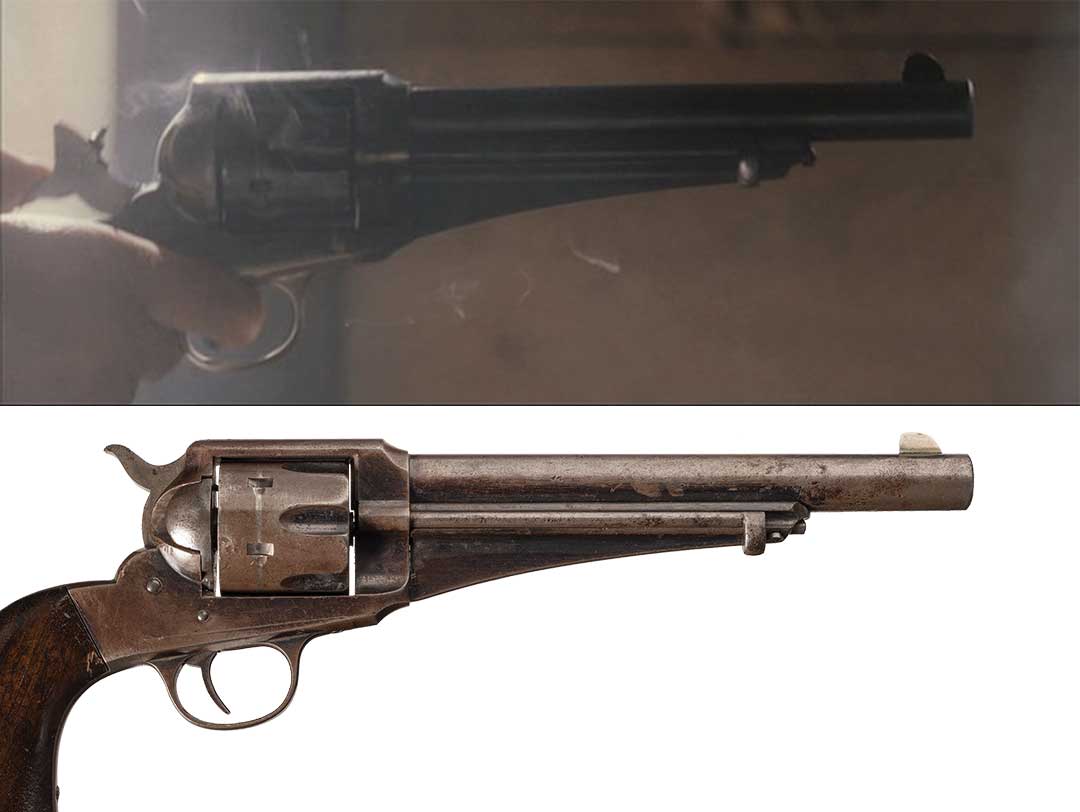 Robert Duvall fires a Remington Model 1875 Single Action Army revolver in 'Open Range'.
Other Big Iron Gun Candidates
Though we've covered the most commonly cited candidates for the big iron gun, the possibilities vary as widely as the numerous revolvers that were available in the Old West and the countless variants within each model type. The big iron memes reflect some of that diversity, with extremely scarce wheelguns like the LeMat "grapeshot" revolver sometimes standing in as the ranger's sidearm.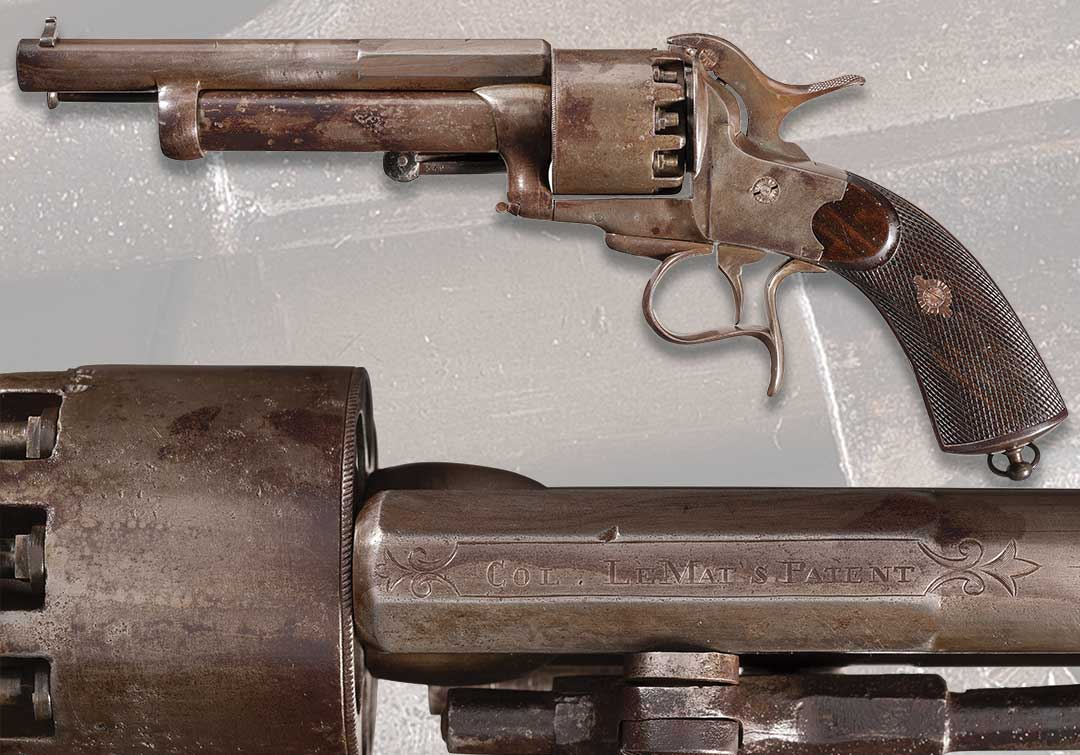 Another 'Big Iron' canidate, a Civil War Era Parisian First Model percussion revolver.
The Smith & Wesson Second Model Schofield SAA is another plausible big iron gun candidate, especially considering Marty Robbin's interest in the history of the American Southwest. Many Schofield revolvers were issued to the 4th Cavalry during the Geronimo Campaign, for instance, and Old West figures like Marshall Bill Tilghman and several members of the James Gang were known to favor the powerful Schofield six-gun.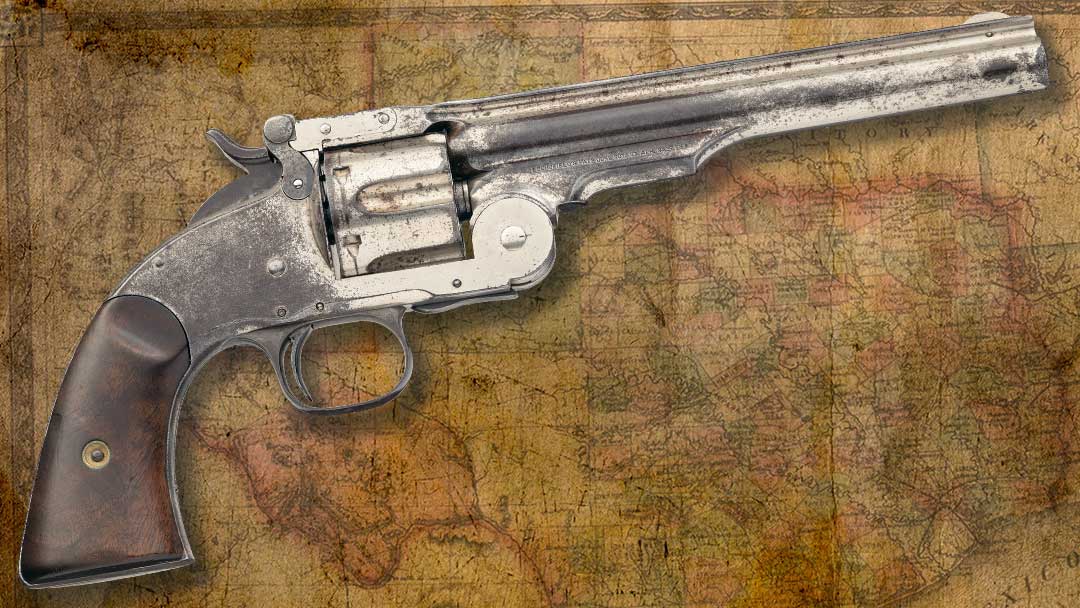 Rare civilian Smith & Wesson Second Model Schofield single action revolver.
Even with Stuart Lake's fictionalized account of Earp's exploits dominating popular culture, some Old West historians of Marty Robbins' era questioned the identity of the revolver Wyatt Earp wore at the O.K. Corral. Earp himself reportedly claimed the revolver he carried during the fateful shootout was a Smith & Wesson Model 3 with an 8 inch barrel. An S&W Model 3 was a hefty gun that would have been consistent with Wyatt Earp's preference for pistol-whipping ruffians. If part of the inspiration for 'Big Iron' came from the historic Tombstone shootout, Earp's long-barreled Smith & Wesson might have been the gun Marty had in mind all along.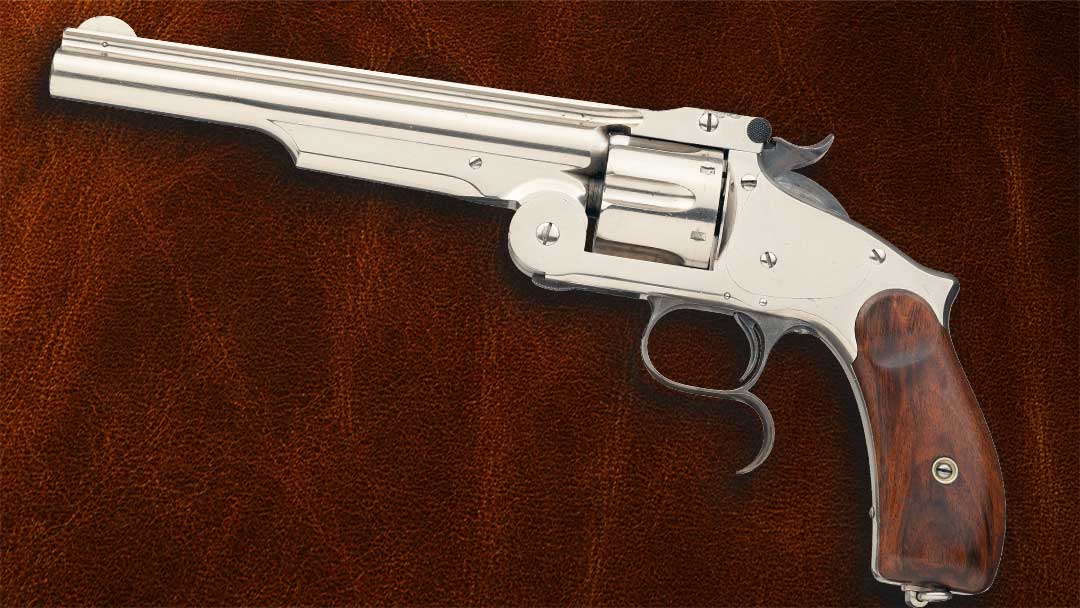 An original Smith & Wesson Model 3 Russian.
"It was over in a moment and the folks had gathered round, there before them lay the body of the outlaw on the ground. Oh, he might have went on living but he made one fatal slip, when he tried to match the ranger with the big iron on his hip."
Rare historic revolvers and Rock Island Auction Company go hand-in-hand. Colt Walkers, Dragoons, and high condition Single Action Army revolvers from the Old West frequently pass through RIAC's auction hall, and each gun has a story to tell that's worthy of a song of its own.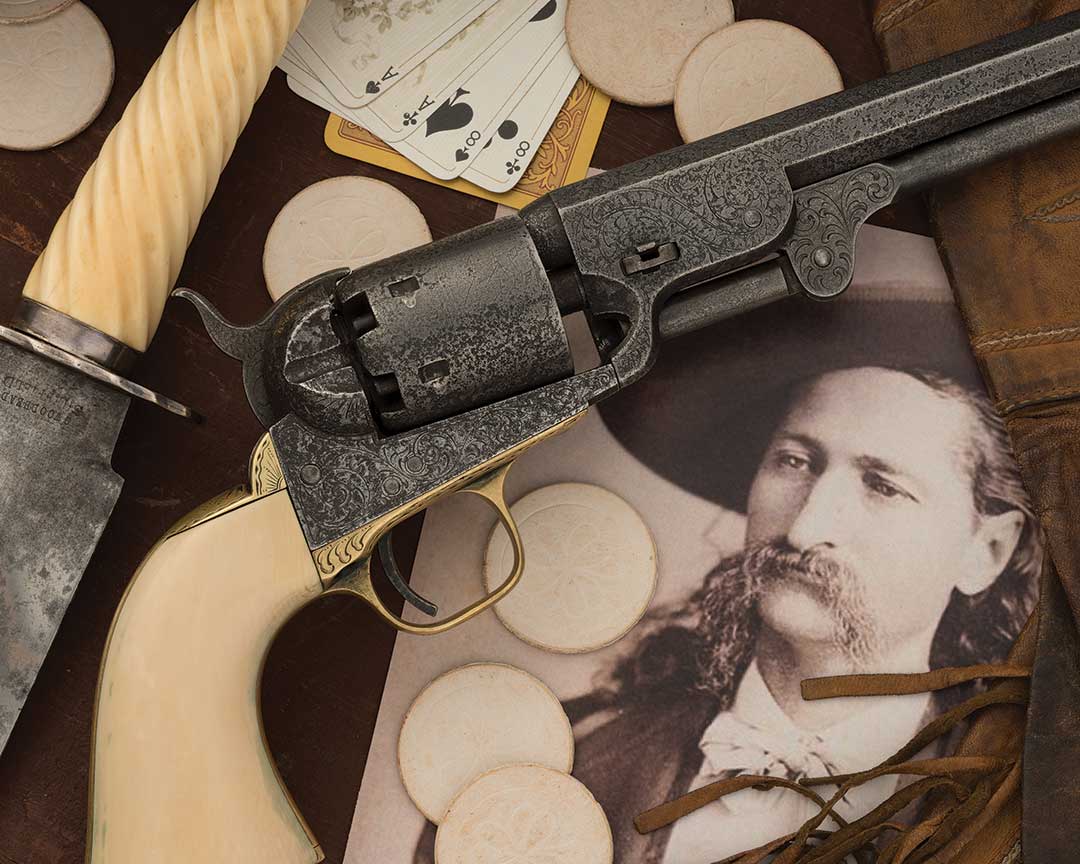 Factory engraved Colt Model 1851 Navy percussion revolver attributed to Wild Bill Hickok and formerly displayed with its mate at the Cody Firearms Museum.
Rock Island Auction Company's May. 13-15 Premier Firearms Auction includes several truly legendary wheelguns, including a Colt SAA retrieved from the Custer battlefield, a Colt Model 1851 revolver attributed to Wild Bill Hickok, and a presentation pair of Remington New Model Army revolvers, serial numbers 1 and 2, belonging to General Ulysses S. Grant himself. Anyone who shares Marty Robbins' fascination with history, firearms, and frontier folklore is encouraged to attend May's event and get a firsthand look at some real-life treasures of the American West.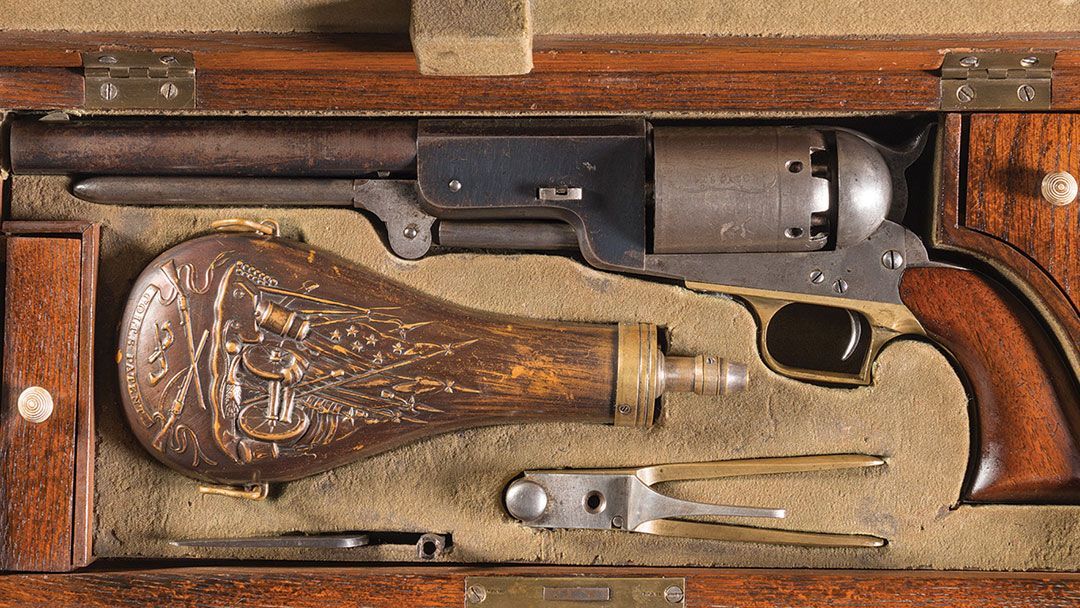 The Danish Sea Captain Colt Walker revolver sold in 2018 at Rock Island Auction Company for a then-world record of $1,840,000.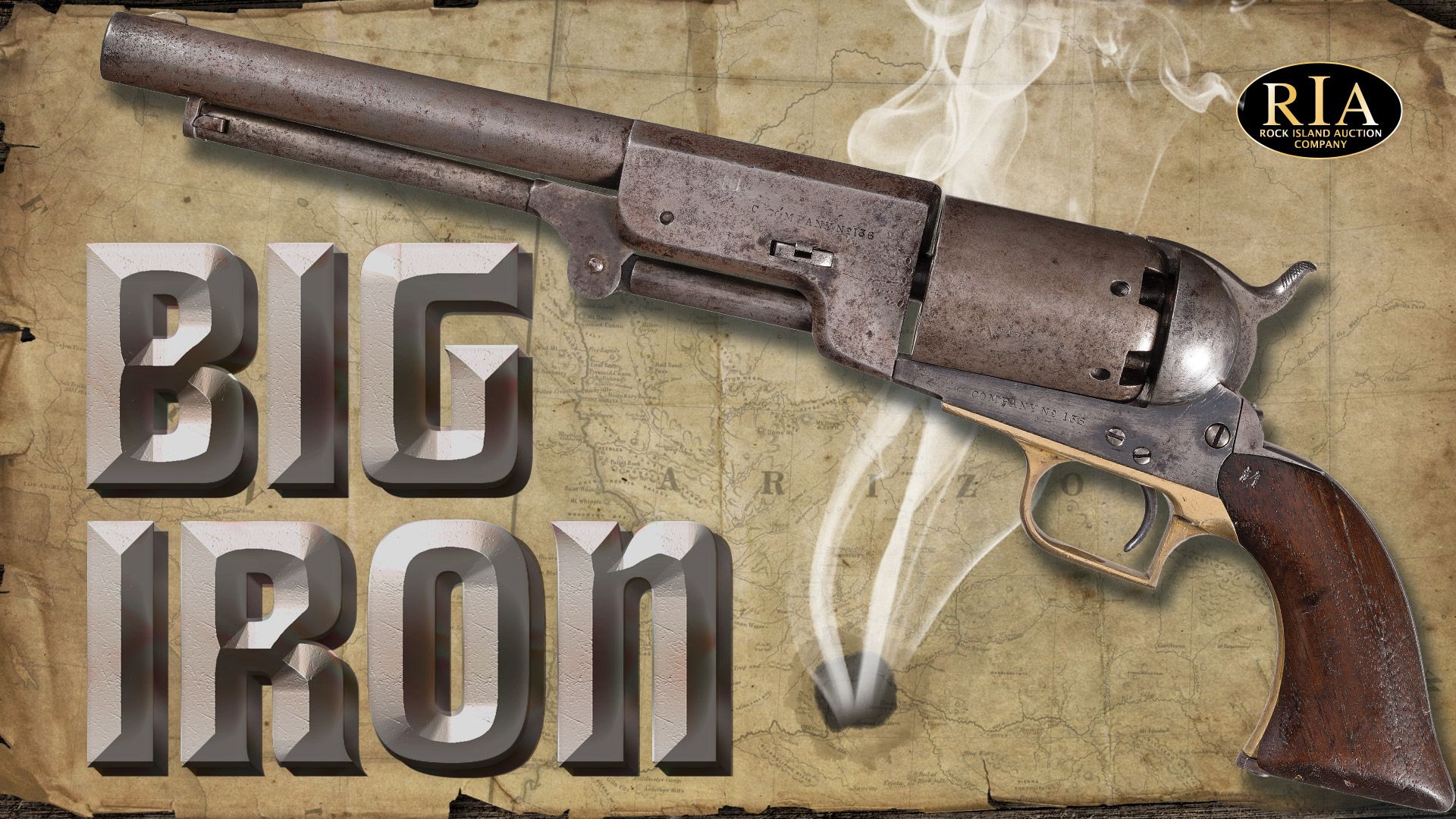 Rock Island Auction Company