"In the Honest Woods," a short story by Holman F. Day published in 1904, tells the story of a big-city minister on an annual hunting trip who seeks refuge in the solitude of the woods but finds himself lost. He comes across a cabin with two hunters and their guide. The guide is the man whose wife he stole years ago.
The reverend fears violent retribution when the guide asks to speak to him alone. He refuses the request, but finds no allies in the two other hunters after they heard their guide's story. The minister and hunting guide leave the cabin, and when the guide returns he tells of what happened in the hours they were gone, leading the lost man back to his hunting party and letting him cross a lake in his rowboat.
The story is over-dramatic in its underlying threat of violence but finds redemption in what one of the men calls the "iron self-restraint of the woods."
"Honest Woods," a painting by Philip Russell Goodwin that accompanied the article in "Leslie's" magazine, perfectly represents the tranquility of an early morning sky and calm lake while hinting at the violence that is narrowly avoided. A grizzled figure holds a rifle, his finger on the trigger, watching as a man rows away.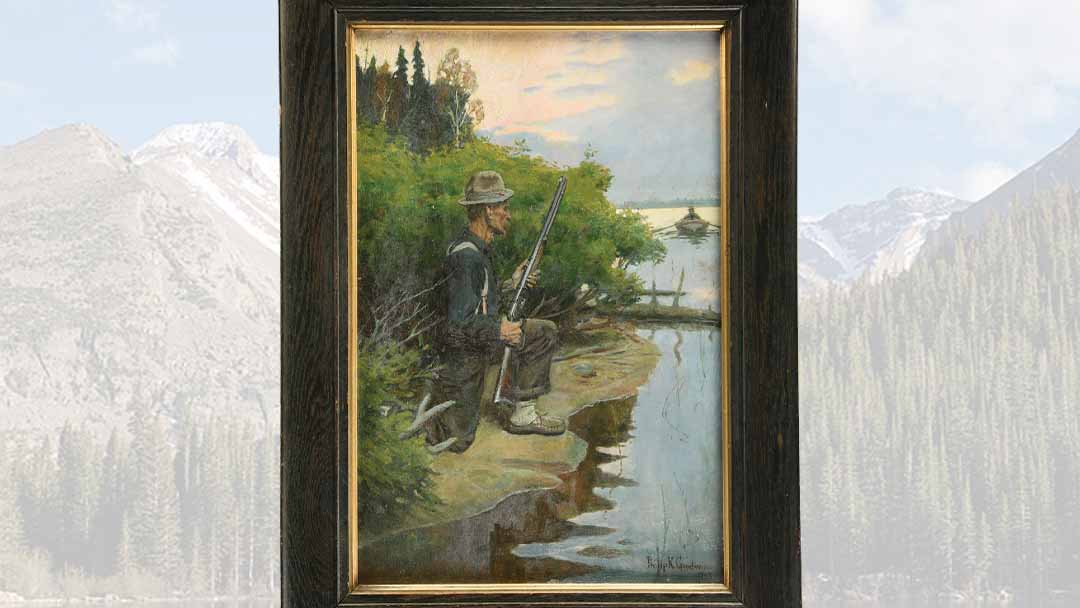 "Honest Woods" by Philip Russell Goodwin is based on an illustration he did for the short story "In the Honest Woods" by Holman F. Day, published in 1904. The signed painting is dated 1909.
The hunting guide explains to the two men that hired him how they parted, "Why, gentlemen, if I hadn't had the sense to ram that rifle-butt down into the lake and hold it there, I'd have bored him as I would a buck deer."
Praised for his restraint by the men, the guide says he's not worthy of their high regard:
"And to-day I'm hot and bitter and swearing and cursing inside—wishing now that I'd put a forty-four between those whisker tufts—sorry I let him go. I'm an awful man, gentlemen, inside me. I figure 'twas only accident I let him go, after all but if you'll hunt alone to-day, I reckon I'll go out and let the woods talk to me—the big, generous, soothing, crooning, honest woods. And then I'll come back all right to-night, gentlemen,—all right to-night!"
The signed and framed painting, "Honest Woods," with the tranquil blues of the sky and water and verdant forest that beautifully captures the spirit of the story, is on offer in Rock Island Auction Company's Dec. 9-11 Premier Auction along with a number of advertising pieces by Goodwin.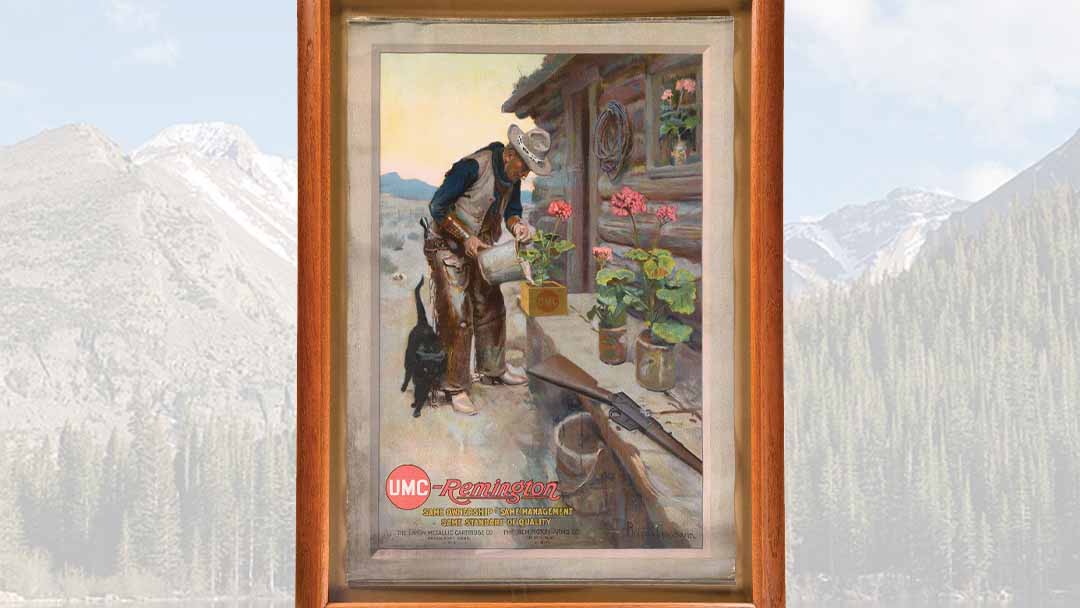 After the horrors of World War 1, companies like Winchester re-branded themselves away from being a company that made weapons of war and turned to artists like Philip Russell Goodwin to provide a softer side, like this Remington advertisement in Lot 1028 where the cowboy has set aside his Remington Model 8 rifle to water flowers while a cat rubs against his leg.
Philip Russell Goodwin Dives into Wildlife Art
A well-regarded illustrator and wildlife painter of his day, he often gained commissions for advertising pieces from companies like Winchester, Bristol Fishing Rods, and Marlin, and for illustrations from magazines that included "The Saturday Evening Post," and Collier's.
Born in 1881, Goodwin showed his artistic gift from an early age. He sold his first story to "Collier's" magazine when he was 11. Frederic Remington's art and a visit to the Buffalo Bill Wild West Show with an uncle spurred a fascination for cowboys, Native Americans, and the western frontier. Encouraged by family, he studied at the Rhode Island School of Design before enrolling at Drexel University.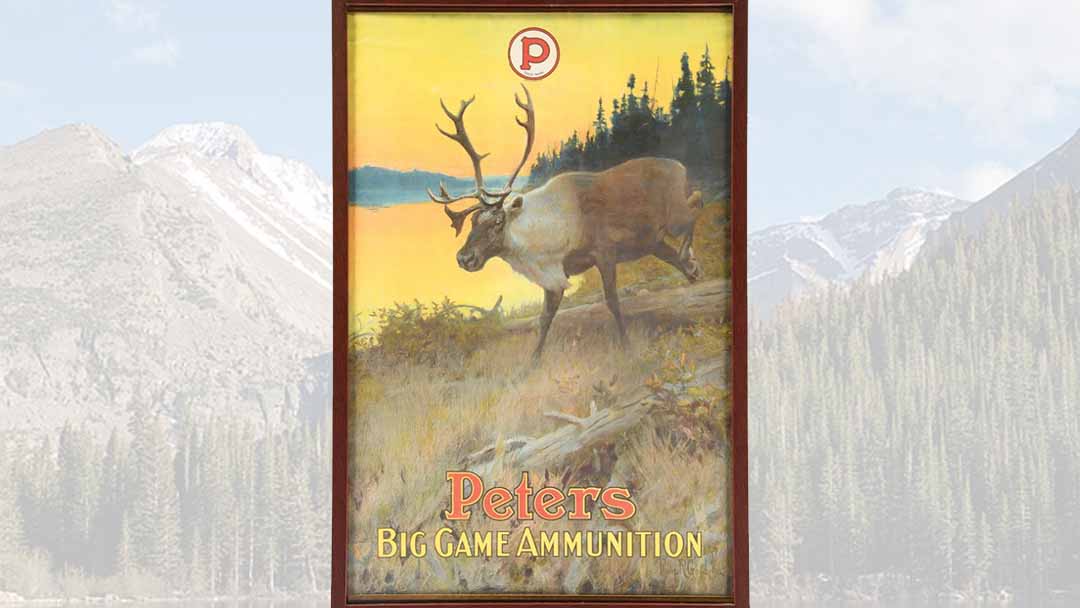 Light and color were important to Philip Russell Goodwin but he also achieved a detailed realism, like the way the elk in Lot 29 steps over a log.
Following his graduation from Drexel, he moved to New York where he set up a studio. In 1903, at the age of 22, Goodwin was commissioned to illustrate Jack London's classic tale of sled dogs and the Klondike gold rush, "Call of the Wild," despite never having been out west.
He met Charles M. Russell, a Wild West artist from Montana, who had traveled to New York City to meet art dealers and promote his art. He invited Goodwin out west in 1905. Goodwin, who was familiar with the woods of Maine, was awed by the vast landscapes of the Rocky Mountains and the wildlife.
He wrote to his mother of one visit to Russell's Montana lodge: "It is one of the prettiest spots I have ever seen here on the lake with the Giant Rockies surrounding it. It is all big forests around the lake here though and I expect to do lots of sketching."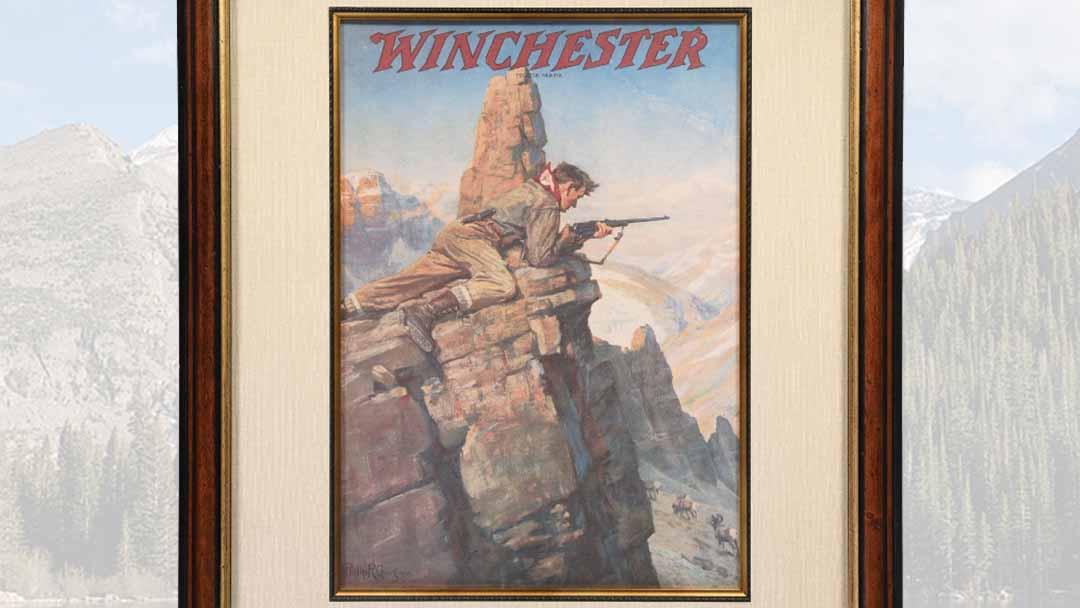 Whether his hunters were atop a rocky crag or emerging from their tent, Goodwin created a tension between man and the wild like he does in Lot 1017 as the hunter prepares to take aim with his Winchester Model 1895.
Wildlife Art and a Wilderness Experience
Another outdoor artist who befriended Goodwin was Carl Rungius, a German who fell in love with the West. He taught Goodwin the finer points of hunting and wilderness survival. One of his rules was: "As sure as you bring your paintbrush, bring your rifle, you're bound to run into game on the day you don't."
Writer Christopher Yurkanin, in an NRA American Rifleman article from January 2016, recounted such a moment Goodwin faced in 1911. On a visit to the Canadian Rockies, Goodwin was sitting and sketching, lost in concentration. He'd gone out without a rifle.
"But that didn't occur to him until he saw the Grizzly come up from the river some 40 feet from him. They both stood at the same time. A short staring contest ensued before both turned tail and ran in opposite directions," Yurkanin wrote. "The fortunate ending to this surprise meeting influenced a later series of paintings by Philip revolving around unexpected predicaments, several involving bears."
Bears were a favorite subject for Goodwin to paint because of their "massive menacing temperaments," but also because they could be sweet and playful when not faced with self-defense. They were often part of what became Goodwin's "predicament paintings."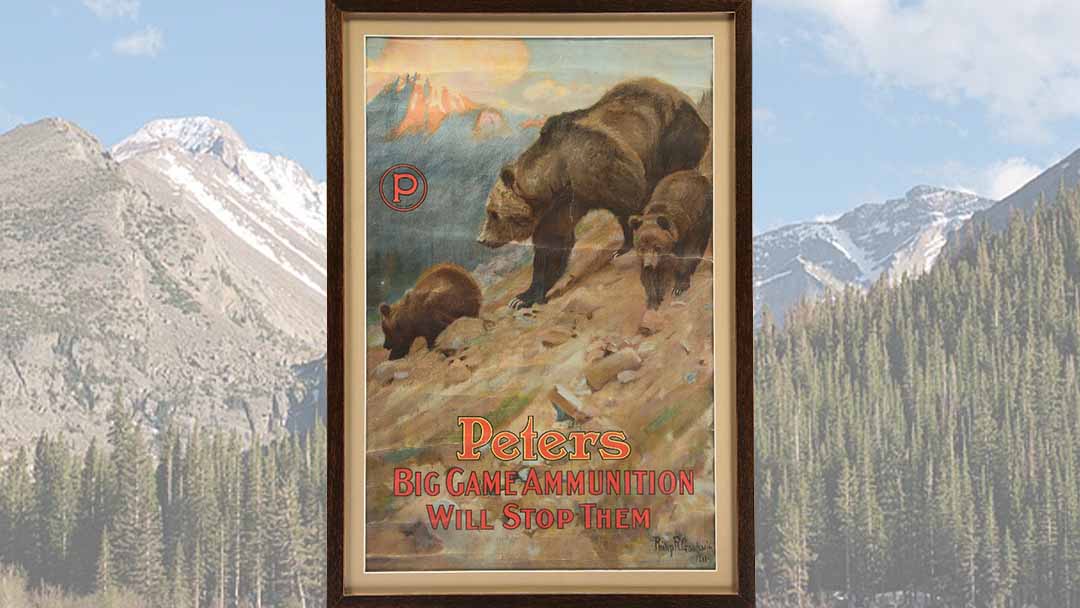 Bears were a favorite subject to paint for Philip Russell Goodwin. This Peters Big Game Ammunition Print is Lot 28 in the Dec. 9-11 Premier Auction.
Philip Russell Goodwin and Wildlife Art for Theodore Roosevelt
Shortly after his presidency, Theodore Roosevelt trekked to Africa on a hunting expedition, visiting Kenya, the Congo, and Sudan from 1909 to 1911. He wrote a detailed account of the excursion, entitled "African Game Trails." Goodwin was tasked with illustrating it.
Along with hundreds of photographs in the book, Goodwin provided eight illustrations of moments described to him. They included a lion fighting tribesmen, a charging rhinoceros, an attacking hippopotamus, and a rampant bull elephant. Goodwin visited the Bronx Zoo to sketch similar beasts as Roosevelt encountered in order to provide accurate drawings.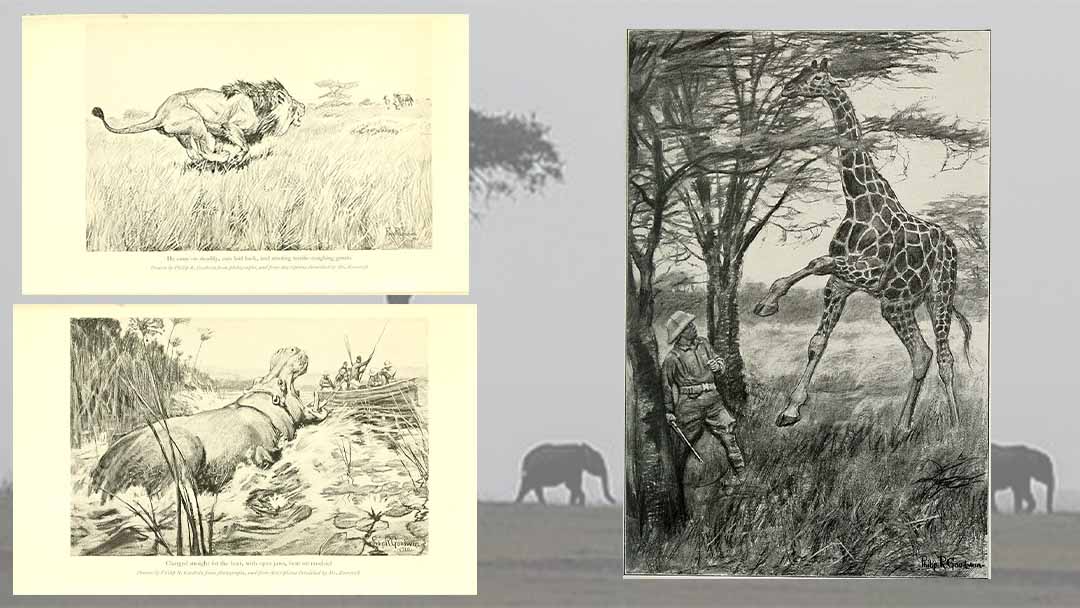 When asked to illustrate Theodore Roosevelt's account of his African safari, Goodwin visited to Bronx Zoo in order to draw the scenes described to him and hits on the kinetic energy of the moments.
Winchester Wildlife Art and Philip Russell Goodwin
In 1919, World War I had been over less than a year and Winchester Repeating Arms officials, not wanting to tie the company name to the horrors of the war, sought a rebranding. The company fell on a painting by Goodwin.
In it, a rider cradles a Winchester rifle in his arm as he urges on his pony past sage and a buffalo skull. Winchester has used the image as its logo ever since. Oddly, Winchester didn't trademark its horse and rider until 1965.
Goodwin produced three calendar scenes, seven poster vignettes, scenes for stationary, and cardboard pop-ups for Winchester, too.
In 1935, Goodwin was ready to finally move west to California, near where his brother and his family lived. Shortly before he was to leave, Goodwin was found unconscious on the floor of his studio, guarded by his dog. He died a few days later of pneumonia at the age of 54.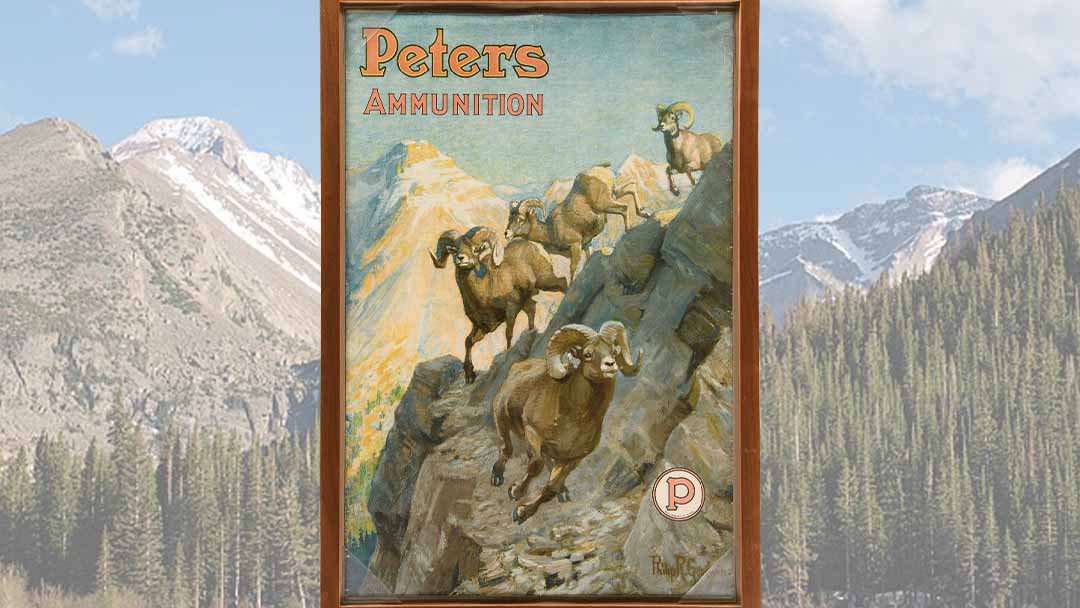 Whether it is the coiled energy of a predator or the flight instinct of prey, Philip Russell Goodwin captured the motions of animals in nature.
Wildlife Art of Philip Russell Goodwin
Philip Russell Goodwin may not be as well-known as other artists of the same period, like Russell or Remington, but he captured the beauty, solitude, and ferocity of the wilderness like no other. Legendary outdoorsmen Jack London and Theodore Roosevelt turned to Goodwin to illustrate their exploits in the wild. As a friend, he inspired his fellow painters who in turn inspired him.
The art world has embraced Goodwin's works in recent years, as his works have brought in six-figure sales at auction. At an art auction earlier this summer, Goodwin's "Between the Devil and the Deep Blue Sea," his most significant painting, sold for a world record $968,000, soaring past the presale estimate of $150,000 to $250,000. Goodwin's "Quenching Two Thirsts," that was also in the auction, realized $363,000. More than 20 of Goodwin's works have achieved sales of $100,000 or more.
"Honest Woods" is a painting that captures Goodwin's artistry with its use of colors both vibrant and subtle, setting a scene as well as a mood of menace and redemption. This piece, with a pre-auction estimate of $25,000 to $50,000, is an opportunity to acquire the work of an under-appreciated master of sporting art collectibles.  The signed and framed painting, along with examples of Goodwin's advertising artwork, are available in Rock Island Auction Company's Dec. 9-11 Premier Auction.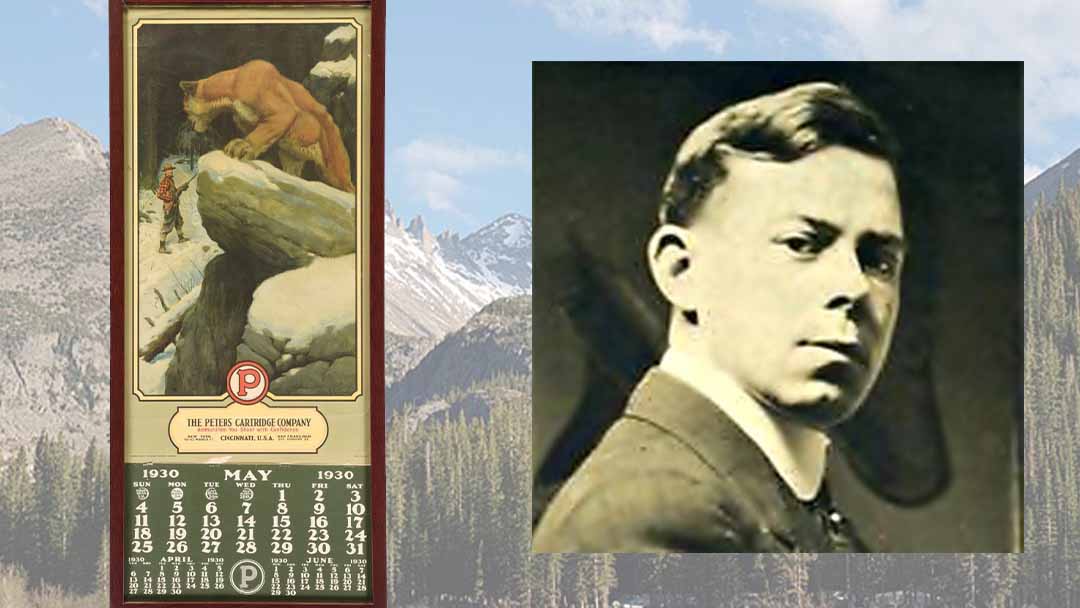 Philip Russell Goodwin was no master of self-promotion, so his work, like Lot 3046, often went under appreciated in the art world. He died in 1935 of pneumonia at the age of 54.
Sources:
The Artist Behind the Iconic Winchester Horse and Rider, Winchester.com
Goodwin's Life: An Illustrated Adventure, by Erin Anderson
Three Hundred Words: Winchester's Horse and Rider, by Christopher Yurkanin NRA American Rifleman
Unknown. Philip R. Goodwin. TU2009.39.7651.91. Charles M. Russell Research Collection (Britzman). late 19th century – early 20th century. Tulsa: Gilcrease Museum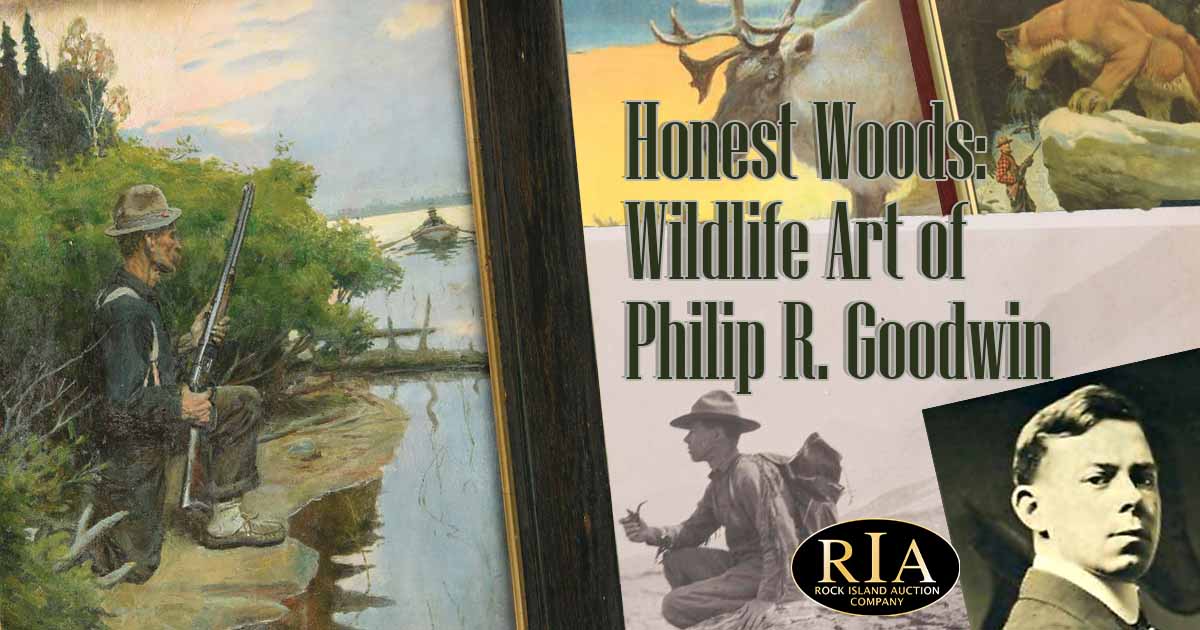 Rock Island Auction Company