Eye-catching German Lugers are among the numerous World War 2 era weapons from the Paul Crockett Jr. Collection in Rock Island Auction Company's Premier Auction, Dec. 9-11.
Crockett's extensive collection of military arms — sidearms, long guns, and bladed weapons — comprise 142 lots in the auction. Though the collection leans heavily on German arms, it also includes fine examples of classic American weapons like the M1911, M1 Garand, and M1 Carbine.
The obituary for Crockett, who passed this August, described him as an "avid student and somewhat expert on the history of World War 2 guns and swords." Looking at his collection, "somewhat" is an understatement.
The Paul Crockett Jr. Collection is offered alongside the Jim Supica Collection, the Don & Carol Wilkerson Collection, and the Joe Wanenmacher Collection in the December Premier Auction.
World War 2 Guns: German Lugers
Fans of the Luger should be flocking to this auction for the breadth on offer. The heart of Crockett's collection are Lugers from various manufacturers in a number of styles. There are artillery Lugers, police Lugers, Lugers with stocks, Lugers with holsters, and war trophies. Here are just a few of the fine examples up for sale in the auction.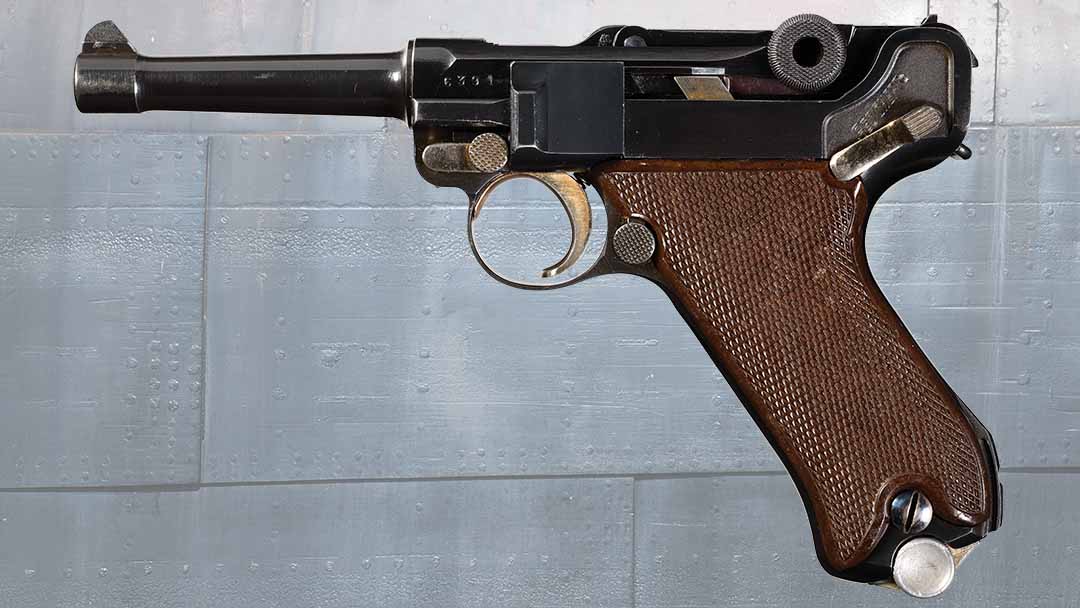 Lot 3371: 1936 Krieghoff Luger with Holster: Kreighoff was the official Luger supplier to the Luftwaffe. This gun was made in 1936 and was one of only 7,400 the company made. The gun is in excellent condition with 95 percent of its blue finish. It also has a leather holster.
The Luger, designed by Georg Luger, was manufactured in 10 different variants. It was developed to follow up on the Borchardt 1893 by Deutsche Waffen und Munitionsfabriken (DWM) and went into production in 1900 and used the 9×19 parabellum cartridge.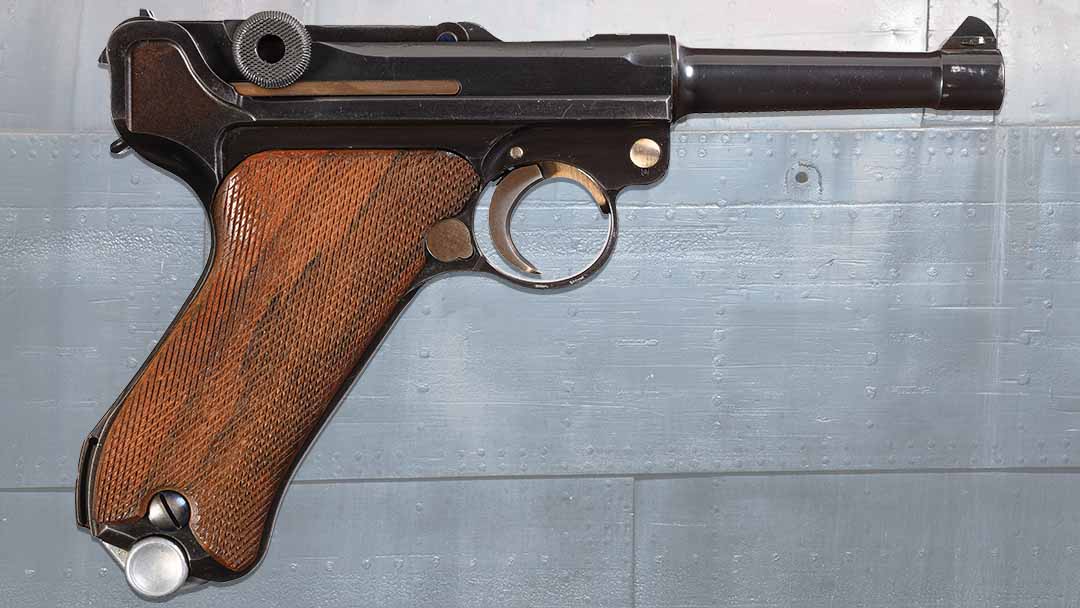 Lot 1430: Swedish 1940 Commercial Mauser. Mauser Lugers were produced in limited quantities for commercial sale in Sweden. The gun was exported from Sweden to the United States. This Luger was held up in the book "Third Reich Lugers," by Jan Still as a fine example of the Swedish Mauser.
The Luger generally had a barrel length of 4.7 inches but a short version of 3.9 inches could be found as well as artillery versions with 7.9 inch barrels. More than 3 million Lugers were built for military service. Lugers were made with the best materials of the era with precise tolerances, making them well known for their high quality.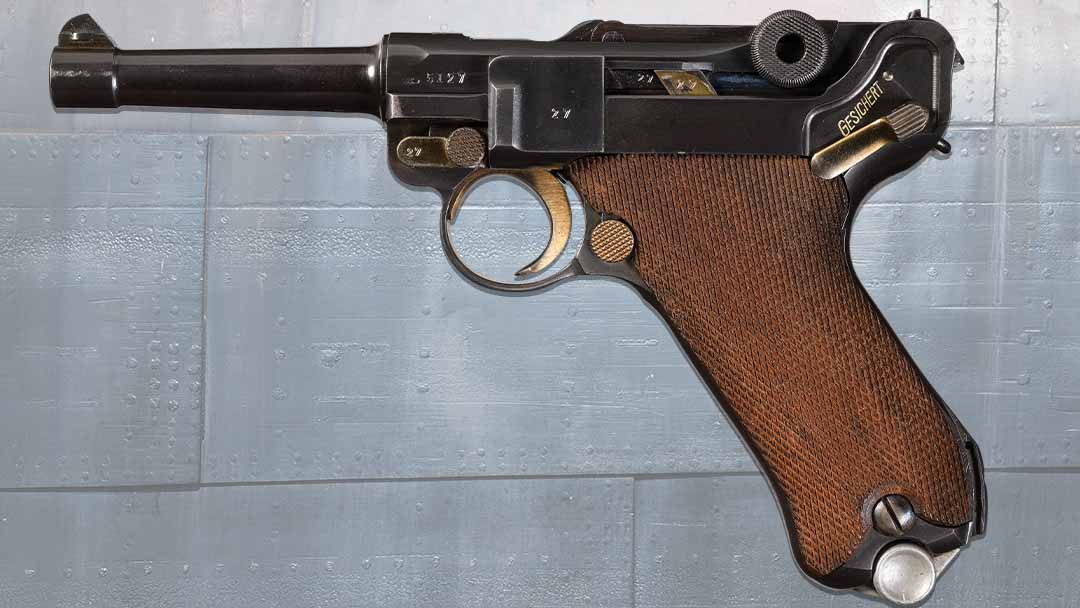 A war trophy Luger is offered in Lot 1407. The Mauser Banner 1938 Luger is attributed to Lt. Gen. Alvan C. Gillem Jr. who commanded the II Armored Crops at Fort Knox and XII Corps 9th Army in Europe that got to within 50 miles of Berlin, the closest of any American unit. The paperwork does not state how Gillem acquired the gun but that it came into his possession at the close of World War II.
World War 2 Sniper Rifles
On offer from the Crockett Collection are World War 2 sniper rifles from the United States, Germany, and Japan.
German rifles borrowed Soviet innovation from captured SVT-40 rifles making them simpler and sturdier than the G41 rifle. The Gewehr 43 (G43) was produced starting in 1943 and followed the next year by the Karbiner 43 (K43). Despite different model names, the guns were identical.
Matthaus Hetzenauer was the deadliest of German snipers, with 345 kills on the Eastern Front during World War 2. His longest kill was 1,100 meters. He used a Gewehr 43 with a ZF4 scope.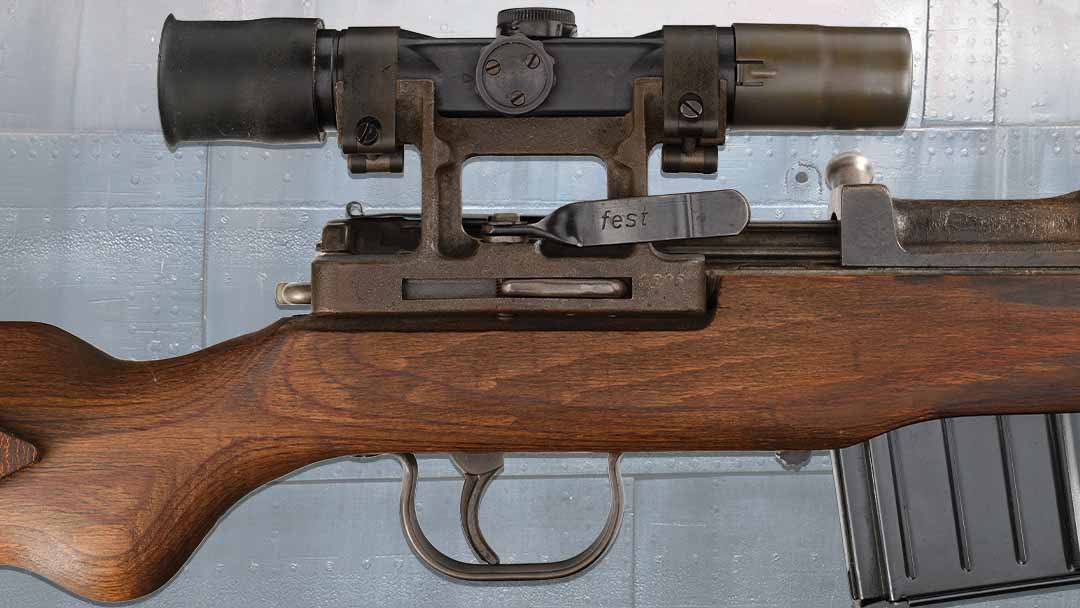 Lot 1392's Walther "AC/45" Code K43 rifle has a ZF4 sniper scope and matching mount. The ZF4 was the standard sniper scope for the German army. The scope is marked with a blue triangle that denotes it was for use in cold weather.
The ZF4 scope was standard for sniper use with the G43/K43, and often marked with a colored triangle to signify the internally used grease. Blue was for cold climates, while white was for temperate, and green was for warm climates. Later produced scopes weren't marked.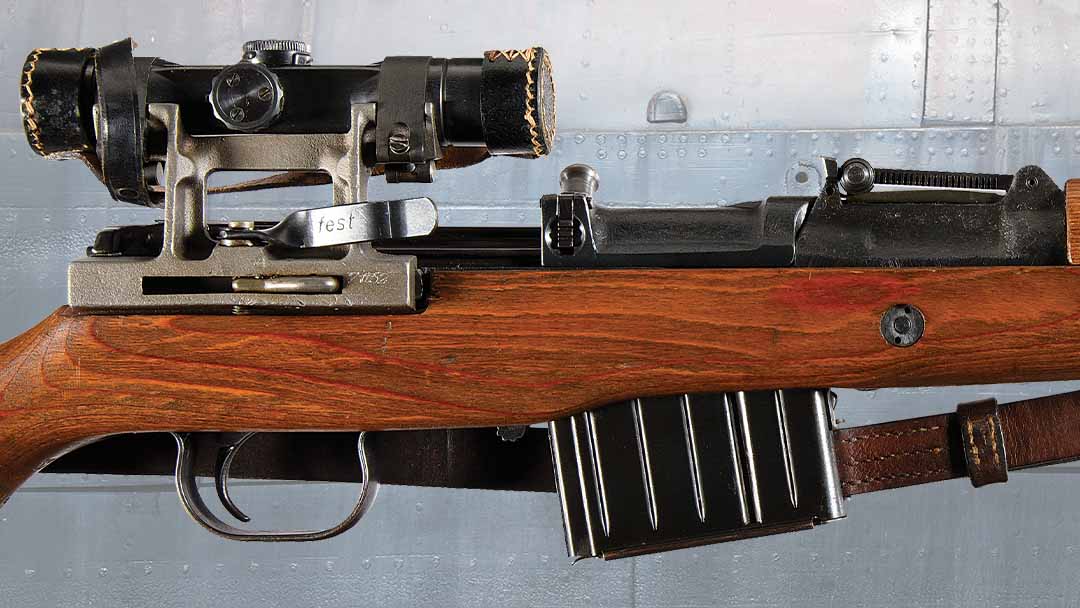 Lot 1431 is a Berlin-Lubecker "QBE 45" Code K43 sniper rifle. This gun also has a ZF4 scope with it and is mechanically excellent, retaining 80 percent of its late war finish.
During World War 2, 25,000 bullets were needed by the average infantry soldier to kill one enemy. A well-trained sniper used 13. Special rifles hadn't been developed for snipers so marksmen used standard issue rifles with mounted optics. The Springfield M1903 was an accurate and reliable gun for American snipers.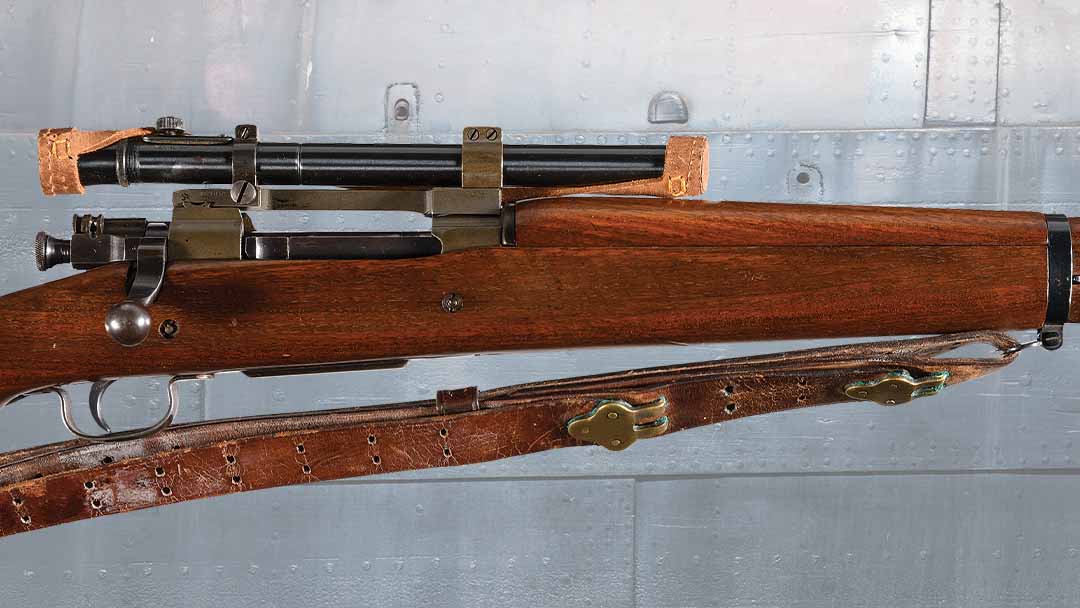 An excellent World War 2 U.S. Remington Model 1903A4 bolt action sniper rifle with Weaver M73B1 scope is offered in Lot 1503. The original iron sights are absent. The pistol grip scant stock has a checkered blue steel buttplate and RA (Remington Arms) and FJA (Frank J. Atwood) inspection stamps on the left stock with a crossed cannons cartouche. The gun has a leather sling and leather scope covers.
Japanese snipers were considered expendable and were expected to fire on the enemy until neutralized. The Type 97 had a five-round capacity. Japanese sniper rifles could also be fired using iron sights.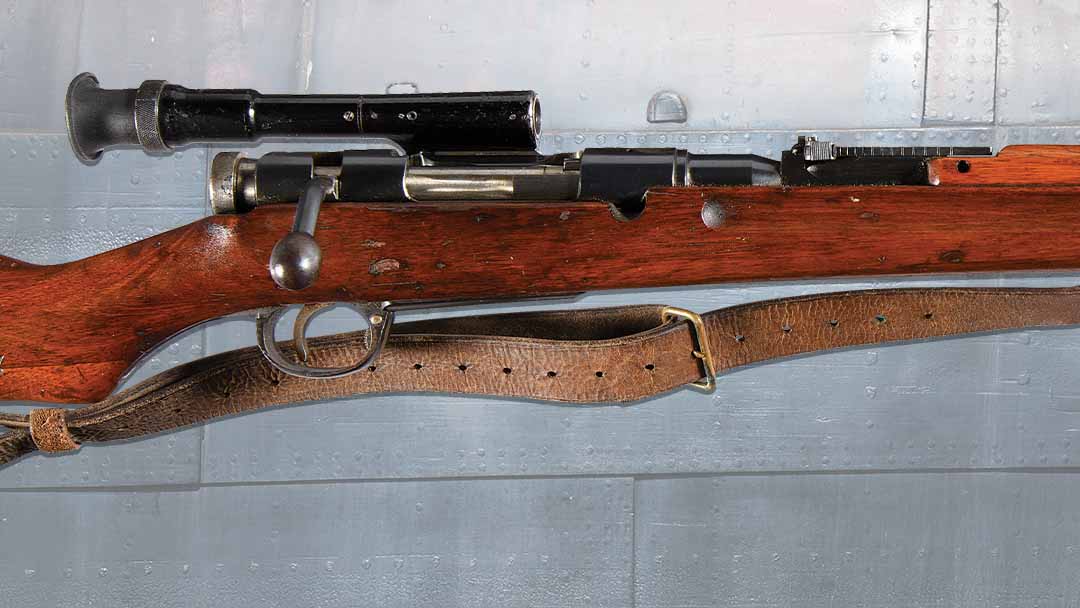 Lot 1367: Japanese Nagoya Arsenal Type 97 sniper rifle with scope. This bolt action rifle is based on the Type 38 rifle but with a lighter stock. It has a 2.5×10 scope with a leather sling and a cupped metal buttplate.
World War 2 Guns: American Guns
The Crockett Collection didn't only focus on German weapons. A number of fine American arms are included like the M1 Garand, M1 Carbine, M1911, a U.S. Johnson Automatics 1941 rifle, and even a U.S. Civil War American Machine Works Smith carbine.
The U.S. Johnson Automatics 1941 rifle was a recoil-operated semi-automatic rifle designed by Melvin Maynard Johnson Jr. The gun has the novel feature of a 10-round rotary magazine that could be loaded at any time. The U.S. military passed on adopting the rifle but approximately 750 went to the U.S. Marine Corps and were used by Marine Raider and Parachute Battalions in Pacific island hopping campaigns.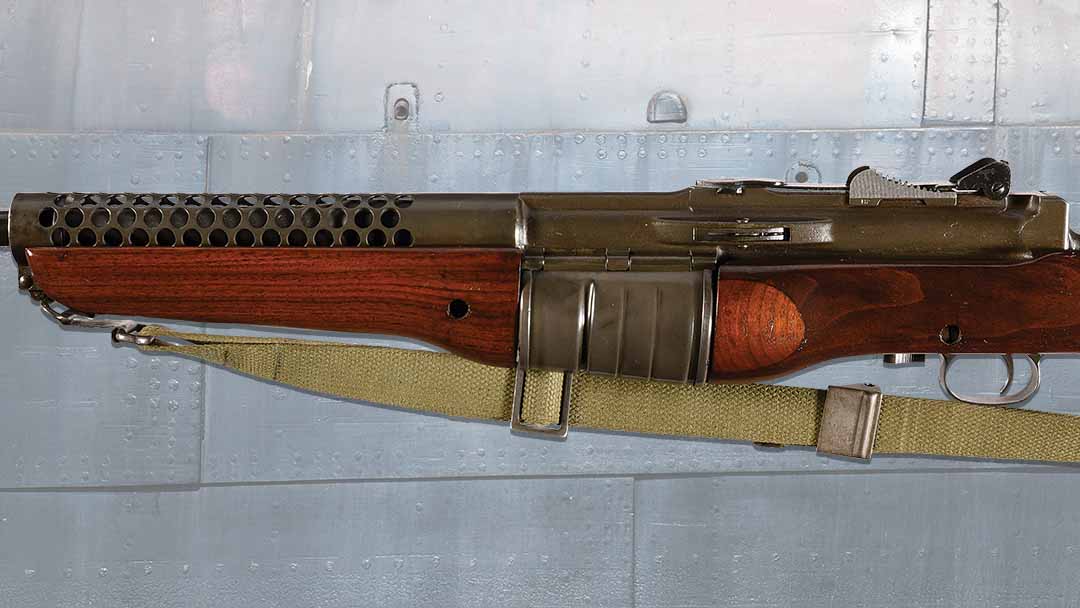 Lot 1485 is a U.S. Johnson Automatics 1941 rifle with bayonet and sling. The gun retains 98 percent of its parkerized finish and the wood is very fine. The rifle is mechanically excellent.
Among the Crocket Collection's M1911 pistols is a Colt manufactured in 1913, the second year of production, with U.S. markings that was part of a 500-gun shipment to Rock Island Arsenal.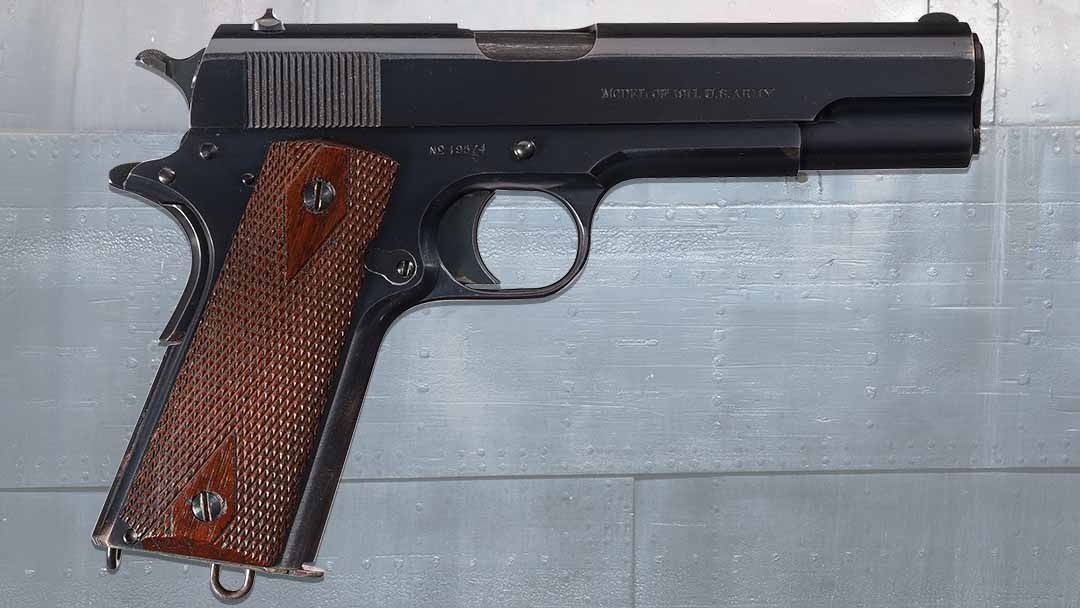 Lot 430 is an excellent 1913 Production U.S. Colt Model 1911 listed on page 515 of "U.S. Military Automatic Pistols: 1894-1920," by Edward Scott Meadows, a timeless classic considered the definitive resource on early American semi-automatic pistols and the trials that led to the adoption of the M1911.
World War 2 Shotgun
Trench shotguns were for fighting in close quarters and found use in the trenches of World War 1. The Stevens 620 shotgun was brought into military use in World War 2 and had slam fire capability like the Winchester 1897 and Model 12. Slam firing is pulling the trigger and holding it while working the shotgun's pump action, repeatedly firing, ejecting a spent shell, and chambering a new shell. A trained soldier could empty a trench gun of its six shells with devastating effect in less than two seconds.
A U.S. marked Stevens 620 trench shotgun is on offer as Lot 3463. It is a hammerless shotgun with slam fire capability that was used in World War 2, Korea, and Vietnam.
More World War 2 German Guns
Lugers are joined by outstanding Mausers and Walther pistols in the Crockett Collection. Several fine and historic examples of the Walther P38, the service pistol for the Wehrmacht at the start of World War 2, are available in the auction.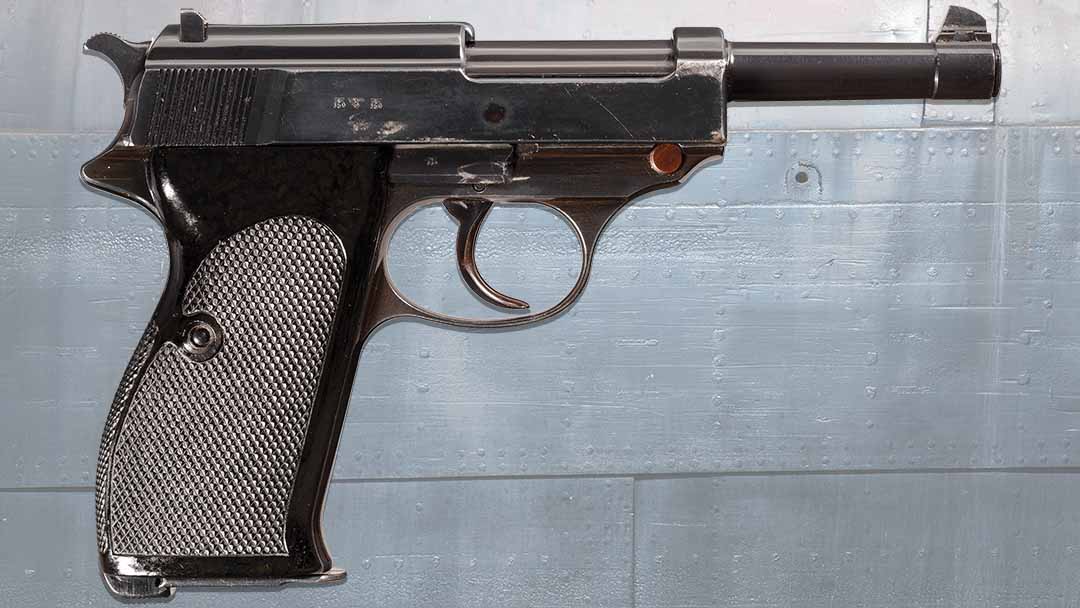 Lot 340 is a rare Walther First Model Zero Series P38 that was part of the first block of approximately 965 made on contract for Germany. Among features that would be removed from later production included a rectangular profile firing pin, a concealed extractor, and the commercial blue finish.
While they don't fall into the era of World War 2, the easily recognizable C96 Broomhandle, popular at the start of the 20th century and used in World War 1, is among the fine military weapons collected by Crockett.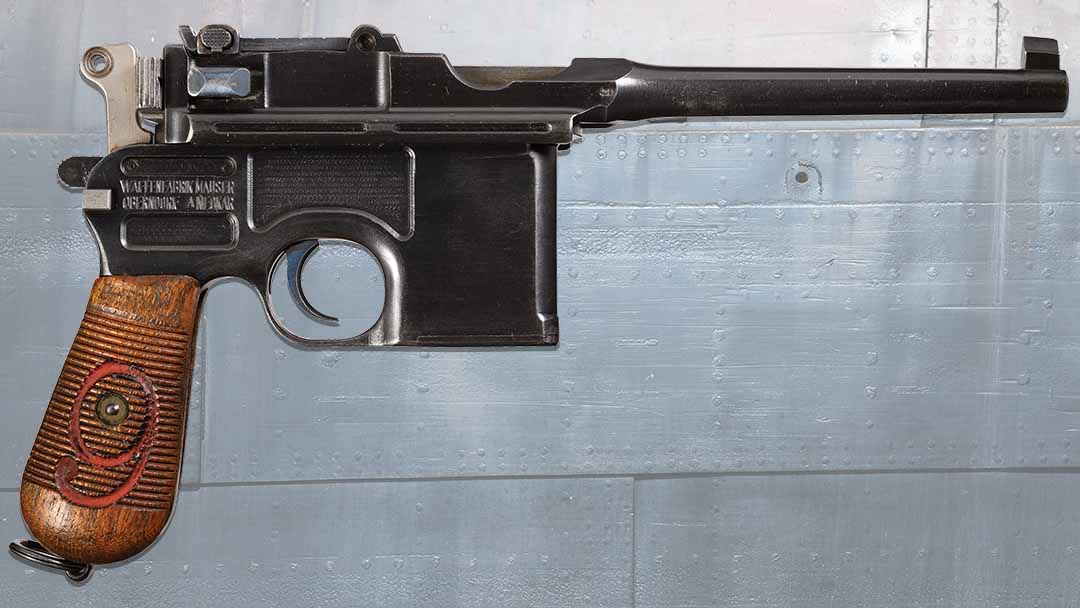 Lot 319 is a Mauser "red Nine" C96 Broomhandle with matching stock and leather harness. A red numeral "9" is branded onto both sides of the grip to let the user know it takes 9mm ammunition rather than 7.63 mm ammunition.
Before the G43 was developed, the G41 rifle was an attempt at a semi-automatic rifle. The G41 used a gas trap system that was found to be unreliable in combat. About 145,000 were made before the rifle was redesigned into the G43 with the gas port system borrowed from captured Soviet SVT-40 rifles.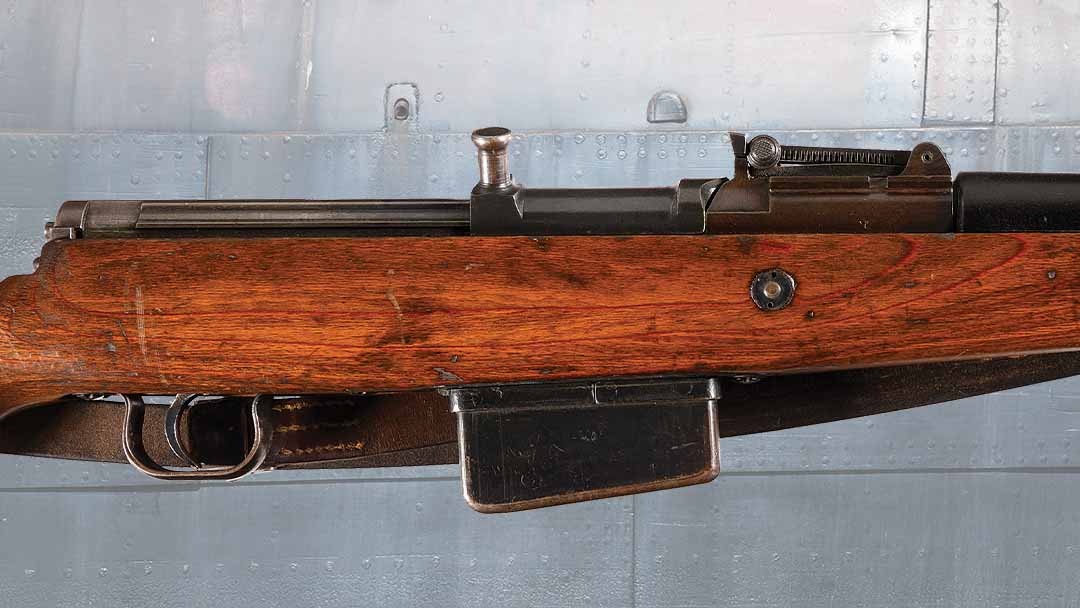 This World War 2 German Berlin-Lubecker "DUV 43" Code G41 rifle is Lot 1432. It was manufactured in 1943, before the G43 was introduced.
World War 2 Knives and Swords
The Crockett Collection has a diverse cross section of bladed German weapons issued to the Luftwaffe, Kriegsmarine, and various arms of the Nazi Party, like the National Socialist Motor Corps and the Postal Protection Force.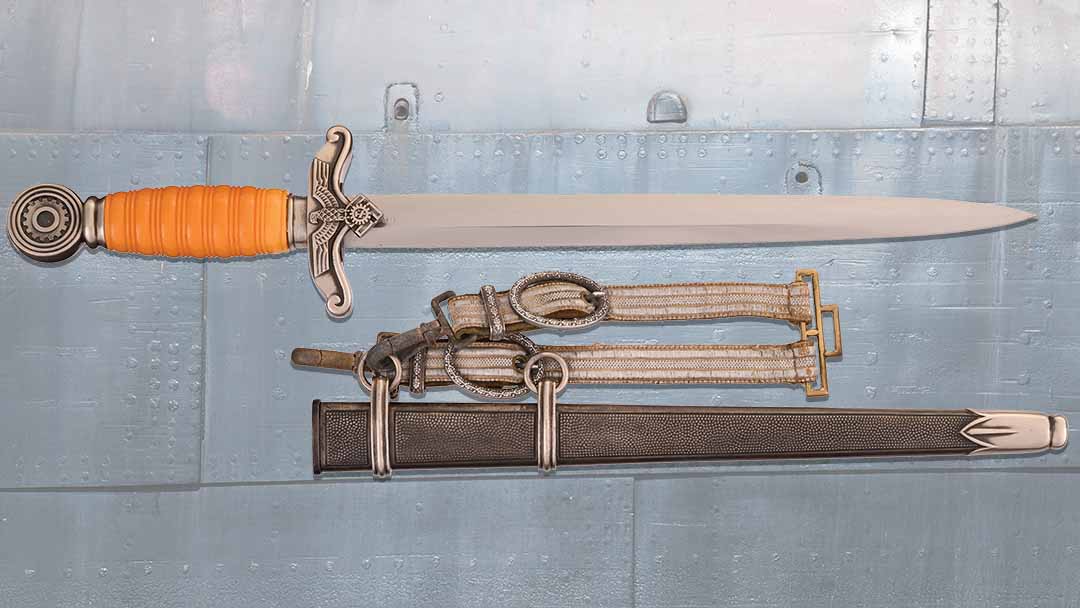 Lot 353 is a World War 2 German Technical Emergency Corps (TeNo) leader's dagger. The Technical Emergency Corps started as a strikebreaking organization after World War I that was transformed by the Nazi party into an auxiliary police force.
Ernst Rohm led the Nazi-aligned Sturmabteilung (SA), or Brown Shirts, that were paramilitary stormtroopers that used street violence to enforce control. The group was purged in June 1934 in the Night of the Long Knives as Adolph Hitler sought to consolidate power.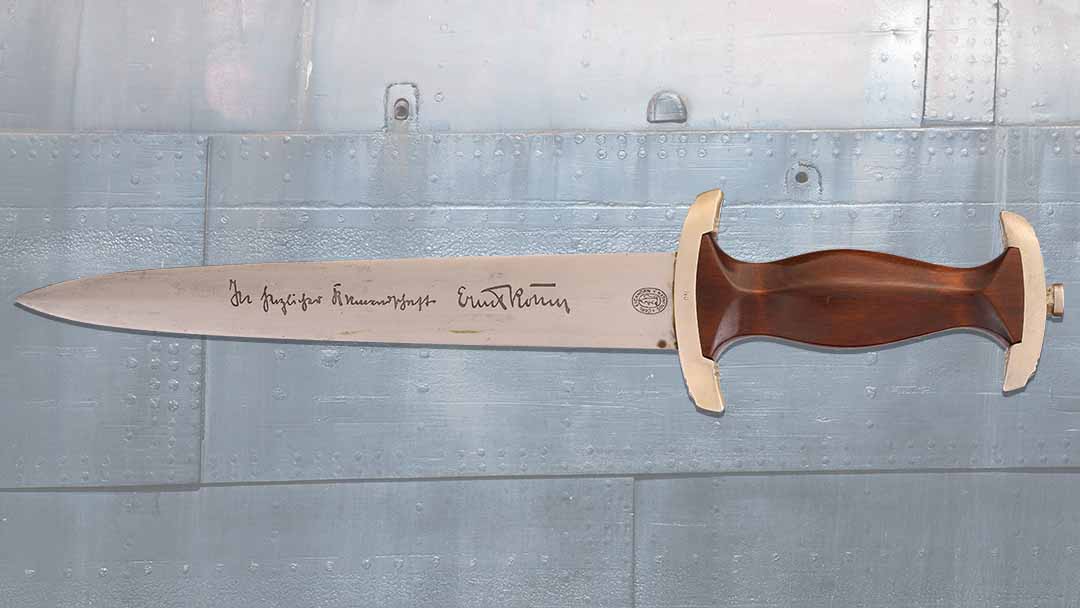 An Eickhorn SA dagger with Rohm inscription and sheath is Lot 1436. Prior to the purge, the SA could issue honor daggers with an inscription that read "In Herzlicher Freundschaft Ernst Rohm" (In Heartfelt Friendship Ernst Rohm). Following the purge, SA members who received the dagger were required to remove the inscription or destroy the blade so surviving examples are rare.
World War 2 Guns of the Paul Crockett Jr. Collection
Legendary weapons with historic connections to the largest conflict in human history can be found in this well-curated collection, whether it is the weapons of the victorious allies or the menacing horror of the Nazis. If a German military arm is something a collector lacks, then it is sure to be part of the extensive Paul Crockett Jr. Collection available in Rock Island Auction Company's Premier Auction, Dec. 9-11.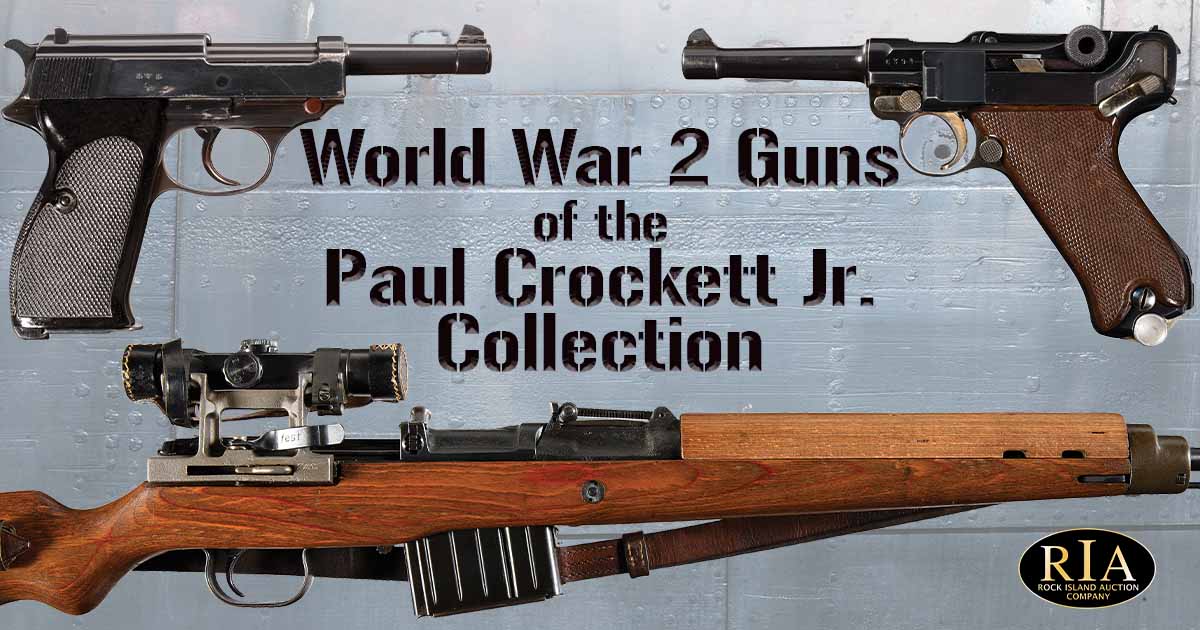 Rock Island Auction Company