Zane Grey remains perhaps the greatest storyteller of the American West. An adventurer, hunter, and avid outdoorsman, Zane Grey stands as one of the rare few authors who lived a life to rival his works, and it's only fitting that such a heralded name in the genre of Western literature would own one of the most incredible Winchester rifles in the collecting pursuit.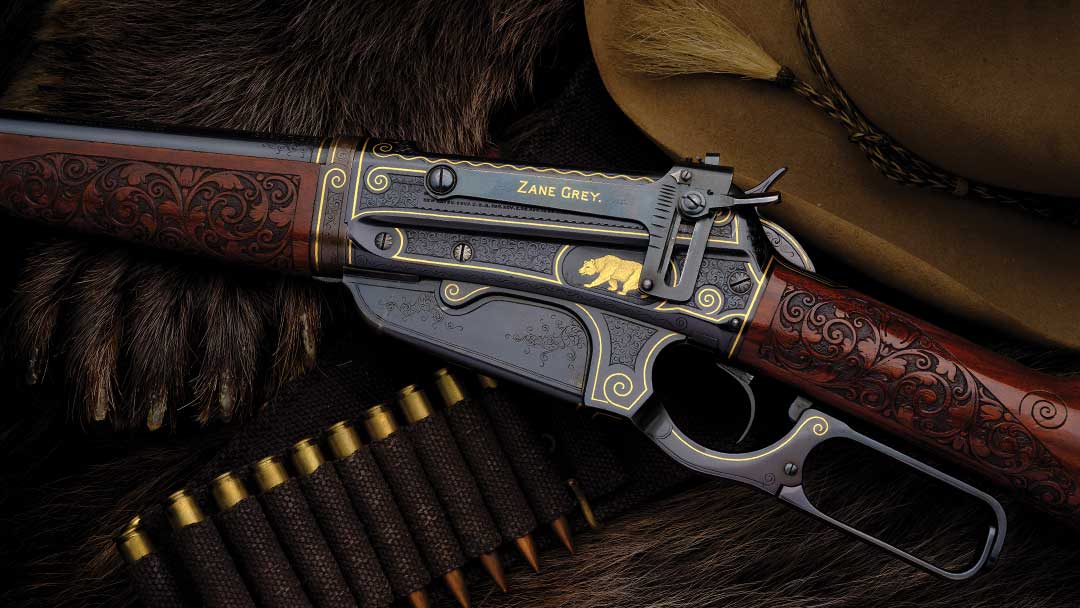 This monumental, well-documented, Ulrich signed masterpiece Winchester Deluxe Model 1895 takedown rifle once owned by famed author Zane Grey is offered by Rock Island Auction Company in May of 2023.
Zane Grey praised the Winchester 1895 as "the finest rifle ever built." This May, Rock Island Auction Company presents a crown jewel of the Winchester 1895 genre and a tour de force of master engraver John Ulrich's exceptional skill.
Zane Grey goes West
Pearl Zane Grey was born in Zanesville, Ohio in 1872, a town named after Grey's ancestor Ebenezer Zane, who was instrumental in settling the Ohio wilderness after the Revolutionary War. Adventure was in Zane Grey's blood. He earned a dentistry degree and opened a New York practice to pay the bills, but storytelling had become his true passion, and the call of the frontier took him westward in 1906.
Zane Grey's first runaway success was 'Riders of the Purple Sage' in 1912, a rangeland romance that would set the standard for many of Grey's countless Westerns to follow, as well as creating a formula that would define the genre for decades. This newfound wealth allowed Zane Grey to settle in Altadena, California and pursue his passions for hunting, fishing, shooting, and exploring the far reaches of the world.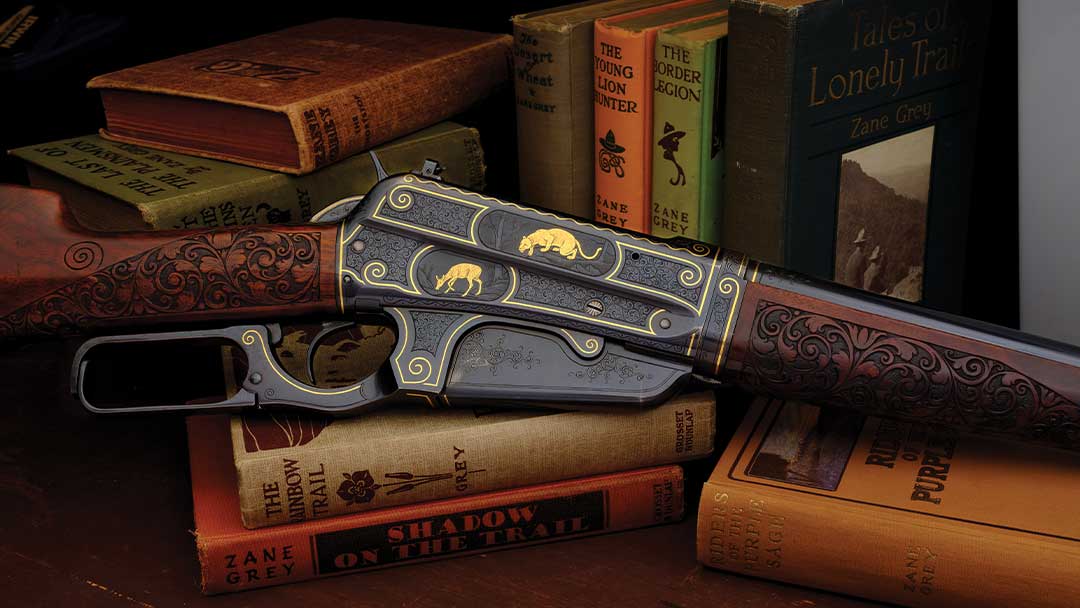 This incredible John Ulrich masterpiece Winchester Model 1895 rifle combines Zane Grey's love of hunting, shooting, and the American frontier. Available this May.
Zane Grey and the Winchester 1895
As recorded in 'Tales of Lonely Trails,' a nonfiction collection of Zane Grey's adventures out West, Grey sought out a Winchester chambered in .30-06 Springfield in 1919 in preparation for his annual fall hunt. Zane Grey recalled, "To make sure of getting a .30 Gov't Winchester I ordered from four different firms, including the Winchester Co. None of them had such a rifle in stock, but all would try to find one. The upshot of this deal was that, when after months I despaired of getting any, they all sent me a rifle at the same time. So I found myself with four, all the same caliber of course, but of different style and finish."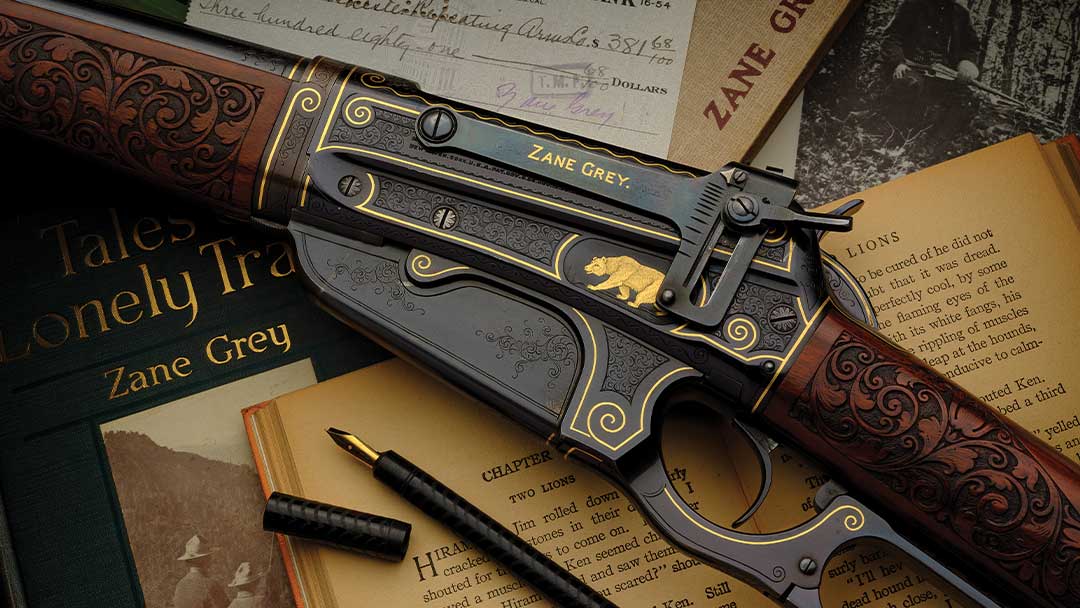 This mechanically excellent, stunning example of fine Winchester craftsmanship combines beauty, rarity, and the extraordinary history of its owner, Zane Grey. Available this May.
On his four Winchester 1895s, Zane Grey noted, "One was beautifully engraved and inlaid with gold – the most elaborate .30 Gov't the Winchester people had ever built. Another was a walnut-stocked shot-gun butted fancy checkered take-down. This one I presented to R. C. (Zane's brother) The third was a plain ordinary rifle with solid frame. And the last was a carbine model, which I gave to Nielsen."
Sievert Nielsen, who received the Winchester 1895 carbine mentioned above, was a Norwegian sailor turned prospector who struck up a friendship with Grey and shared several adventures with the author. The third Model 1895, a plain solid frame rifle, Zane Grey used for target shooting and for shooting ravens, stating that he felled a raven with his Winchester 1895 rifle at 500 yards.
Famed wheel gun shooter Elmer Keith witnessed Zane Grey shooting his Winchester Model 1895 rifles as documented in his autobiography 'Keith' on page 170: "I believe I showed Zane Grey the first long-range pistol shooting he'd ever witnessed. He had Bob Carney and Romer Grey shooting at a rock at 400 yards with a .30-06 Model 1895 Winchester that had Z.G. inlaid in gold on the left side of the receiver. They couldn't seem to hit it. So I lay down with my back to a log, took my old 7 1/2 inch .44 Special single-action Colt, and hit the rock repeatedly."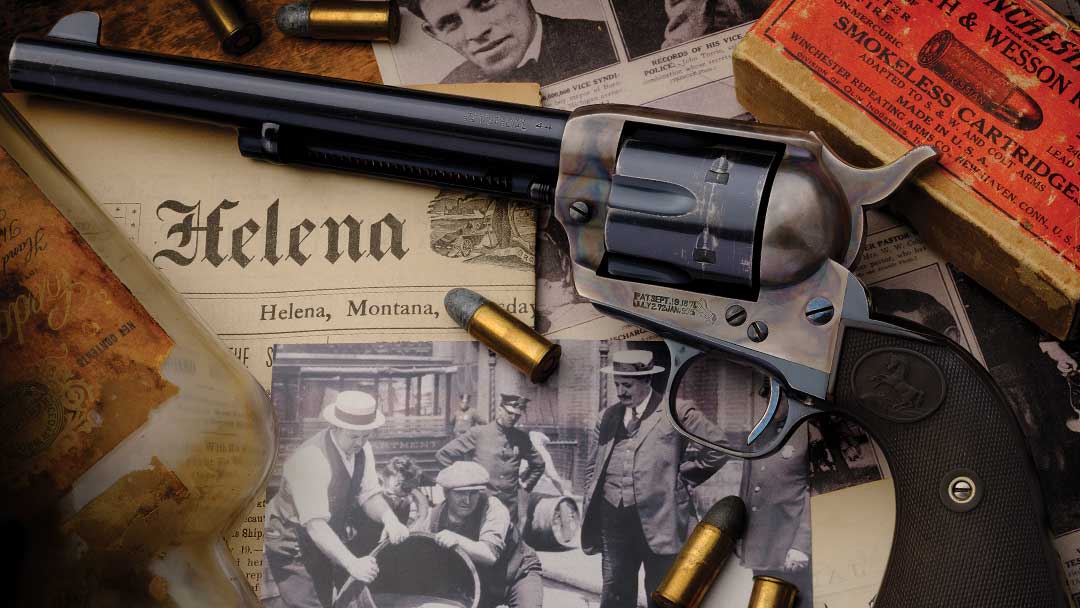 A documented Montana shipped First Generation Colt SAA in the scarce dual caliber of .44 Russian/.44 S&W Special. Elmer Keith used a Colt SAA chambered in .44 S&W Special while shooting with Zane Grey. Available this May.
Praising the Winchester 1895 chambered in .30-06 Springfield as "the finest rifle ever built," Zane Grey went on to claim, "All the outdoor men I have known – I mean real hunters, and not sportsmen – claim this the great rifle for American hunting. I have used all makes – have had many rifles given me to recommend, but none ever equaled the 30."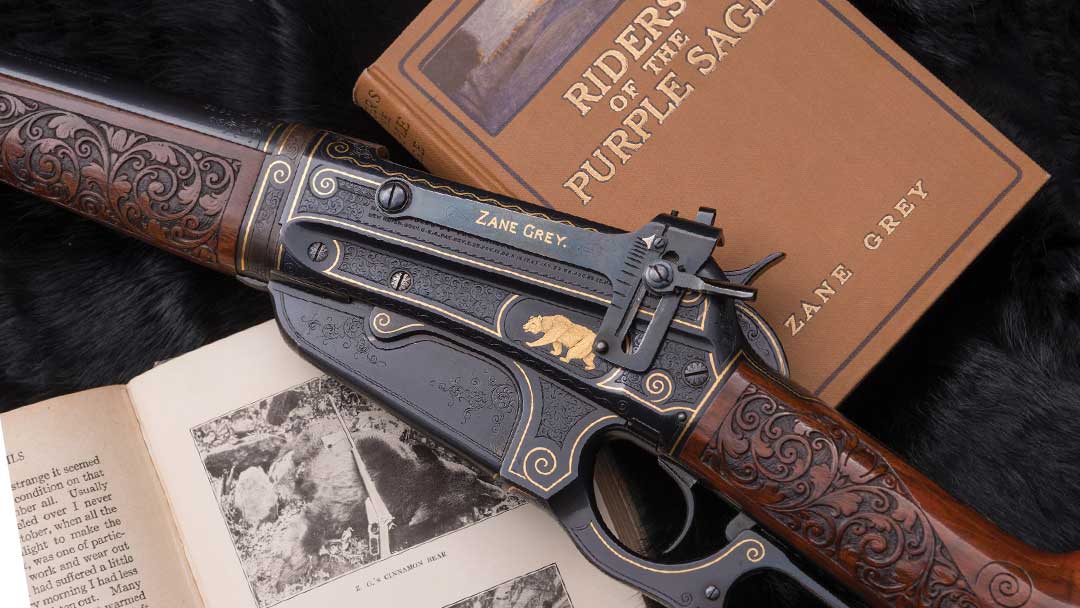 Zane Grey's Winchester 1895 rifle is fitted with a blade front sight, folding two leaf rear sight, and a Lyman receiver sight. Available this May.
A John Ulrich Engraved Winchester 1895 Rifle
Winchester Museum curator Richard Rattenbury firmly believed that this Zane Grey engraved, Winchester 1895 rifle was a factory original as it is in "identical quality and style" of a select number of known factory embellished Model 1895s, some of which were a part of the Winchester Museum collection. Winchester historian George Madis concluded the same, noting that "Catalogs advised that magazines of the Model 95 were not ornamented, but here is an exception. Ulrich often did a small amount of engraving on the hammer of the more expensive engraving jobs."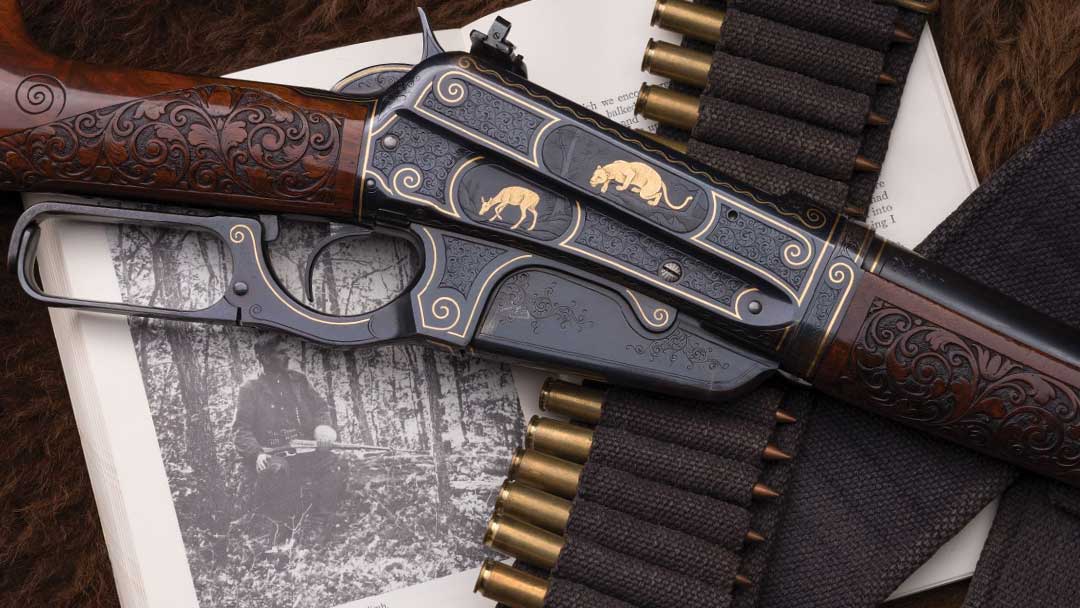 This Winchester 1895 rifle was identified as an Ulrich original by Winchester expert and author George Madis in "The Winchester Book" on page 472. Available this May.
A stunning example of John Ulrich's superb skills as a master engraver, this Winchester Model 1895 rifle features a deer, a grizzly bear, and a mountain lion, inlaid in solid gold on the receiver, animals Zane Grey hunted and wrote about in his works on the American West.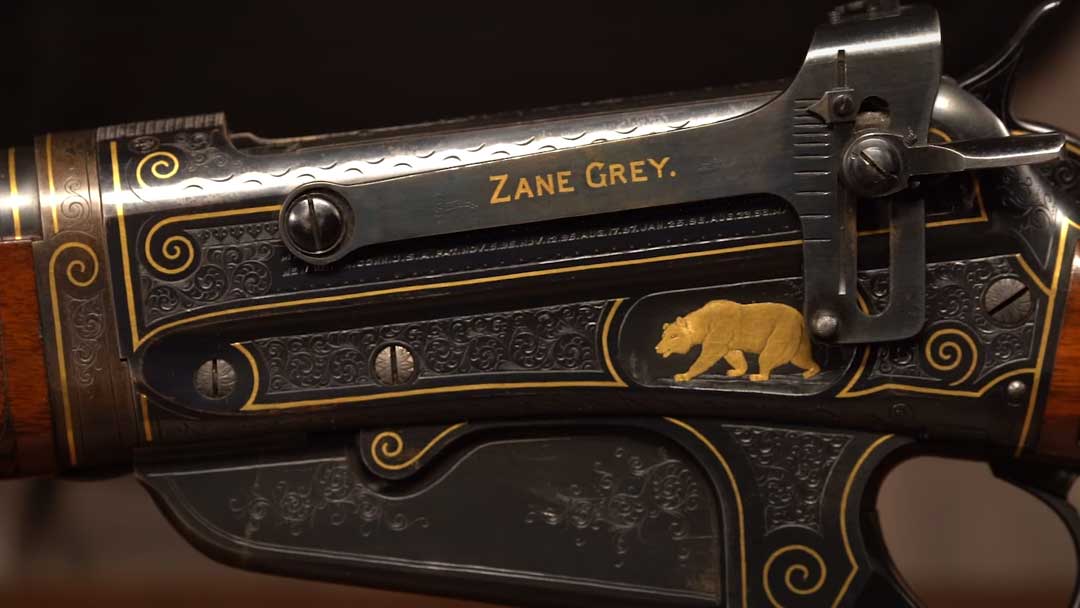 The receiver sight is inscribed with the original owner's name in gold: "ZANE GREY." The deluxe, fancy grade walnut stock and forearm feature Winchester Style B relief carved scroll and vine designs with a highly polished piano finish. Available this May.
The receiver, upper tang, bolt, takedown collar, hammer, lever, barrel breech, and buttplate on Zane Grey's Winchester 1895 rifle are engraved with arabesque scrollwork and artistic borders. The rifle's scrollwork and engraved borders are accented with numerous gold inlaid borders, and a gold inlaid band and an engraved scallop band appear on the barrel at the muzzle. John Ulrich has signed this breathtaking Winchester 1895 rifle with his "JU" initials on the lower tang.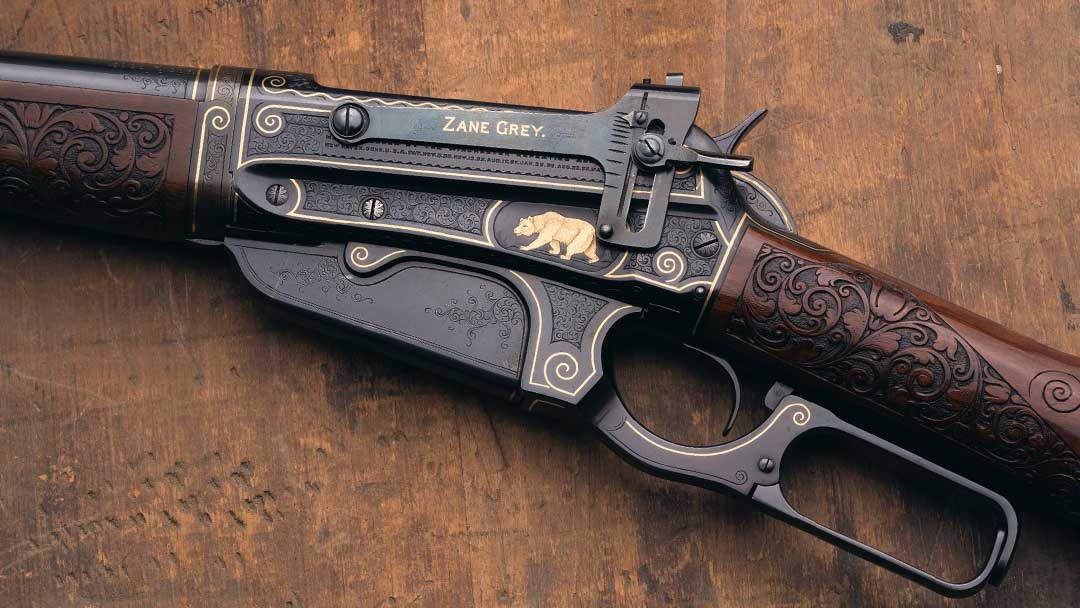 This stunning Winchester 1895 rifle is a fitting treasure for a man that loved the American West and made his mark as a writer of frontier stories. Available this May.
An American Treasure: Zane Grey's Winchester 1895 Rifle
The typical Winchester 1895 rifle was put through its paces in the field and a scarce few retain their original condition like Zane Grey's stunningly engraved Winchester 1895 rifle. According to Madis, a standard Model 95 listed for $32.50, but the added extras on this particular rifle built for Zane Grey cost an astonishing $335.00. The total cost of this spectacular rifle would have been $367.50, or about $6,177.68 in today's money. For reference, a Ford Model T was priced at $310.00 in 1921.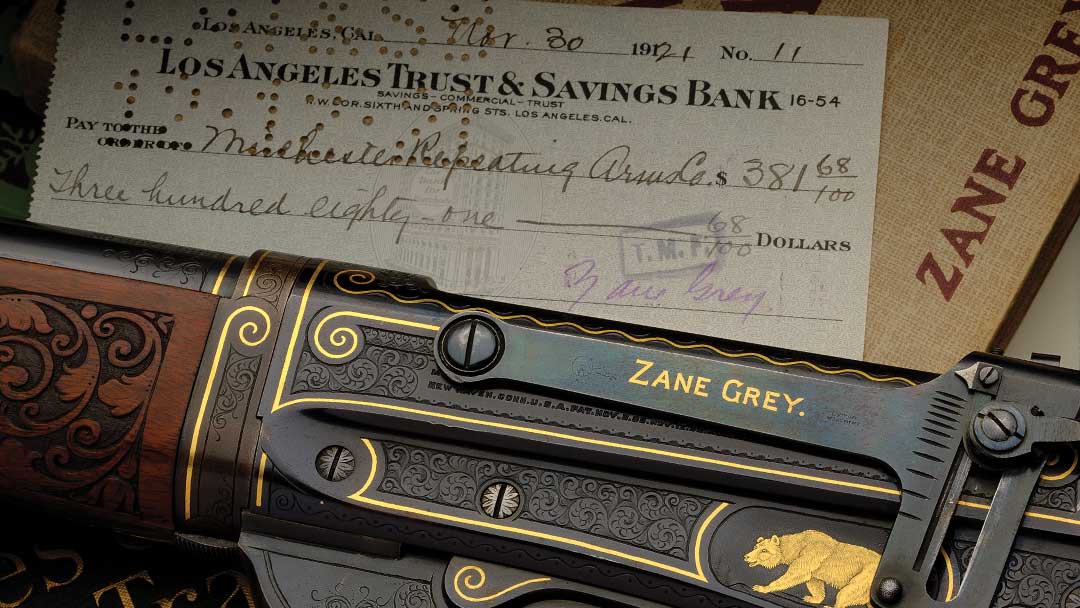 Zane Grey's $381.68 check to Winchester from Nov. 20, 1921 is included with the Model 1895 rifle. Available this May.
Though numerous options for engraving and embellishment were available for the Winchester 1895 at the customer's request, deluxe examples of the Model 1895 rifle were markedly scarce compared to other Winchester models. The Winchester 1895 was viewed foremost as a rugged hunting gun. Firearms author George Madis notes that optional features like checkered stocks and higher-grade finishes "will be found less often on the Model 95 than on other models."
When considering the gun's original condition, its immaculate John Ulrich engraving, and a remarkable provenance to Zane Grey, the best-selling Western author of all time, a one-of-a-kind rarity and a true American treasure begins to emerge.
The Winchester 1895 Rifle Makes an Impression
Zane Grey's favorite model of Winchester rifle was designed by gun inventor John Moses Browning, whose previous experience developing lever action Winchesters had included the Model 1886, the Model 1892, and the iconic Model 1894. A more robust design was needed to handle the higher pressures of the newly introduced smokeless powder cartridge. Additionally, the choice of a fixed single-column box magazine over a tube magazine for the Winchester 1895 allowed the new rifle to use the pointed Spitzer bullets that had rapidly gained traction in the European market.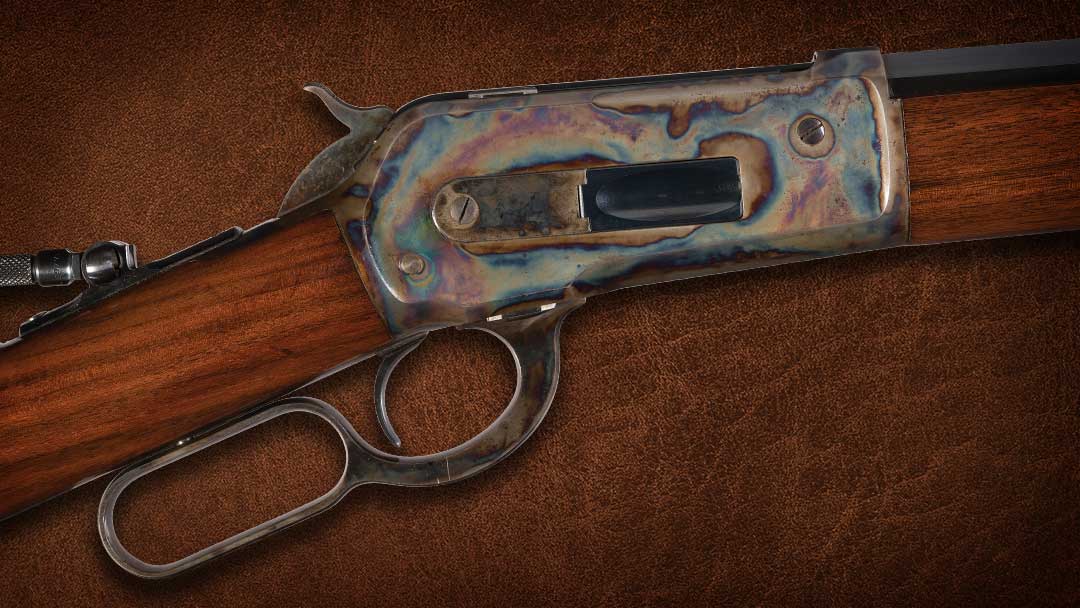 An excellent Winchester Model 1886 rifle with an attractive casehardened frame and factory Letter. The 1886 was John Browning's first Winchester lever action design. Available this May.
The Winchester 1895 magazine capacity varied from four to six rounds depending on the many types of cartridges it would go on to be chambered for. Zane Grey preferred the .30-06 Springfield cartridge, which Winchester started offering as an option for the Model 1895 starting in 1907.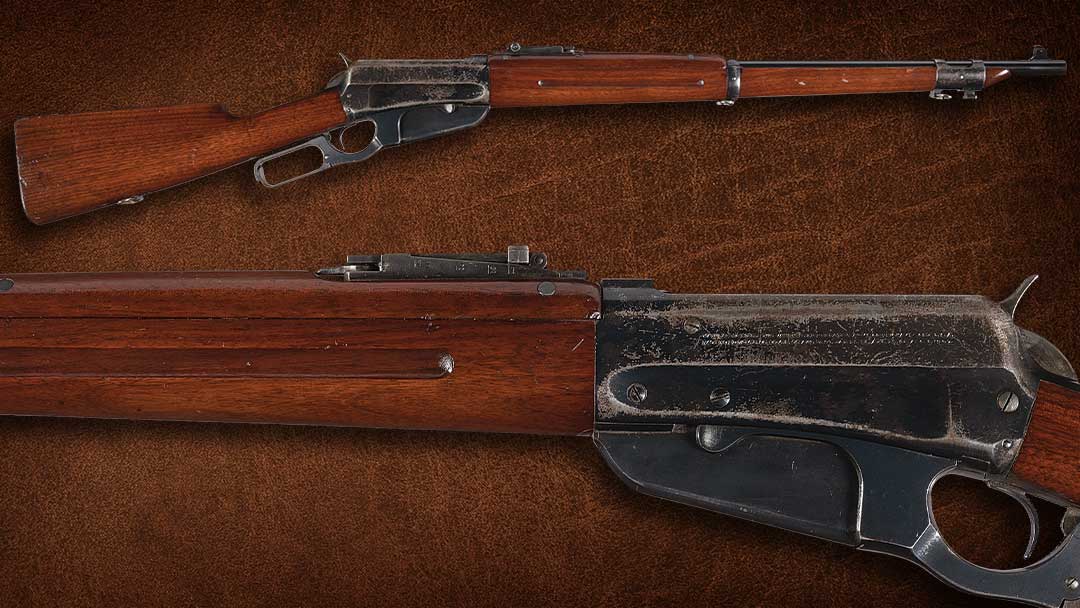 A 1912 dated Winchester 1895 N.R.A. musket chambered in the scarce .30-03 caliber. These Model 1895 muskets were made to comply with the specifications of National Rifle Association of America target matches and produced with special 24 inch barrels, Model 1901 Krag rear sights, and special flat butt plates. Available this May.
Zane Grey was among tens of thousands of American hunters who cherished the Winchester 1895 rifle. Buffalo Bill was an early adopter of the Winchester 1895, and Theodore Roosevelt would go on to epitomize the model. During the Spanish-American War, Roosevelt carried a Winchester 1895 in .30 Army while leading the Rough Riders in Cuba, then sported a Model 1895 chambered in .405 Winchester (Roosevelt's "Big Medicine") during his famous African safari and many subsequent hunts throughout North America and his later Amazon expedition in 1915.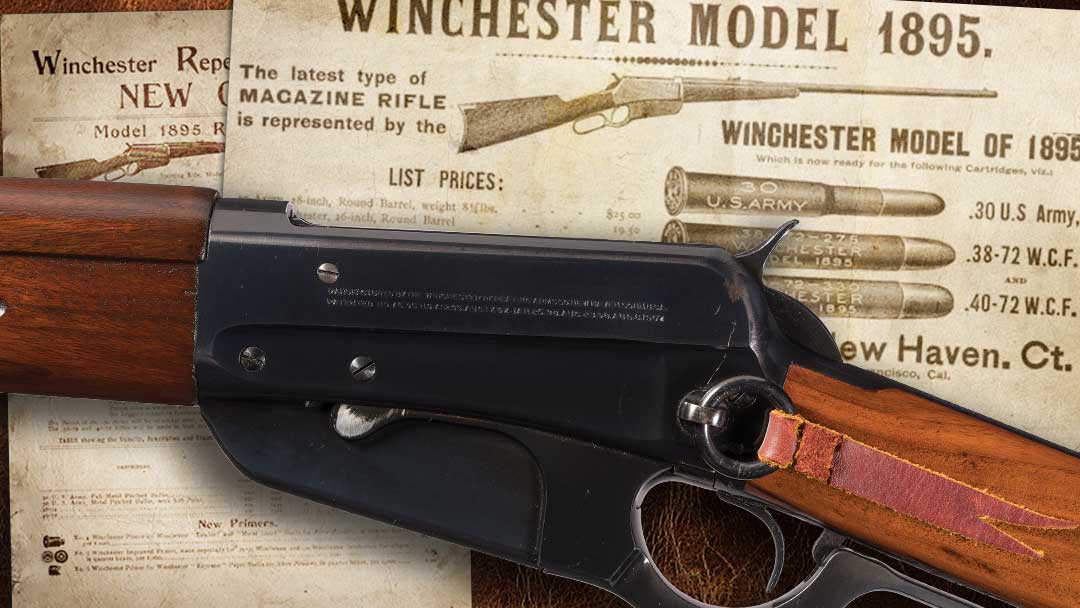 A 1917 manufactured Winchester 1895 saddle ring carbine in .30-40 Krag (or .30 Army,) the same caliber Teddy Roosevelt carried in Cuba. Available this May.
Nearly 426,000 Winchester 1895 rifles, carbines, and muskets were manufactured during its original run from 1896 until 1931, with 294,000 commissioned for the Russian military. The Winchester 1895 has been re-introduced by Winchester in recent years, though classic examples of the Model 1895 remain a popular purchase with collectors and shooters looking for a vintage Winchester that can also serve as a reliable working rifle.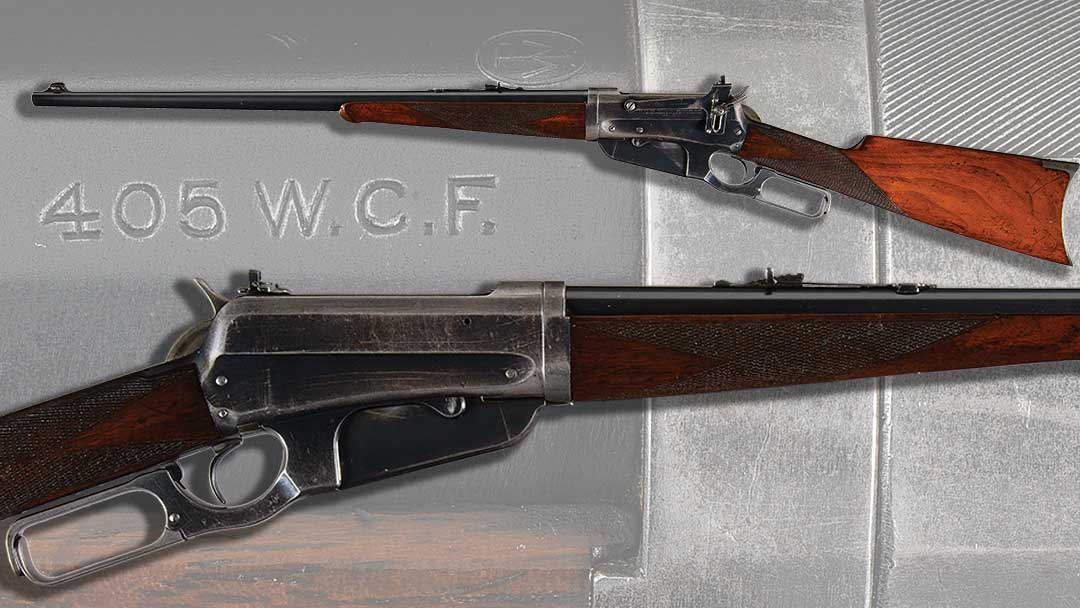 A 1921 manufactured Winchester Deluxe Model 1895 takedown rifle chambered in .405 W.C.F. Available this May.
Lever Action Legacy
Zane Grey introduced millions of Americans and Europeans to the Wild West and immortalized the frontier myth for generations of writers and filmmakers to follow. As a passionate hunting enthusiast, Zane Grey valued the best of the best when it came to sporting arms, and it's only fitting that one of the most monumental examples of Winchester's 19th-century big game rifle was owned and cherished by the legendary author.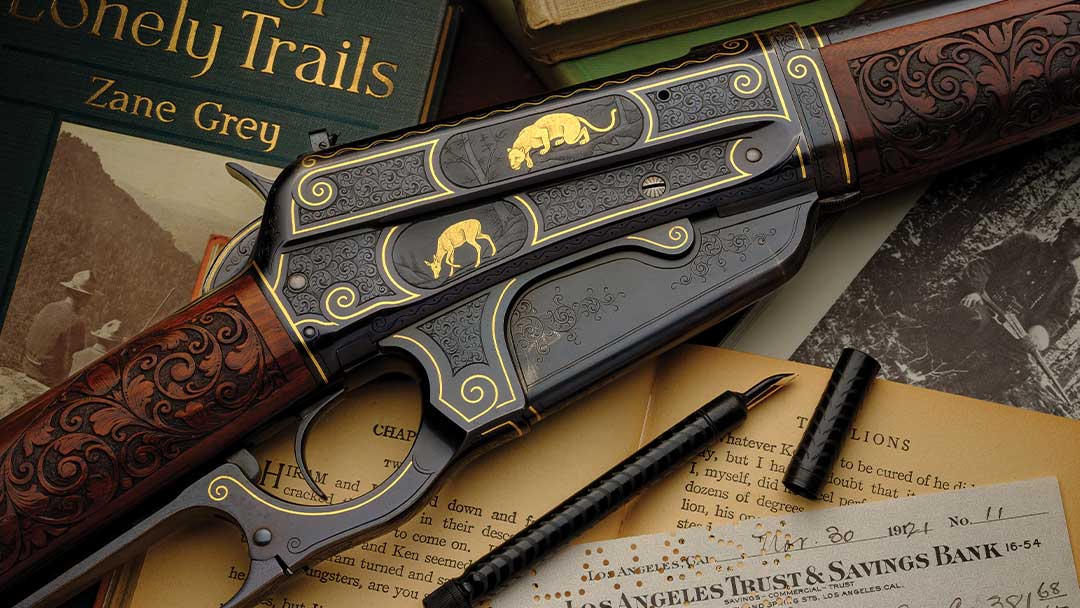 Zane Grey's rifle is identified in R.L. Wilson's book "Winchester: An American Legend" on page 106. Available this May.
Zane Grey leads a May 2023 Premier Auction filled with a fantastic slate of historic lever action rifles that includes a Winchester Model 1873 One of One Thousand, a U.S. martially inspected second contract Civil War Henry rifle inscribed for Archibald McAlister of Co. E of the Pennsylvania Regiment Volunteer Corps and the 3rd Regiment of Veteran Volunteers, and a Deluxe Winchester 1895 saddle ring carbine with a gold inlaid inscription and presentation silver plaque to Medal of Honor recipient Major General Nelson A. Miles.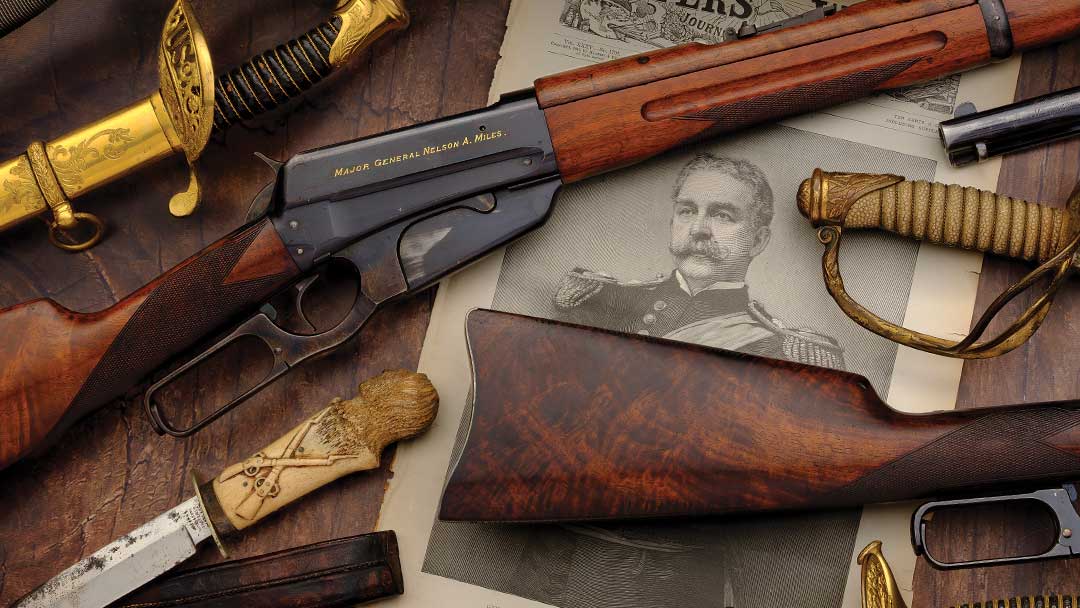 An assemblage of treasures documented to American General Nelson A. Miles is offered this May at Rock Island Auction Company, including an inscribed Winchester 1895 carbine. Available this May.
Rock Island Auction Company offers the finest selection of American frontier firearms in the collecting pursuit, so subscribe to the weekly Rock Island Auction newsletter to receive new gun blogs and gun videos on lever action icons like the Henry rifle, the Spencer carbine, the Winchester 1866 'Yellowboy,' the Winchester 1873, the Marlin Model 1881, the Savage 99, and more.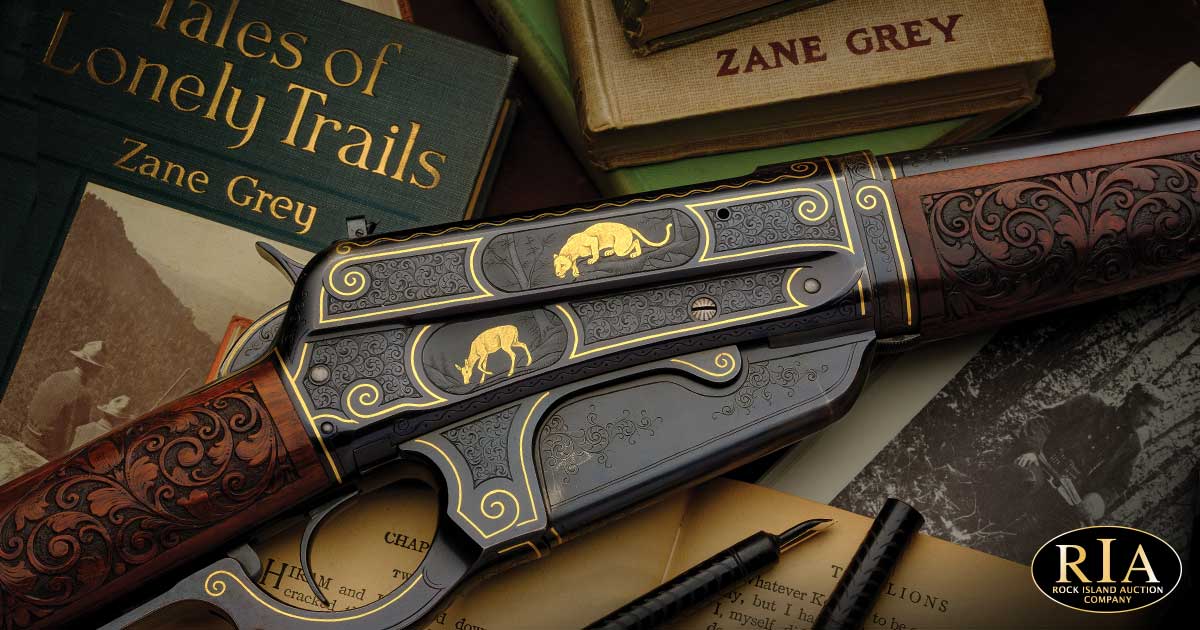 Rock Island Auction Company