01/18/2022 -The plan is to write this in two to three parts. There is too much for me to learn and cover in one single pass. I hope you'll bear with me.
It appears that many firearm manufacturers are substituting changes in rifle stocks, the pattern of camo and/or the color of Cerakote in place of innovative, new designs.
It is more than a little ironic that companies work so hard to find an effective camo pattern and paint metal bits in an array of dazzling Cerakote colors, while dismissing wood stocked firearm and matte black metal finishes as as being passé. Hard to imagine wood that does not blend in with an outdoor environment.
Except for tweaks and superficial configurations, newly introduced firearms tend to be a yawn. Yes, like my writing style. Exactly.
So, while I wait for the return of the flintlock to be announced at Shot, this time with a poly camo stock and plum crazy Cerakote lock and barrel, there seemed an opportunity to fill but one of the many voids in my firearm experience, the AK derivative.
I am pretty solid on the AK's 7.62x39mm cartridge, but only in the context of handloading for bolt action and AR15 platforms, in both supersonic and subsonic application.The AK abstinence was not deliberate. The cause could simply be a case of too many guns, too little time.
In any event, the intention is to work my way through the Zastava ZPAPM70 in stages and to keep going until I am competent enough to understand AK nuance. Get comfortable. This could take awhile.
Zastava ZPAPM70 – Lineage in brief

In 1938, a 19 year old Trans Siberian Railroad clerk named Mikhail Kalashnikov was drafted into the Red Army.
By 1941, Kalashnikov had aspired to the rank and position of Senior Sargent, assigned as a tank commander. He was already known for inventing and designing to aid Russia in the war effort.
In October of 1941, Kalashnikov was severely injured in the battle of Bryansk. He escaped on foot and was reassigned to the rear. It was during his recuperation that he set out designing in earnest and received further training as an engineer.
In 1947, the AK-47 entered military service. With a mandate of low cost, the AK-47 was not a terrific performer, more the result of low manufacturing technology and subsequent unrefined manufacturing process than quality of design.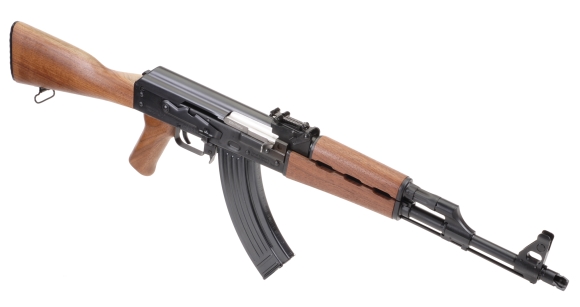 In 1959, the then Soviet Union replaced the 1947 selective fire AK-47 with the selective fire AKM as a lighter and more accurate firearm 1) 2). The Zastava selective fire M70 is a refined, licensed version of the AKM with over 4 million produced. The Zastava ZPAPM70 semi auto sporting rifle is based on the M70 operating system.
The history of Mikhail Kalashnikov, the evolution of the AK firearm and the world history associated with those time lines is interesting and expansive. They are also well beyond the scope of this article. So follow the foot notes at the end, and take in as much of this information that suits you.
The Zastava in overview

Unboxing the ZPAPM70 left me holding a rifle I did not anticipate. Not because of my expectations for a Zastava product, I have worked with their products before with excellent results, but rather because of an erroneous association I drew with near mid-20th century Russian military surplus firearms.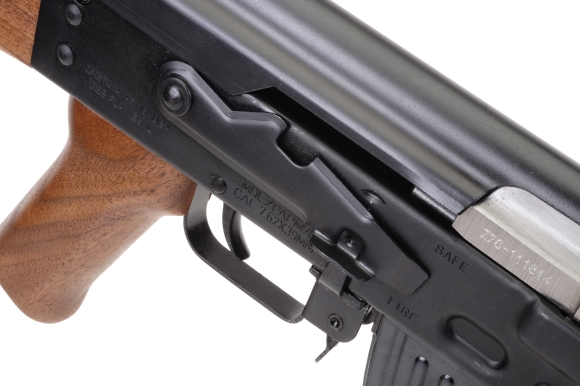 The ZPAPM70, newly manufactured, has a fit and finish that is refined. Metal pieces are finished in a uniform, near matte black oxide. The walnut upper/lower handguards, pistol grip and butt stock have a low luster finish that is sealed and maintained with boiled linseed oil. For those born into the poly era – Boiled linseed oil, applied in moderation, penetrates natural finish wood, protects it against the elements, makes the wood stronger, and yields nice color.
The ZPAPM70's barrel and receiver are assembled in Serbia. The furniture and final product are assembled in the U.S.. Zastava has been manufacturing wide variety of firearms since 1853, which probably explains the good quality of the ZPAPM70.
Spec Box

Zastava ZPAPM70


Manufacturer

Zastava Arms

Manufactured

Serbia – U.S.A.


SKU #

ZR7762WM

Barreled Action


Carbon Steel

Stocks/Grips


Walnut

Action Type

Locking Bolt, Gas – Pistol Operated

Caliber

7.62 x 39


Magazine Capacity

 30 Rounds

Barrel

Hammer Forged, Chrome Lined


Barrel Length

16.31″ M14x1 LH Muzzle Threads


Barrel Rifling

4 groove 1:10″ RH

Receiver

Stamp Steel


Rear Sight

Ladder/Side Elevation Adjustable

Front Sight

Elevation and Windage Adjustable


Scope Mounting

Ruger Rings & Rail Included

Overall Length (Actual)


35.0″

Length of Pull (Actual)


12.75″

Weight Empty (Actual)

7.9 lbs

Trigger Pull (Actual)


4 lbs 7 oz

MSRP

$999.99
Controls and general layout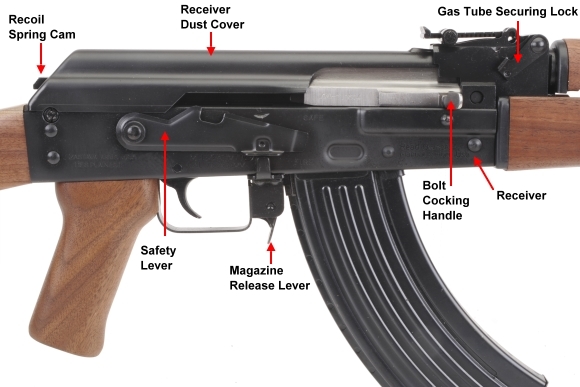 The recoil spring cam and spring lock button are depressed in unison to free the receiver dust cover. Removing the dust cover reduces the ZPAP to about half height and exposes a rifle that is very easy to take down and service.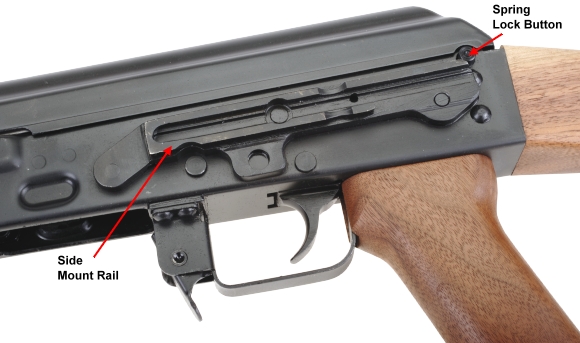 Excellent metallic sights.. really
The rear elevator and slide sight works well. Elevation adjustments are quick and precise and the setting stays put. The front sight can be adjusted for windage and elevation with a front sight adjusting tool, which is not included with the ZPAPM70. The tools are inexpensive, $10 – $12, and work like a sight pusher used to adjust an auto loader pistol dovetail mounted sight.The rear sight is elevation scaled to 1000 meters, however, the rifle's effective range is 300 meters. The manufacture's honesty is… refreshing.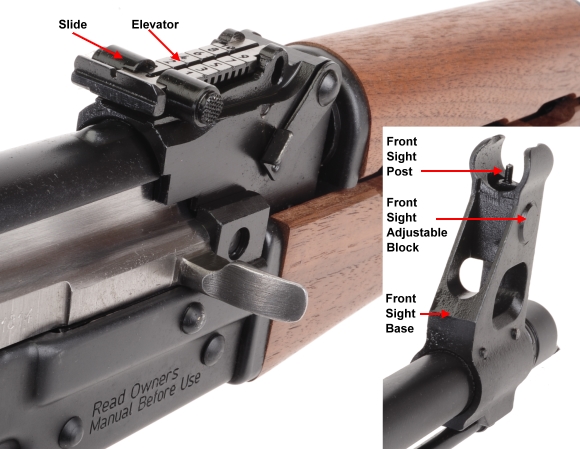 The tool body clamps to the sight base, left or right side, and the tool's central threaded rod pushes the sight's adjustable block away from the tool. The tail end can be placed vertically on the sight post and turning the tool raises or lowers the post. Works like a tire valve stem remover.
Certainly not an issue exclusive to the Zastava ZPAPM70, my preference is to have adjustable sights that don't require tools or extensive time to adjust. There are a good number of after market products that offer a variety of solutions for metallic sights and mounts to install optical sights… which we will get to later.
Magazines
The Zastava ZPAPM70 is supplied with one 30 round steel magazine that complies with the AK standard. There is a myriad of steel, poly mags running from 10 to 40 rounds and various drums that hold up to 75 rounds. 30 round mags don't get in the way, although I would probably opt for 10 rounds for less awkward frequent carry.
Devices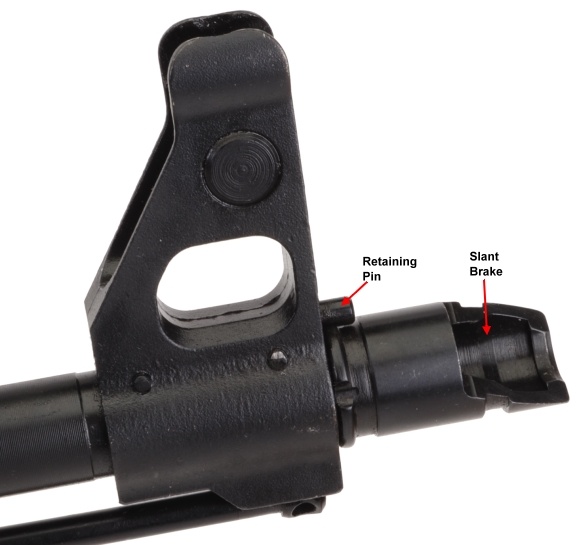 The slant brake is installed and removed, by depressing the spring loaded retaining pin and easily unscrewing the slant brake. Threads are a standard M14x1 left hand, so again, a myriad of aftermarket devices can be affixed.
Part 1 Conclusions
The ZPAPM70's length of pull is on the short side at 12.75″ so, when lifted at CG, it was raised and pulled into the shoulder. Not bad, just different, and once used to the feel it was comfortable. I would leave it alone, but there are aftermarket fixed length wood, laminate and poly stocks, as well as poly collapsible stocks offered with longer lengths of pull.
I have read that balance is not the AKs long suit. I liked the balance of the ZPAPM70. It put heft on my supporting hand and felt a bit muzzle heavy. The combination made for a steady sight picture.
The receiver dust cover makes the rifle look heavier than it is. Remove the lightweight dust cover and the rifle's receiver profile is cut in half. Controls are easy to reach and operate, the wood feels good, especially in the single digit and lower temperature we are currently having.
I am waiting for a couple of accessory pieces to arrive that will carry us into live fire performance, hopefully open and suppressed. Be back for Part II shortly.

1) The Gun Digest Book of the AK & SKS – Patrick Sweeney
2) Standard Catalog of Military Firearms – Peterson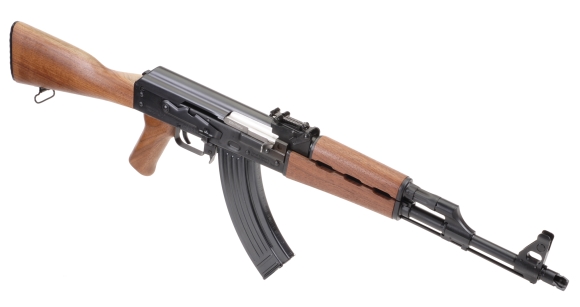 Real Guns – A Firearm and related publication